Tom Selleck Says 'Christopher Columbus' Was a Lousy Movie That Changed His Life & Career
Tom Selleck shared insight into why the movie "Christoper Columbus" changed his life during an interview on "The Drew Barrymore Show."
"Blue Bloods" star Tom Selleck appeared on "The Drew Barrymore Show" this April. The two actors discuss Selleck's life, including balancing work life, "Blue Bloods," and his iconic mustache. 
The interview started with both actors praising the other for their work. Each admitted that they were a fan of one another. Barrymore discussed the beginnings of Selleck's career, which was hygiene commercials.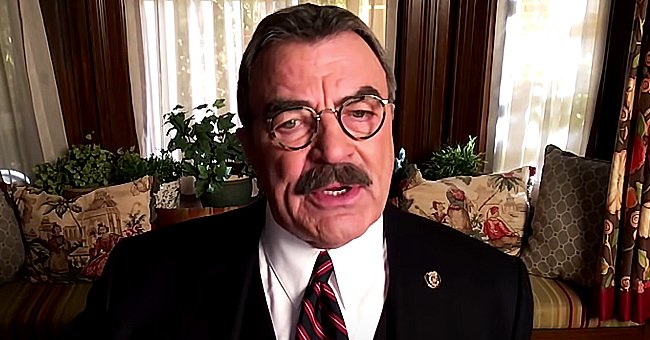 Selleck then joked that luckily he did not have to participate in a hemorrhoid advert. Barrymore hinted that there might still be time before they started discussing Selleck's latest TV series, "Blue Bloods."
"Blue Bloods" is on its 11th season. Selleck plays Frank Reagan, a New York Police Commissioner and father to other main characters in the show. Barrymore asked him if it were true cast make it hard to film, Selleck replied:
"So we have a family reunion, once a week on the show, but we also have a personal reunion. One sometimes gets in the way of the other. "
He explained that the cast is very close and does not see each other through the week as they film different scenes. However, at the family dinner scene, the castmates get together, and the catching up can get in the way of shooting. 
After discussing "Blue Bloods" and Selleck's short-lived time on the TV series "Charlie's Angels"— Barrymore is known for her role in the movie—the actors turned to a more serious topic. 
After the shooting of "Christoper Columbus," Selleck took time off from acting.
Barrymore, who has been working since she was a young child, asked Selleck how he knew when to step back from his career and put his family and personal life first. He explained the moment he realized he needed to have a work-life balance. 
Selleck was offered a role in "Christopher Columbus: The Discovery" alongside Marlon Brando; however, his daughter got virtual pneumonia at the same time. He explained that the situation made him uncomfortable:
"She was out of the hospital the day I left, but it really bothered me. I don't know if it was an ego trip, but it was the work out of balance with life. "
Selleck continued and explained that he shot the movie with Brando, who was a very well-known actor of the time. However, he admitted that the movie was not worth leaving his family for. 
After the shooting of "Christoper Columbus," Selleck took time off from acting. His one year off turned into three years. Selleck shared that he loved his work, but it does get out of balance.
The "Magnum P.I." alum has two children, Hannah and Kevin. Selleck adopted his oldest child, son Kevin, his first wife's child from her previous relationship. The couple was married from 1971 to 1982.
He welcomed his daughter in 1988 with his current wife, Jillie Mack. Mack and Selleck were married a year early in 1987 and have been happily married ever since.