Gymnast Simone Biles Exposes Her Toned Back Posing In a Stylish Versace Top (Photo)
Four-time Olympic gold medalist Simone Biles showed off her flawless skin and gorgeous braids in a stunning bareback fashion on her Instagram feed.
One of the most decorated gymnasts in the world, Simone Biles, recently shared a photo of herself in a jaw-dropping fashion ensemble, drawing praises from her awestruck Instagram fans.
The stunning photo showed the renowned Olympian posing in front of lush plants while dressed in a tight long-sleeved black shirt with elegant patterns, which she tucked in her black pants.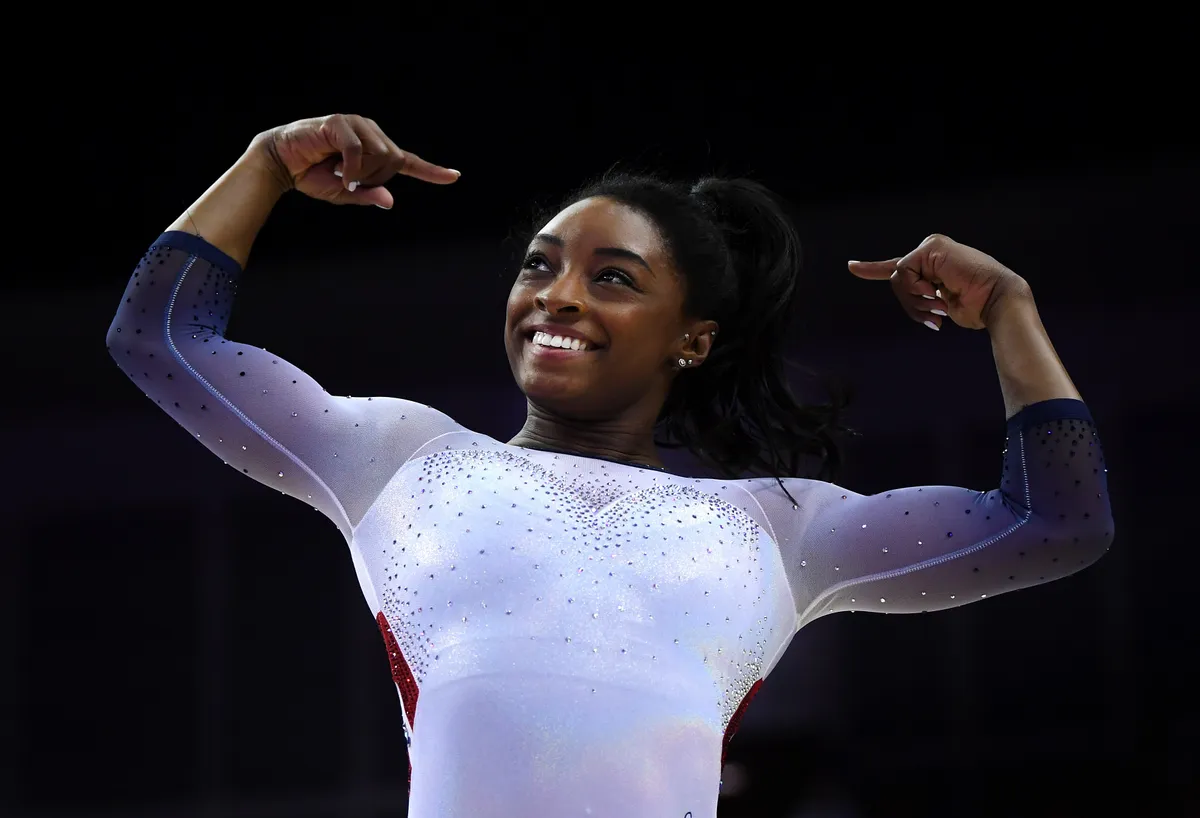 Her stylish top featured a deep cut at the back, highlighting her spine. She served a smoldering look while showing off her toned and flawless back.
The 24-year-old gymnast also displayed her long braids, which hung down to her bottom. Her look left her fans speechless. Many left positive comments about her one-of-a-kind beauty. Other admirers raved about her fashionable outfit.

Besides stylish ensembles, Biles regularly impresses her fans with her fit figure in swimsuit photos. In a recent tropical vacation with her boyfriend, Jonathan Owens, she rocked a bikini and showed off her rock-hard abs, which are not surprising to see on a seasoned athlete like her. 
Biles' jaw-dropping physique is a result of years of training. The gymnast does not rest on her laurels despite winning multiple golds in the world's greatest sporting event.
She wanted to stick for three more years to compete in the 2024 Paris Summer Games.
She continues to master her routines for the Tokyo Olympics. She has her journey documented on her upcoming Facebook Watch Series, "Simone vs. Herself."
For Biles, returning to the Olympics is not just about hoarding awards. She wants to use the prestigious sports event as a platform to amplify her voice as an advocate of social causes.
She wants to bring change to the world, especially after she went public with the sexual abuse she suffered at the hands of convicted sexual predator and former Team USA doctor Larry Nassar.
Biles was among the 150 gymnasts abused by Nassar. But that dark experience is not stopping her from reaching her dreams. She has her eyes set on more Olympic medals.
Biles is putting tremendous effort into rigorous training and routines so as not to disappoint her fans at the Tokyo Olympics, which will start on July 23.
She earlier shocked fans when she said it would be her final game. But in a recent interview, the celebrated gymnast hinted that she might put off her early retirement.
She wants to stick around for three more years to compete in the 2024 Paris Summer Games. She expressed interest in competing for the floor exercise category, which earned her five championships.
Although Biles said she has received some pressure from her French coaches, Cecile and Laurent Landi, in relation to the Paris event, her main focus right now is the Tokyo Olympics.