Billie Eilish Looks Unrecognizable Sporting Icy Blonde Hair in a Skintight $1370 Gucci Cardigan
Billie Eilish has undergone a massive transformation as she traded in her usually funky black and lime green hair for a more traditional blonde look with bangs. 
19-year-old Billi Eilish is forever keeping her fans guessing about what she has up her sleeve for them, and her most recent post on Instagram threw a bit of a curveball as the singer exchanged her edgy look for a more mainstream image. 
Eilish's social media post showcases her new blond locks styled with bangs across her forehead and loose curls. Her new hairdo was paired with an expensive Gucci cardigan to tie her makeover together.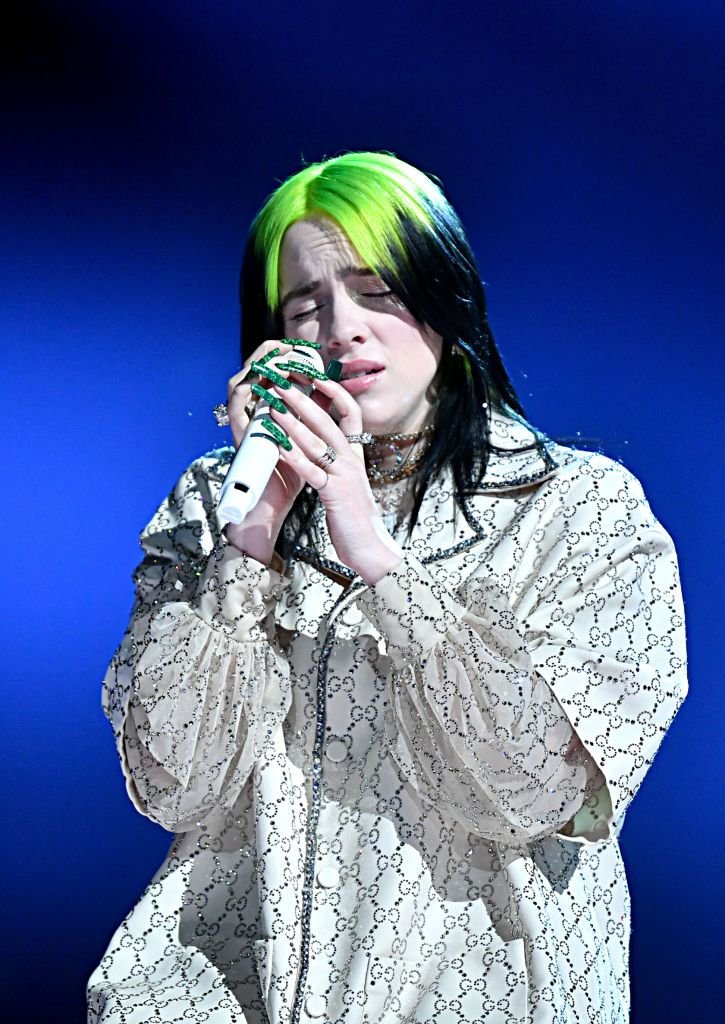 BRAND NEW LOOK
The "Bad Guy" singer's 81 million Instagram followers are more accustomed to seeing her rocking oversized outfits that combine abstract prints with statement colors. Still, it seems there is a new Eilish on her way. 
Eilish teased her followers in her caption, shocking them with more than just the $1370 Gucci cardigan that shows off more curves than ever before. Rumors are that the Emmy Award-winning singer is working on a new album. Her caption reads: 
"Things are comingggg."
FEMININE TOUCH
Eilish revealed that she had been working on an album during quarantine during an interview with  Stephen Colbert on "The Late Show." She shared about an inward evolution that she had undergone in lockdown. 
[Eilish's] past boyfriends contributed to her bad body images because they never allowed her to feel truly desired.
The change wasn't only on the inside, as the singer's style was also clearly affected by her pandemic metamorphosis. Her more feminine approach to clothing is evident in the pearl choker and earrings that she sported with her Gucci cardigan. 
BREAKING RECORDS
Eilish isn't only making history in the music industry, but her fans also allow her to break social media records. When the "Therefore I Am" singer debuted her new blonde-bombshell look, her followers ran to hit the like button. 
The post showing off her shaggy blonde hair for the first time has now gone down as the post to receive a million likes in the shortest amount of time. If that isn't a stamp of approval, what is? Eilish wrote an appropriate caption saying: 
"Pinch me."
IT'S NOT ALWAYS EASY
Eilish seems to have it all, but her love of baggy clothes that hide her figure speaks to some of the real struggles that the young star experienced growing up.
The award-winning singer opened up about her challenges with body image, saying that it reached a point where she hated her own body. She took to refraining from eating and dosing herself with diet pills at the age of 12. 
Eilish has admitted that despite the rough patch, which included self-harm and a very negative body image, she is now in a much better place and can deal with her struggles better. 
The singer also shared that her past boyfriends contributed to her bad body images because they never allowed her to feel truly desired; hence she took to wearing clothes that protected her from the judgment of others.