Here's How Michael Douglas and Catherine Zeta-Jones Celebrated Their Daughter Carys' 18th B-Day
Actors Michael Douglas and his beautiful wife Catherine Zeta-Jones paid sweet tributes to their daughter Carys as she celebrated her 18th birthday on April 20.
Michael Douglas and Catherine Zeta-Jones took to Instagram to celebrate their daughter's milestone and penned heart-warming messages for her.
Douglas posted a father-and-daughter photograph with their arms wrapped around one another wearing formal attires, as he wore a blue suit, and she wore silk off-shoulder dress.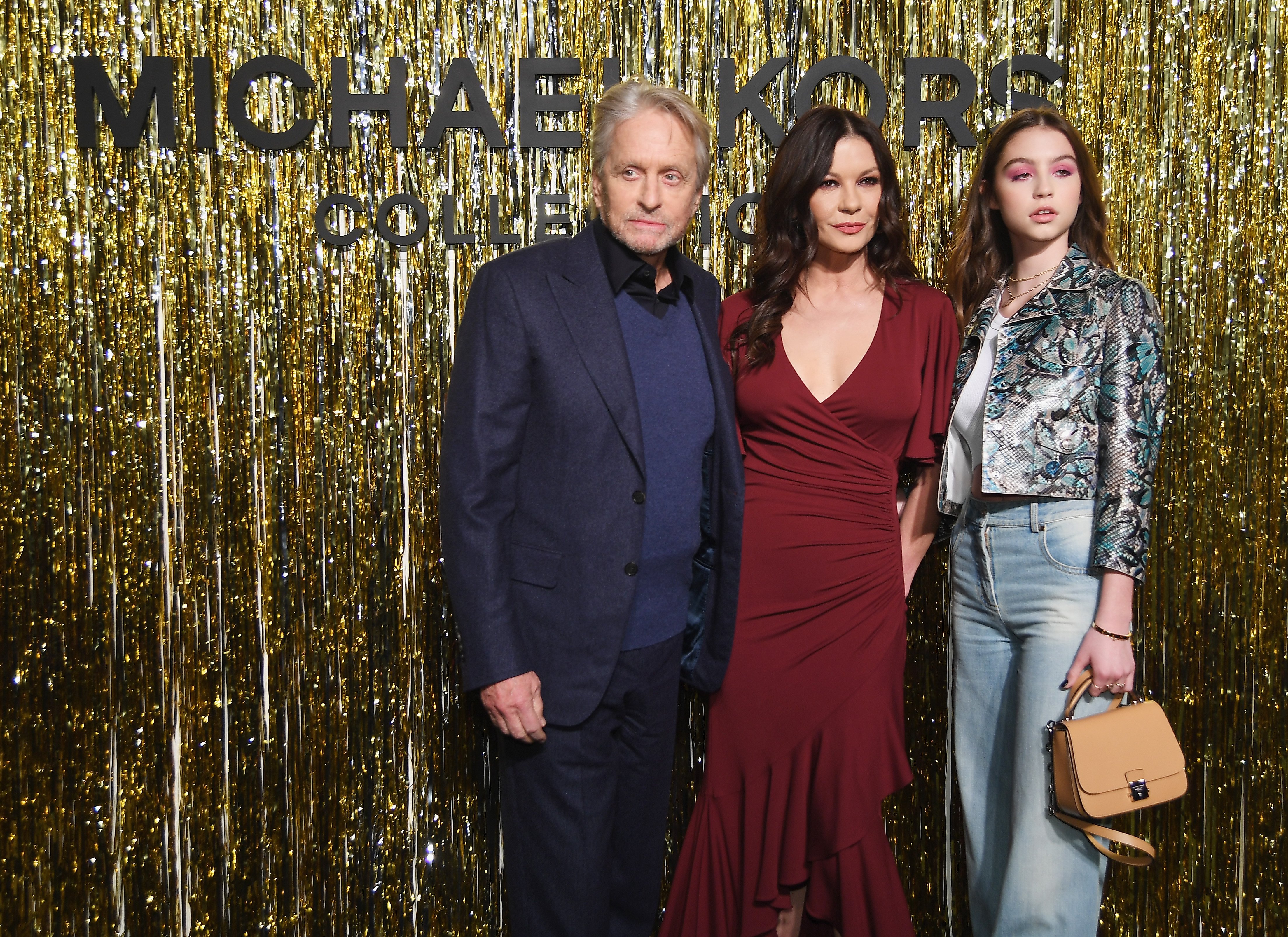 BIRTHDAY TRIBUTES
Her father wrote: "Honey, this is your Dad, wishing you the best 18th birthday any young lady could have. You know how much I love you, how proud I am of you, and the joy I have watching you grow into the young lady you are turning out to be."
Zeta-Jones described her daughter as kind, writing: "Happy 18th Birthday Carys Zeta! You are everything, and everything is you. Thank you for the joy you bring me." 
Zeta-Jones shared a throwback photo of her and young Carys holding her, which displayed their striking resemblance. She also posted a picture of her child in a floral swimsuit inside the pool.
The 51-year-old also shared a screengrab of an exchange between the two of them. Carys sent a text thanking her mother for giving birth to her on the morning of her birthday.
THROWBACK SNAPS
In February, her mom shared nostalgic lookalike images of them from the set of their Fendi campaign in 2019. The picture was captured in Rome, and saw Carys leaned on the wall outside the city center.
She wore Fendi from head-to-toe. Her mom captioned the snapshot and wrote it was a throwback Thursday for wardrobe testing for both Fendi and her child's shoot.
MARRIAGE
The Welsh actress also got candid about the relationship with the father of her kids at the start of this month, Douglas, with whom she shares a son with Dylan. The Hollywood couple has been married for 20 years.
Zeta-Jones revealed the secret to their solid marriage in an interview with WSJ. Magazine and said they have a lot of fun together. She shared that their constant love is respect, a sense of humor and that they enjoy each other's company. They also respect each other's space.
NATALIA'S BIRTHDAY
While the pair celebrate being married for so long and their daughter's birthday, Vanessa Bryant also celebrated her daughter Natalia's 18th birthday in January.
The mom of four wrote a heartfelt birthday tribute to her eldest child, whom she shares with the late Kobe Byrant and three other kids. Vanessa wrote how she and her husband are proud of their child and revealed she stepped in to help her raise her sisters and how strong and graceful she is.