Us Weekly: Harry Could Not Wait to Get Back to Heavily Pregnant Meghan Markle & Their Son Archie
Prince Harry returned to the UK for the first time since leaving his duties as a senior member of the royal family behind to attend his grandfather, Prince Philip's funeral. 
Prince Harry is back on American soil after his short visit to his home country to attend Prince Philip's funeral. The Duke of Sussex arrived in England on April 12 and boarded a flight home on April 20. 
An inside source revealed that the royal was hasty to return to Meghan Markle, who is pregnant with their second child, and their son Archie, who could not accompany him to the UK.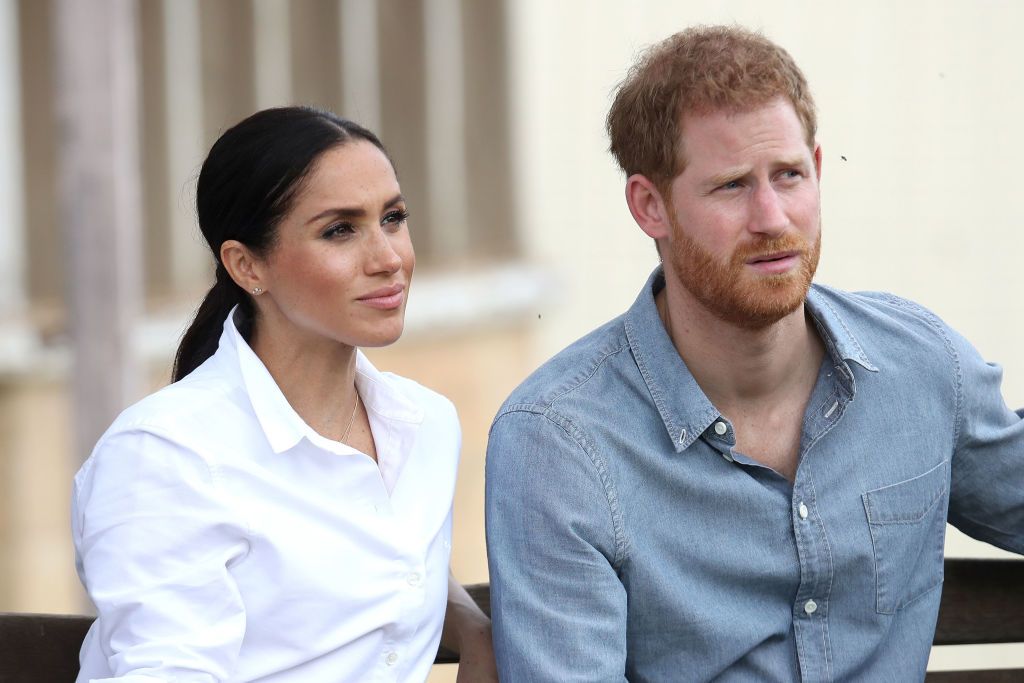 SHORT VISIT
Prince Harry, 36, definitely didn't waste time hanging around in England as his visit was just over a week long. A close source shared that his family was drawing him back to California, saying: 
"Harry couldn't wait to return to his heavily pregnant wife and Archie. [He] is happy to be back in Montecito."
The Duke stayed at his old royal abode, Frogmore Cottage, during his time at home. He quarantined at the Windsor residence before going out to attend Prince Philip's funeral on Saturday afternoon. 
Prince Charles 'could ditch' Prince Harry and Meghan Markle in new monarchy planshttps://t.co/B2R0TVXM7a pic.twitter.com/P8kG8fLmmg

— Daily Star (@dailystar) April 20, 2021
NO MEDICAL CLEARANCE
Prince Harry embarked on the solo trip back home because Markle, 39, did not receive medical clearance to travel. She is expecting her second child, who will make her arrival in the summer. 
Markle put plenty of thought into the sentimental wreath and handwritten note that she sent to the UK.
The royal couple's firstborn, Archie, also remained at home with his mother, leaving the Duke of Sussex to reunite with Queen Elizabeth and the rest of the royal family for the first time in a year. 
Two brothers, alike in dignity, grappling with ancient grudges. The fall from grace of a leading man. A family made by circumstance. This is Vanity Fair's Dynasty Issue. Read the cover story, on Prince William and Prince Harry's fraught relationship, now: https://t.co/PkiFeFGNA1 pic.twitter.com/1PHcZkP1EZ

— VANITY FAIR (@VanityFair) April 20, 2021
ON THE MEND
Prince Harry's time with his family was much needed. The younger royal sibling was feuding with his brother, Prince William, and father, Prince Charles, after Prince Harry and Markle's tell-all interview with Oprah Winfrey. 
Prince Philip's funeral was an occasion for the family to reconnect, and the Windsor family relations are on the mend. Prince Harry and Prince William were seen walking and talking after the funeral, with an inside source reporting: 
"Harry and William appeared cordial as the cameras rolled and that seemed to pave the way for Charles to join them when everyone had left."
There were cars waiting to transport the royals back to the castle but they chose to walk as a family. Having been separated in the Chapel they're now able to come together which will be a comfort to the Queen.

— Victoria Arbiter (@victoriaarbiter) April 17, 2021
NO BIRTHDAY CELEBRATIONS
With the Duke of Sussex's relationship with his family seemingly on the mend, there was subtle hope that he would stay for Queen Elizabeth's 95th birthday on Wednesday, but alas, the royal stuck to his plan and returned home. 
Despite not extending his trip to celebrate alongside his grandmother, it was reported that Prince Harry made an effort to spend quality time with the reigning royal on two separate occasions.
Prince Harry paid tribute to his grandfather Prince Philip ahead of his funeral. "And while I could go on, I know that right now he would say to all of us, beer in hand, 'Oh do get on with it!'"♥️ (📷: Getty) pic.twitter.com/wHzbw6Wjyy

— E! News (@enews) April 17, 2021
Markle also made an effort to send her condolences to her in-laws, regardless of the fact that she could not attend the funeral in person. The Duchess of Sussex watched the funeral from her home and sent a special gift with her husband. 
Markle put plenty of thought into the sentimental wreath and handwritten note that she sent to the U.K. She had florist Willow Crossley make a custom wreath that included Greece's national flower, bear's breeches.