Andra Day Slammed For Her Gold Cut-Out Gown at the 2021 Oscars — See Comments
Andra Day was slammed by users on Twitter for her gold Vera Wang cut-out dress at the Oscars this year, as some labeled it as inappropriate. 
Andra Day was nominated for Best Actress for her role as Billie Holiday in "The United States Vs. Billie Holiday" at the Oscars this year. The actress stepped out in a jaw-dropping cut-out dress to walk the red carpet. 
She wore a completely metal-looking dress, which hugged her figure, while she posed on the red carpet. The dress was a custom-made Vera Wang gown, which is very far from Wang's classic looks.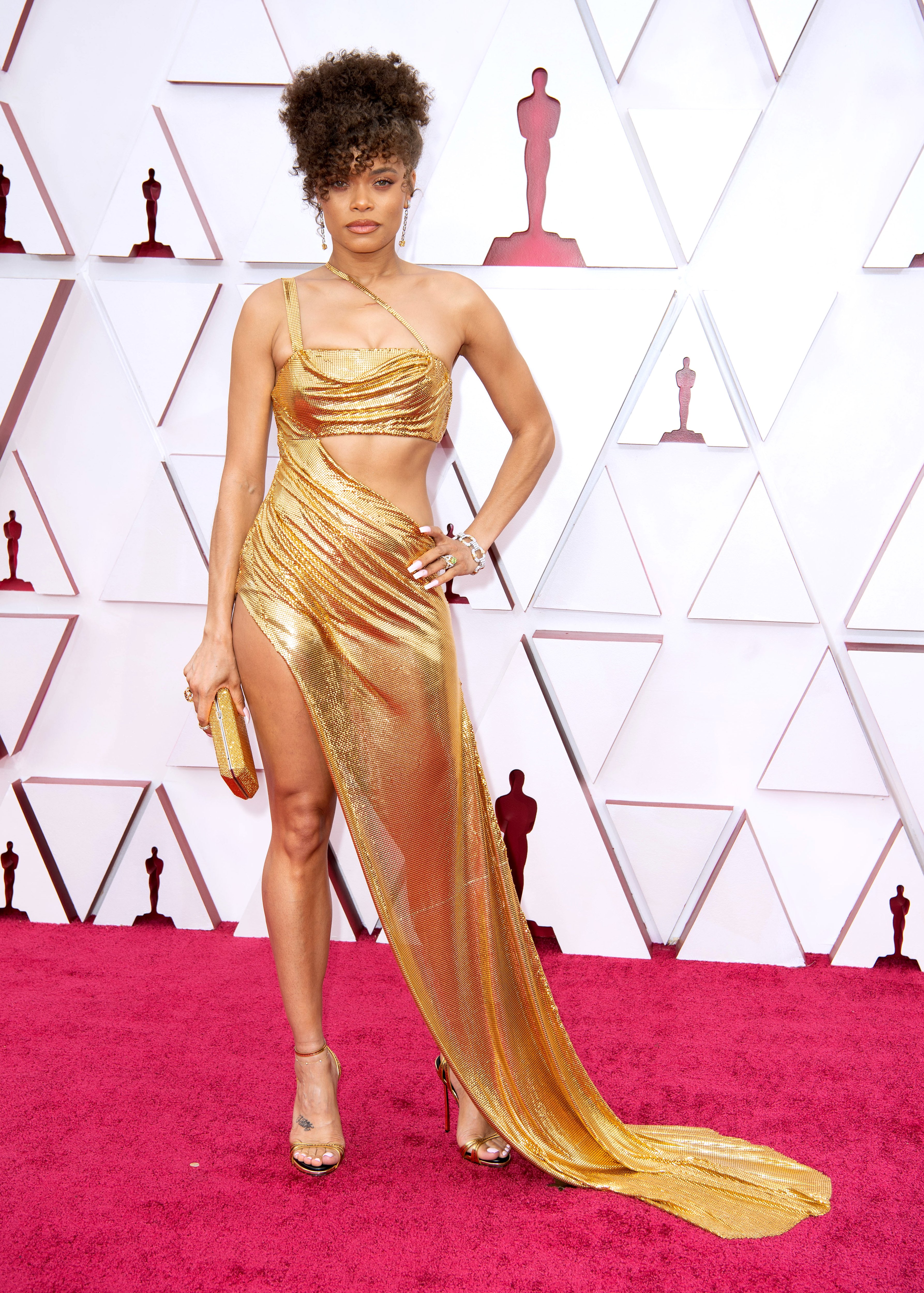 Day's stylist, Wouri Vice, discussed the metallic look with Vogue. The leggy number was inspired by a few of Cher's Bob Mackie moments as it was never going to sit on the demure side.
Vice described Day as someone fashionable but never forces it. He explained that Day has moments where she is playful and soft and other times not, but she will always commit to any look she chooses, as he explained: 
"There are moments when she's soft and playful and completely OTT moments, but whatever she decides to do she commits, and that's the most beautiful thing she does."
Although Vice and other fashion lovers might have thought Day's look, which was made with a rubber hammer, was totally jaw-dropping, users on Twitter were less impressed by her outfit. 
One user wrote that although she looked beautiful, they did not feel the dress was appropriate for the occasion. They also felt they were not missing out on anything by not watching. 
She looks hot but dressed not appropriate.
I guess I am not missing anything by not watching it tonight.

— alvaro correa (@lemanche) April 26, 2021
Many users felt that perhaps the dress was incomplete, as a user remarked that the dressmakers had only given her half a dress, while another agreed and said half the dress had been forgotten. 
Although some fans loved the gold look, another of Day's fans tweeted that they loved the actress but did not completely understand the look as they wrote:
"I love her, but I'm not understanding this look."
OMG they gave her half a dress!

— sam ✌🏻 (@rossiesmom) April 25, 2021
Although her look received mixed reviews from fans online, one person who must have thought Day looked stunning was her older sister, who was her date for the award show. 
Day shared that every one of her family members had hoped to take the coveted spot as her date, but she took her sister. There is no doubt that her family supported her from home. 
I love her, but I'm not understanding this look

— Kemzi ❤️+💡 (@chimebest53) April 25, 2021
Day did not win the award from the best actress. However, the fact that she was nominated proves that she is a force to be reckoned with. She definitely deserved the nod, as her preparation for the role was intense. 
The actress revealed that she lost 40 pounds to portray the jazz singer. She explained that she starved herself and picked up smoking cigarettes to get into character.