Oprah Admits She Was Shocked at How Far Harry & Meghan Went During Their Tell-All Interview
Oprah shared her opinion on the success of her revealing sitdown with Prince Harry and Meghan Markle during an interview with Nancy O'Dell.  
The buzz surrounding Prince Harry and Meghan Markle's shocking interview with Oprah in March still hasn't died down, and the television show host is sharing why the royals are still on everybody's minds. 
Oprah switched places and became the one interviewed during her virtual conversation with Nancy O'Dell. She revealed that the viewers weren't the only ones who were shocked by the Duke and Duchess of Sussex's honesty.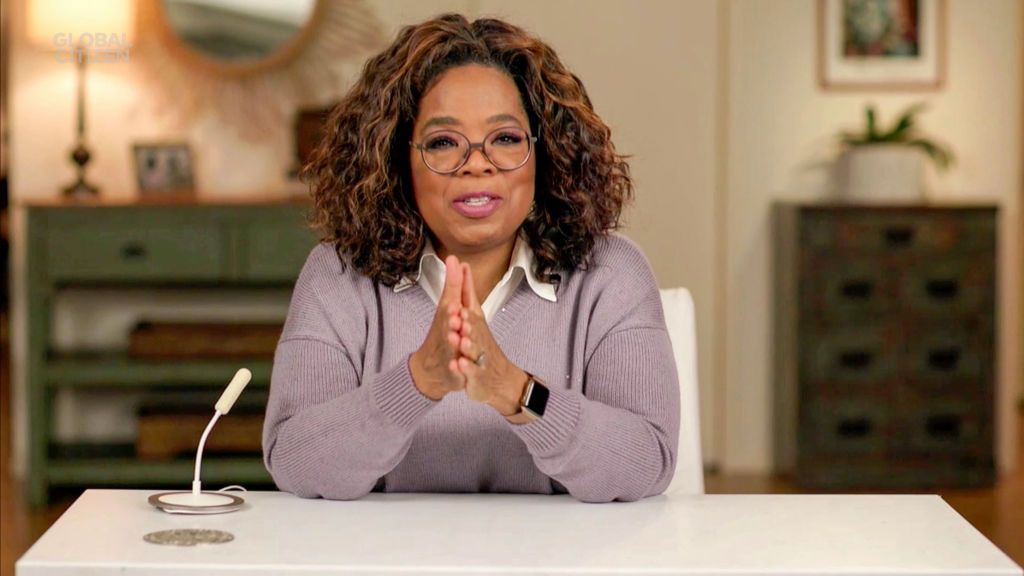 SHOCKING HONESTY
Oprah struggled to hide her surprise at the things that Markle, 39, and Prince Harry, 36, revealed during their interview with her. The genuine shock on the host's face was quickly transformed into memes, and she explained why: 
"Literally with that thing that's now become a meme, that's like, 'What?' I'm like, 'What? You're going there? You're going all the way there?'"
Oprah credited the couple's brutal honesty and willingness to be vulnerable with their entire truth with the success of the CBS special. She said that the power lay in them being completely open and transparent during the conversation. 
Talking to @nancyodell on @TalkShopLive right NOW! Watch it here 📚 #WhatHappenedToYou https://t.co/vq6tV55V91

— Oprah Winfrey (@Oprah) April 23, 2021
WHERE THE CREDIT IS DUE
During her virtual sitdown with O'Dell, Oprah also shared that she communicated with the royal couple before her conversation with them to ensure that they shared a desired outcome for the interview. 
The siblings were seen walking next to each other and chatting casually after the service at St. George's chapel.
"The Oprah Winfrey Show" host said that Prince Harry and Markle agreed with her that truth and honesty needed to be a top priority for their conversation hence their willingness to share so much. 
Phone call Text pic.twitter.com/z9FLGGuKwx

— Josiah Johnson (@KingJosiah54) March 13, 2021
SOME HIGHLIGHTS
Amongst the shocking revelations made during the two-hour-long CBS special was that the Duchess of Sussex had struggled with her mental health, with its severity stretching to suicidal thoughts. Markle shared: 
"I just didn't want to be alive anymore. It was clear, it was real, it was frightening, and it was a constant thought."
The royal also said that she didn't receive any help from the royal institution in her time of need. Markle couldn't check herself into a hospital because of the bad publicity that would stem from it. 
Oprah Will Be the First Ever Guest on Nancy O'Dell's New Talk Show Tonight https://t.co/mUi7igZCiH

— Oprah Daily (@OprahDaily) April 22, 2021
ROYAL RIFT
Following Prince Harry and his wife's exit from their roles as senior family members and their explosive interview, there was some conflict between the couple and the Windsor family. 
Prince Philip's funeral seemed to be neutral ground for the royal family allowing Prince Harry and Prince William to take the first steps towards repairing their relationship. 
Prince William says he hasn't spoken to his brother yet but will do and they are "very much not a racist family". pic.twitter.com/3j0AulDDOB

— Richard Palmer (@RoyalReporter) March 11, 2021
Their grandfather's funeral marks the first time that Prince Harry and his brother saw each other since the younger royal moved to Montecito, California, with Markle and their son a year ago.
The siblings were seen walking next to each other and chatting casually after the service at St. George's chapel, which shows that Prince Harry and Prince William are working on burying the hatchet. 
The National Suicide Prevention Lifeline is 1-800-273-8255. Other international suicide helplines can be found at befrienders.org.