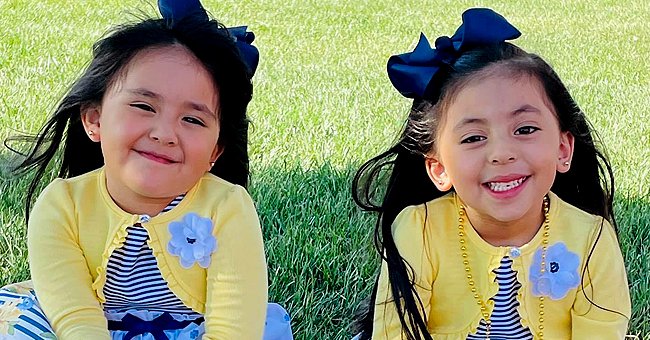 facebook.com/letyflowers23
Man Becomes Real-Life Santa for Two Girls Who Sent Out Their Christmas Lists on Balloons
A mother, who had her twin daughters tie their Christmas list to balloons and release them, never imagined that a real-life Santa Claus would answer their letters.
Alvin Bamburg, a Shreveport, Louisiana resident, took to Facebook in January to share a photo of a balloon he found in Grand Cane, Los Angeles. The note attached to the balloon warmed his heart.
Bamburg wrote that the balloon owner was located after his post was widely shared. He thanked everyone who helped and promised to work with the mother to fulfill her daughters' wishes.
Luna and Gianella Gonzalez, 4, released balloons with five wishes in December. Their mom, Leticia Flores-Gonzalez, never envisioned that a real-life Santa Claus would answer the twins' letters.
It was only Luna's balloon that Bamburg discovered. The outpouring of assistance from strangers looking to help fulfill Luna's Christmas wish list and her twin sister's was overwhelming.
"We updated the Facebook post and immediately had a ton of family, friends, and coworkers wanting to donate gifts for us to send," Bamburg told TODAY. The first shipment consisted of four large boxes.
She noted that it would be something they can remember even after a rough year in 2020.
They made plans to meet in person after exchanging texts, phone calls, and FaceTimes. Bamburg recalled how they treat each other like family. He said Leticia was like the little sister he had never had.
Bamburg and his wife, Lee Ann, made their way to Del City, Oklahoma, earlier this month. They surprised the twins with their last wish: a puppy, which the girls ended up naming Max.
"If you can make one person smile -- trust me, not only will it help them, it will make you feel so much better," Bamburg said in an interview with Good Morning America.
As for Leticia, she said that releasing balloons containing wishes was a different experience for her daughters. She noted that it would be something they can remember even after a rough year in 2020.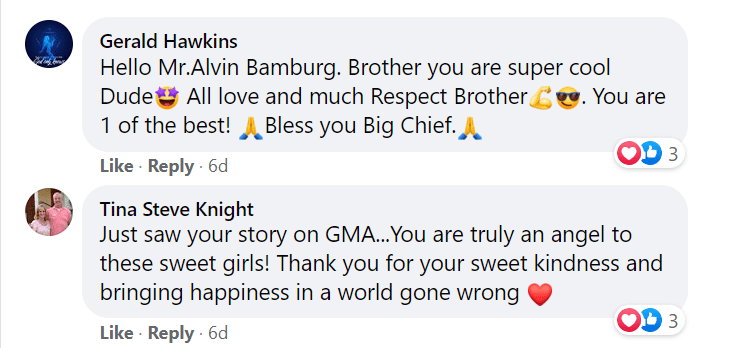 Comments from people who greatly admire Alvin Bamburg's kindness. | Photo: Facebook/alvin.bamburg
In related news, several families explained how a real-life Santa Claus delivered thousands of pounds in their letterboxes at the stroke of midnight on Christmas Day in 2017.
In and around Linden Close, Walsall in the West Midlands, residents said they were surprised when the unknown benefactor slipped cash-filled envelopes through dozens of doors.
Please fill in your e-mail so we can share with you our top stories!