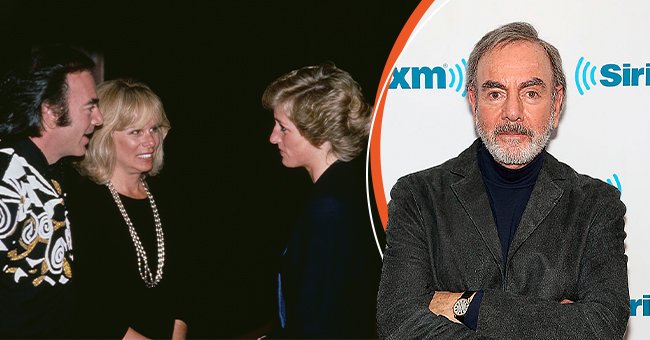 Getty Images
Neil Diamond, Now 81, Once Made Princess Diana Blush While Dancing with Her
Neil Diamond had his once-in-a-lifetime fairytale moment when he danced with the late Princess Diana at a 1985 dinner party. Photographer Pete Souza shared details of the dance, including Diana's blushing moment.
Neil Diamond is one of the successful singers who never had a problem filling up seats at a concert. Apart from his gifted vocals, he is also a good-looking and charming man who can make a woman's heart skip a beat.
But when he was presented before Princess Diana, his knees began to shake. The moment was surreal and one he would never forget.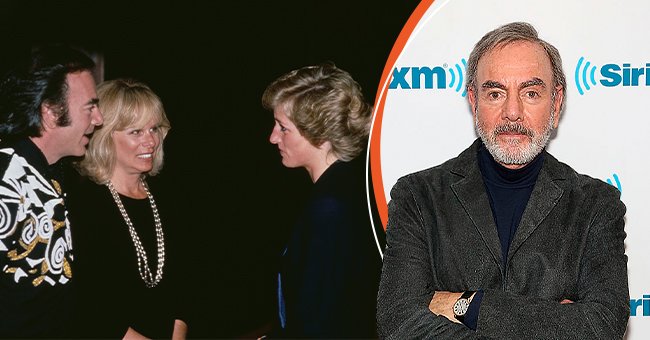 Princess DIana meets Neil Diamond and his wife Marcia at a concert at Wembley Stadium in London, November 1989. | Source: Getty Images
In a previous interview, Diamond detailed how he and the People's Princess ended up on the dancefloor during the 1985 White House dinner and what they talked about. The "Sweet Caroline" singer revealed:
"She asked me to dance. I didn't have the nerve to ask her. Everybody else was asking her. She came over, and she asked me. I thought, 'Oh my gosh, it was great.'"
According to his recollection, Diana wasn't sure if it was proper to ask a gentleman to dance in the US but went for it anyway. Initially, Diamond's knees began to shake from nervousness, but as their conversation about her travels went smoothly, he began to ease up.
Although Diana said their age difference did not matter during an engagement interview, she reportedly spoke to her friends about her age gap concerns.
The White House dinner event was not the first time Diamond met the Princess. Previously, they crossed paths at a charity concert in Birmingham, and just like their dance, the singer's heartbeat fast then. He said:
"Every performer experiences some kind of nervousness. Probably the most nervous I have ever been was in 1985 when I attended a White House dinner in honor of Prince Charles and Princess Diana."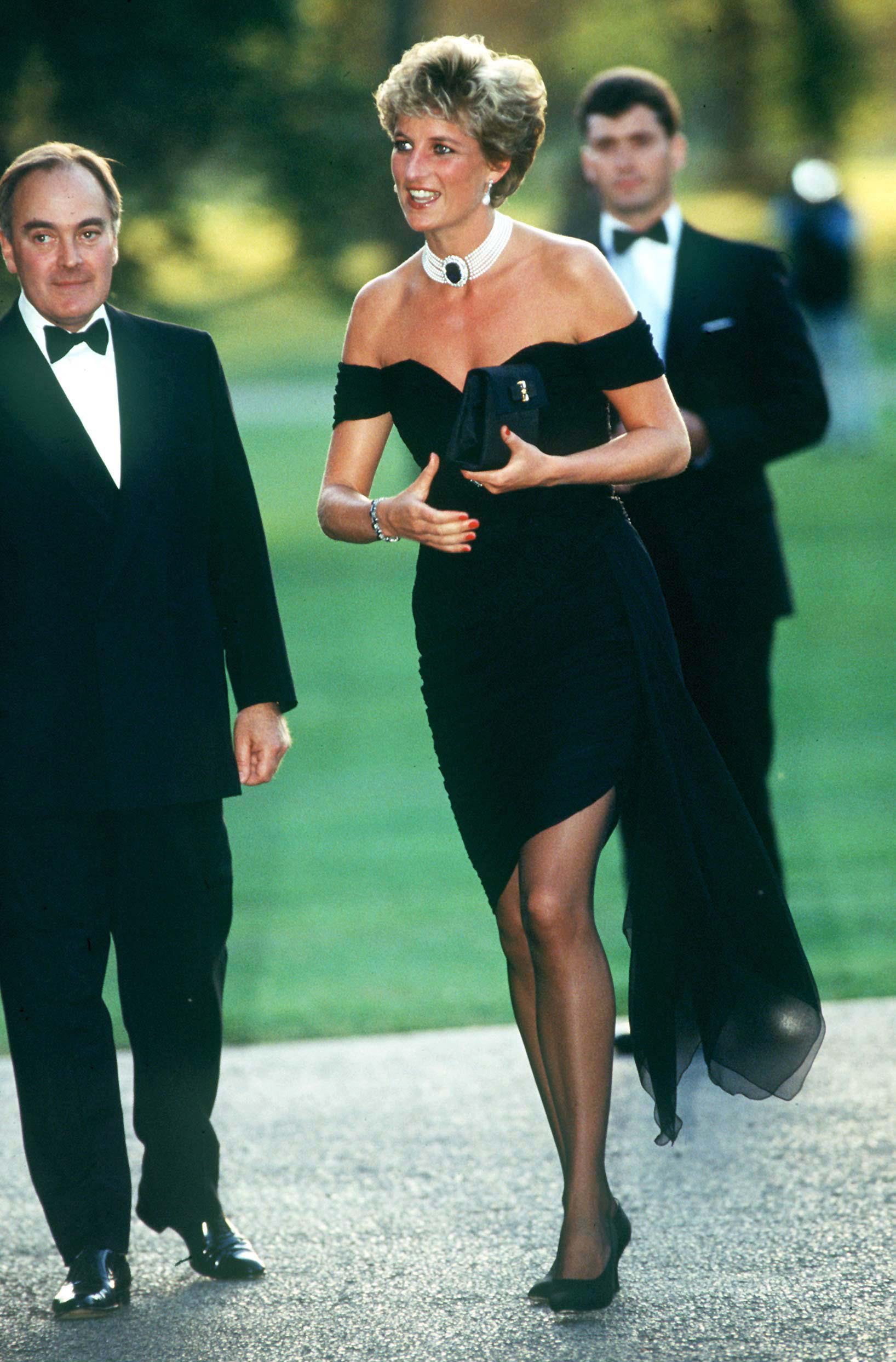 Princess Of Wales At The Serpentine Gallery In London. On Her Left Is Lord Palumbo, June 29, 1994 | Photo: Getty Images
White House photographer Pete Souza also shared his account of the moment Diana and Diamond danced. In an Instagram photo he shared, the renowned photographer wrote, "The one rock-solid remembrance I have is that Diana was visibly blushing when she danced with Neil." He added:
"In the photograph, you can see that her cheeks are a bit red but in the moment it was even more obvious,"'
Diamond also continued singing "You Don't Bring Me Flowers" if Souza's memory served him right while dancing with Diana. He initially performed the song with the military band that evening. Souza noted that Diana also danced with other celebrities in a different post, including Tom Selleck, Clint Eastwood, and John Travolta.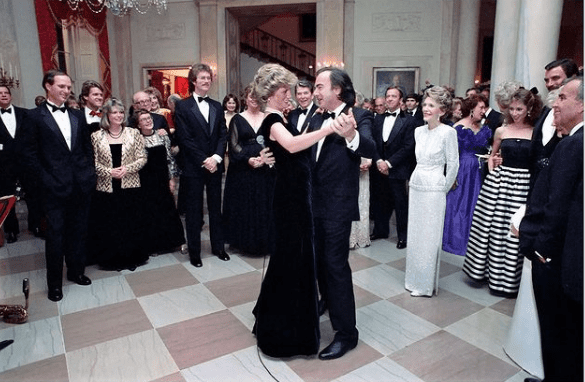 Neil Diamond and Princess Diana dancing during a White House dinner. | Source: Instagram.com/petesouza/
DIANA'S DANCE WITH TRAVOLTA
Travolta also once opened up about his memories of Princess Diana, including their famous dance at the White House. Like Diamond, he admitted to having jitters before their dance, which he did not expect to have the opportunity. Nevertheless, it was a great honor.
According to the "Grease" star, the most challenging part of the evening was introducing himself correctly and confidently while making Diana feel comfortable with the dance. Although it required a lot of effort, her waltz with the Princess was very special. Travolta said:
[...] I thought, 'There must be a reason for doing this, and I better give it my all.' That meant [to] lead the dance well and make sure we had fun. That was the easy part."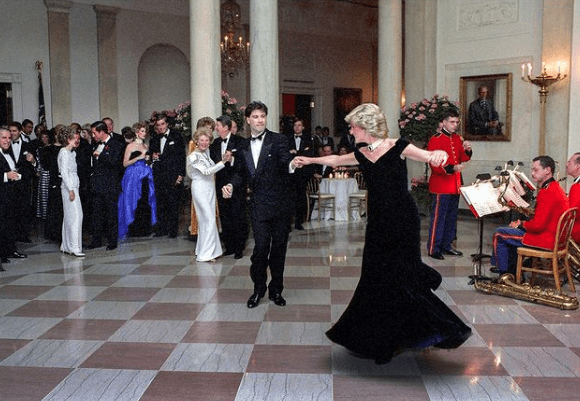 John Travolta and Princess Diana dancing during a White House dinner. | Source: Instagram.com/petesouza/
Travolta described the experiences as fairytale-like and that he would never forget that moment for all the decades to come – a moment he never thought would happen in his life.
Their effort at the time exceeded the expectations of everyone around them at the White House. Souza captured a beautiful photo of their dance and posted it on Instagram. "I made this photograph more than 35 years ago, but remember the moment as if it were yesterday," he wrote.
In 2019, the gown worn by Diana during the dinner hosted by President Ronald Reagan was auctioned off by Kerry Taylor Auctions. This was the third time it had been sold.
It was known that Diana never danced with her then-husband, Prince Charles, during the dinner. The couple's relationship had always been controversial until they experienced a very challenging marriage. Several factors contributed to their turbulent relationship, including their 13-year age gap.
Although Diana said their age difference did not matter during an engagement interview, she reportedly spoke to her friends about her age gap concerns. Diana was 19 when she got engaged, and her life took a complete turn shortly after.
Being under the spotlight, Diana tied the knot with Charles in front of 3,500 people, with nearly 750 million television viewers watching the ceremony.
Diana suffered from an eating disorder and mental health issues during their marriage. Her husband's affair with Camille Parker Bowles only worsened the situation. Nevertheless, people loved Diana for her genuine kindness and compassion towards others.
Eleven years later, the famous pair separated, and Diana reportedly received a lump sum of more than $20 million as well as an allowance to run her charity work, royal duties, and more. She also continued living in Kensington Palace, where she raised her two sons, Prince William and Prince Harry.
Sadly, Diana passed away months after their divorce due to a horrific car accident in Paris. Charles married the woman he had been having an affair with at the time, and they are still together.
Please fill in your e-mail so we can share with you our top stories!