Rebel Wilson Shows off Her Assets in a Simple Yet Chic Bodysuit after Incredible Weight Loss
Rebel Wilson posed in a black bodysuit that showed off her gorgeous body in new mirror selfies she posted on her Instagram story. 
On Tuesday this week, actress Rebel Wilson was in a flirty and confident mood as she shared stunning and playful mirror selfies of herself in a black bodysuit on her Instagram story. 
The "Pooch Perfect" star is currently in the UK as she is filming for her new movie, "The Almond & The Seahorse." Wilson took the photos in what looks like her set trailer.
She shared two selfies of herself in the risque look. The first showed the front of the garment while Wilson posed with her phone and looked very serious. However, the second photo was more playful. 
In the second, she showed off the back of the garment, which featured a thong. The "Pitch Perfect" star posed with her tongue out and her gorgeous wavy blonde hair down her back. She captioned the first image:
"She's glamorous on set today."
The photos showed off the hard work she put into her year of health in 2020, which saw her lose over 60 pounds. The star, who has been open about her weight loss journey, took a break from social media ahead of filming.
She told fans that she would be staying off social media for a bit while she was filming as she needed to focus on the role because it was a different role than she is used to. 
Wilson revealed that people did not notice her when she was bigger, but now people would offer to help her.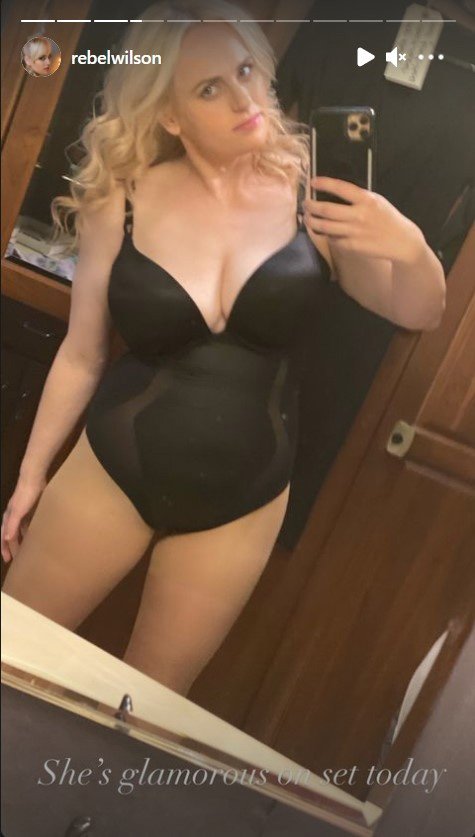 However, she has kept fans up to date on her UK adventures. The actress went on a The Beatles tour as she posted a photo of herself outside of Paul McCartney's childhood home. 
She enjoyed a UK classic, Lemon Drizzle Cake, before going for a walk in the English county side. The movie is her first non-comedic role, which is, of course, different for Wilson. She admitted that she felt she needed to transform to act in a drama as she said:
"I feel that I physically have to show you that I am different and I am transformed in order to help transform my career."
Wilson has admitted that people have treated her differently after she lost 65 pounds. She explained on "The Morning Crew With Hughesy, Ed, and Erin" radio show that she noticed she was being treated nicer by others. 
Wilson revealed that people did not notice her when she was bigger, but now people would offer to help her with her groceries or open doors for her. Her weight loss also led her to other movie roles.
Wilson actually originally trained as a dramatic actress, so she is almost going back to her roots for her new movie. Besides updates on her new film, Willson has shared promos for her dog grooming competition show. 
The actress shared a video of herself on the show. In the behind-the-scenes video, Wilson wore a gorgeous red-caped Safiyaa dress, the same one Meghan Markle wore in 2020.