Jill Biden Wears the Same Dress She Wore on Inauguration Night but in a Different Color
First Lady Jill Biden is sticking to what she knows when it comes to her fashion choices. She donned a navy version of the white ensemble she wore to President Joe Biden's inaugaration. 
First Lady Jill Biden looked stylish as she walked down the steps of the chamber to take her seat for President Joe Biden's address to a joint session of Congress. Her navy outfit was a different take on a dress she has worn before. 
The blue dress with the mesh long sleeves and floral pattern throughout the arms and chest may look familiar to those who have paid close attention to Jill's fashion choices for major events.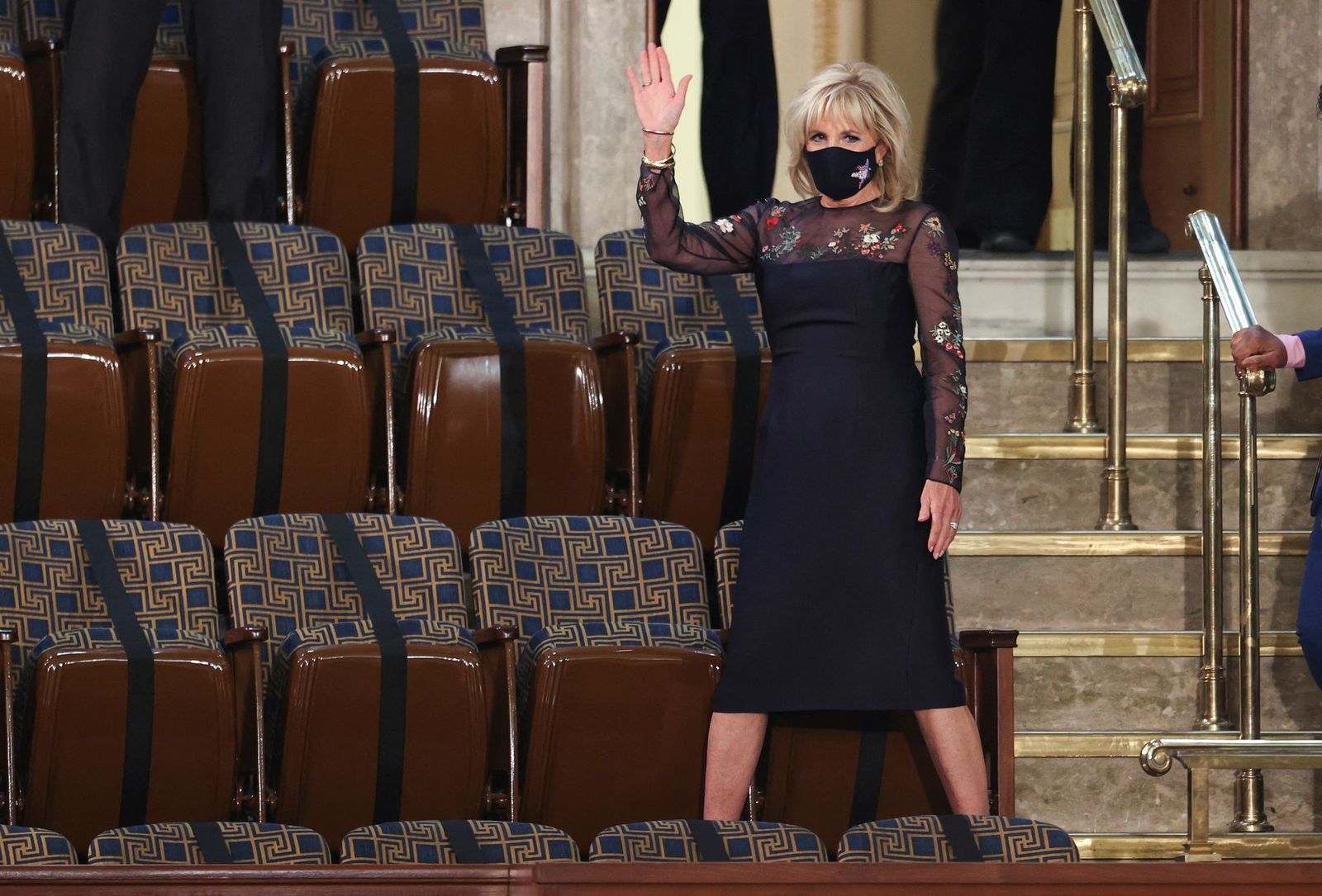 WHITE VERSUS BLUE
The white dress that the First Lady wore to her husband's inauguration in January made a strong statement of unity, a message woven into the design of the outfit, and Jill is keeping with that message with her navy number. 
Naomi Biden, one of the Biden grandchildren, also gave her grandmother's outfit her stamp of approval.
The floral embroidery represented all of the state flowers of the United States, its territories, and the District of Columbia. The significance was carried over into Jill's navy outfit, a replica of the white dress just in a different color. 
FASHION FORWARD
The First Lady didn't want to change something that she knew would work; hence she went back to her friend and fashion designer, Gabriela Hearst, to make another version of her stunning white dress for April 28. 
Hearst, known for her sustainable fashion, revealed the inspiration behind Jill's first piece on her Instagram, which evidently carried over to the design of her navy ensemble. The designer shared: 
"The message of Unity is the main inspiration for the creation of the Ensemble. Unity makes strength and it is needed for the road ahead."
UNITED FRONT
The First Lady's fashion choice and the thought that went into its design agree with the message President Biden carried over as he stepped into his place in the White House earlier this year. 
During his speech at the inaugaration ceremony, the president reiterated the need for unity and the coming together of America as he took over the reins from the Trump administration. He said: 
"I've never been more optimistic about America than I am this very day. There isn't anything we can't do if we do it together." 
Gabriela Hearst is quickly emerging as Jill Biden's fashion favorite. Here she wears a navy sheath dress by the Uruguayan designer. It features a sheer overlay, floral embroidery, and a matching mask. pic.twitter.com/Y1gqurRHuE

— Mekita Rivas (@MekitaRivas) April 29, 2021
ALL EYES ON JILL
Although the focus was meant to be on the president's address to a joint session of Congress, his wife seemed to steal the show with her blown-out blonde hair and floral blue outfit. 
Social media turned to comment about Jill's style as she took her seat alone to watch her husband's speech, not many worrying about the president's politics. 
So, yeah, it's a presidential address to a joint session of Congress and using it as a look book is totally missing the point, but I want Jill Biden's dress anyway. https://t.co/UqupN2ClmS

— Rose Knows (@roseknows) April 29, 2021
Hearst was identified as Jill's favorite designer, showcased by the fact that the first lady loved the first work that the designer did for her; she had her do it again, just in a different color. 
Naomi Biden, one of the Biden grandchildren, also gave her grandmother's outfit her stamp of approval. Naomi took to social media to share that she thought Jill's outfit was a total success.