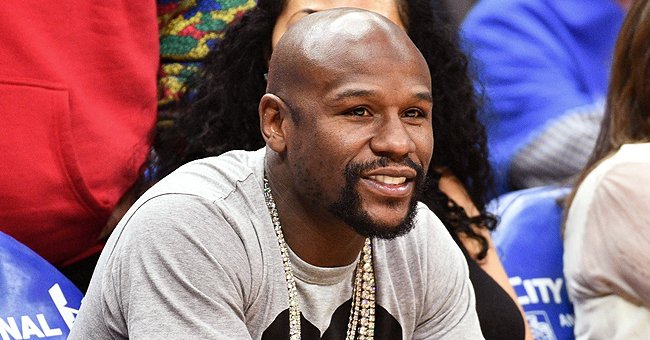 Getty Images
Fans Flood Floyd Mayweather's Daughter Yaya with Comments as She's Talking about Her Baby
Floyd Mayweather's daughter elicited strong reactions from netizens after videos that captured her answering questions about her newborn were shared on social media.
Floyd Mayweather's daughter Iyanna "Yaya" Mayweather recently had an Instagram Live session where she answered questions some of her fans had about her newborn child, KJ.
The Shade Room shared copies of the video via Instagram, and it prompted mixed reactions from users who made their thoughts known in the comment section.
In the footage, the young Mayweather revealed that her child is quiet and handsome. She stated that he only cries when he is hungry and added that while the boy loves her and her parents, he is not very accommodating toward anyone else.
As far as when people will catch their first glimpse of him, the proud mother stated that she would consider sharing shots of him when he clocked one— this she says is to protect him from social media and the hate it can spread.
Mayweather does not want to expose her son to any of the negative aspects of social media — a wise decision given the way netizens reacted to the footage.
One fan described the 19-year-old as a "toddler" while another asked why she carries herself "like a 15-year-old." A third user who had gotten enough of the malicious comments rose to the young mother's defense.
Mayweather's father has been bestowing favor upon his grandson since he was born.

A fan's reaction to Yaya Mayweather talking about her newborn baby on Instagram Live | Source: Instagram.com/theshaderoom
She pointed out Mayweather's age and declared that it "takes time to grow out of your childlike mind." The woman further added that they leave her to be since the frontal lobe that aids critical thinking does not develop fully until age 24.
Mayweather is only one of four kids the famous boxer has with two different women, but she is the only one who has given birth. She made no official announcements about the delivery, but she shared a video clip that saw her holding a newborn earlier in January.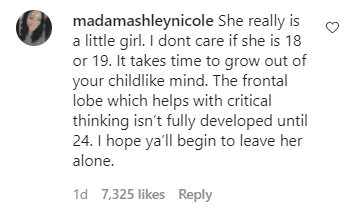 A fan's reaction to Yaya Mayweather talking about her newborn baby on Instagram Live | Photo: Instagram.com/theshaderoom
The boy is reportedly named after his father Kentrell Gaulden, aka NBA Youngboy, who has said nothing about the birth— he is reportedly off all social media channels at the moment.
Mayweather's father has been bestowing favor, in the form of gifts, upon his grandson since he was born. He may not see eye to eye all the time with his son-in-law, but that does not mean the same will be the case with him and the newborn Kentrell.
The 19-year-old's relationship with Youngboy has been a rocky one from the very beginning. Last year, it culminated in her getting arrested for felony aggravated assault with a deadly weapon after she got into a fight with one of the rapper's other baby mamas.
He reportedly has seven, but Mayweather, believing she is his fiancée, took up arms against LaPatra Lashai Jacobs, whom she found in his house.
An argument ensued, and it turned violent, with Jacobs ending up stabbed once on either arm. The injuries required surgery. Hopefully, the two have ironed things out and learned their lessons— never play with knives, among others.
Please fill in your e-mail so we can share with you our top stories!