Pharrell Williams & His Wife of 7 Years Smile while Chilling Together on a Bench in Rarely-Seen Pic
Star singer Pharrell Williams and his wife of seven years, Helen Lasichanh, were spotted in a sweet Instagram picture sharing a lovely moment, and their fans loved it.
With many hit songs to his credit and awards to his name, Pharrell Williams has made himself a fan favorite with his charming voice and personality.
While he enjoys being the center of the spotlight, his relationship with his wife, Helen Lasichanh, has captured his heart the most, and he never fails to gush over their romance.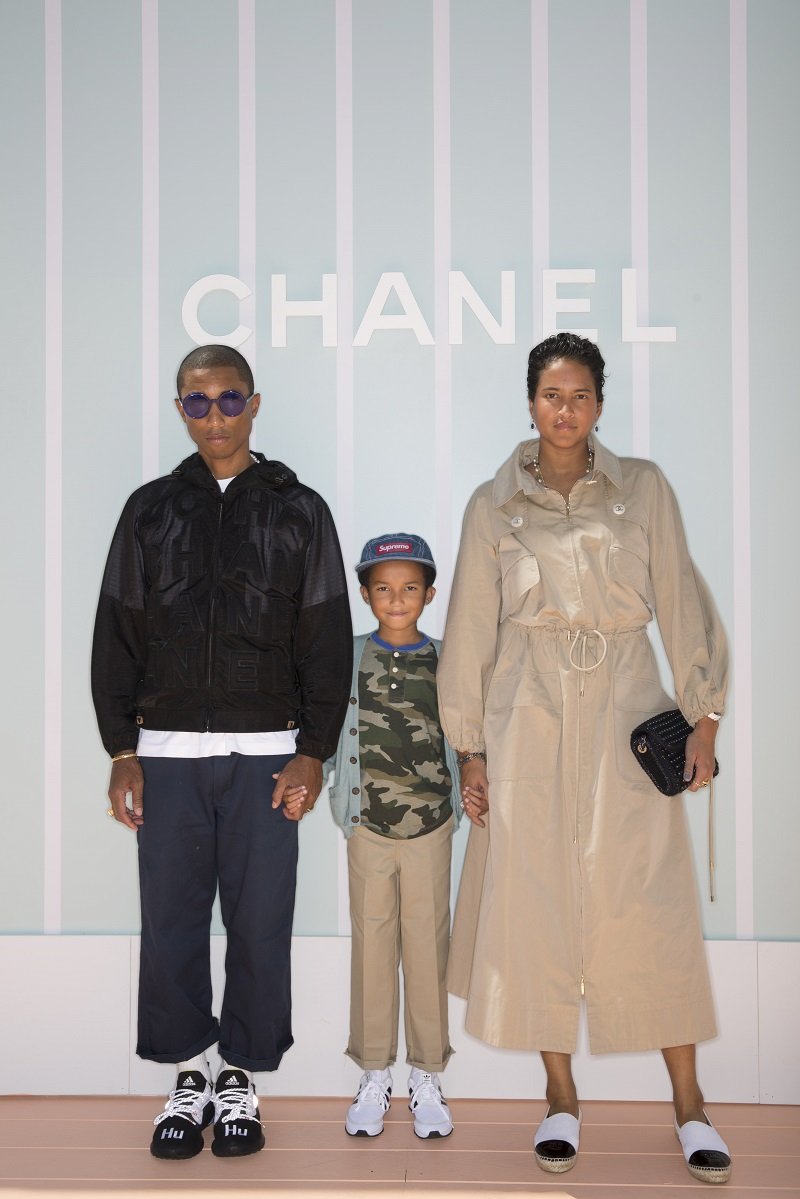 A RARELY-SEEN PICTURE
Recently, Williams surprised his fans with a rarely seen photo of him and his wife of seven years enjoying a lovely couple's time chilling on a beach with smiles all over their faces.
The black and white picture showed the parents of four kids looking excited to spend some time alone. Williams looked simple with a face cap and shorts, while Lasichanh wore a white shirt, looking beautiful.
Few hours after the post was shared, their fans flooded it with likes, and some others left sweet comments behind. Some fans noted that it felt cool seeing the longtime lovers together.
They have about 12 nannies in rotation caring for their triplets to manage their family of six.
FACTS ABOUT WILLIAMS' WIFE
Williams loves to keep his personal life away from the glaring eyes of the public, and his wife also enjoys a low-key presence on social media, keeping details private and simple.
While she loves to stay away from the spotlight, Lasichanh has a large heart and loves to take part in charity alongside her husband. The duo frequently gives out food to the less fortunate at the Los Angeles Mission Christmas Celebration.
Lasichanh, unlike her husband, pursued a career as a model and a designer, and she seems to have done quite well for herself while maintaining her support for her husband and family.
LOVE AND RESPECT
After dating for years, the couple tied the knot in October 2013 and have stuck together. Speaking of the secret behind their longtime romance, they cited mutual love and respect.
They also ensure that they keep their space in marriage and not act possessive. Williams maintained that Lasichanh is not his but makes him feel like she belongs to him.
IN AWE OF HIS WIFE
While counting his blessings, the father-of-four makes sure to place his wife at the top of his list, noting that he is in awe of her and how she has changed their home.
Williams gushed over his wife's ability to mother their kids and nurse them. The ten-time Grammy winner noted that growing older has made him realize how blessed he is to have his family.
PARENTS OF FOUR
The couple share four children - a son and triplets. Since the birth of their kids, they have done their best to raise them outside of the celebrity spotlight but sometimes give their fans a hint of their family life.
They have about 12 nannies in rotation caring for their triplets to manage their family of six. The famous producer and his wife welcomed their triplets in 2017, and since then, they have brought all hands on deck to run their home.