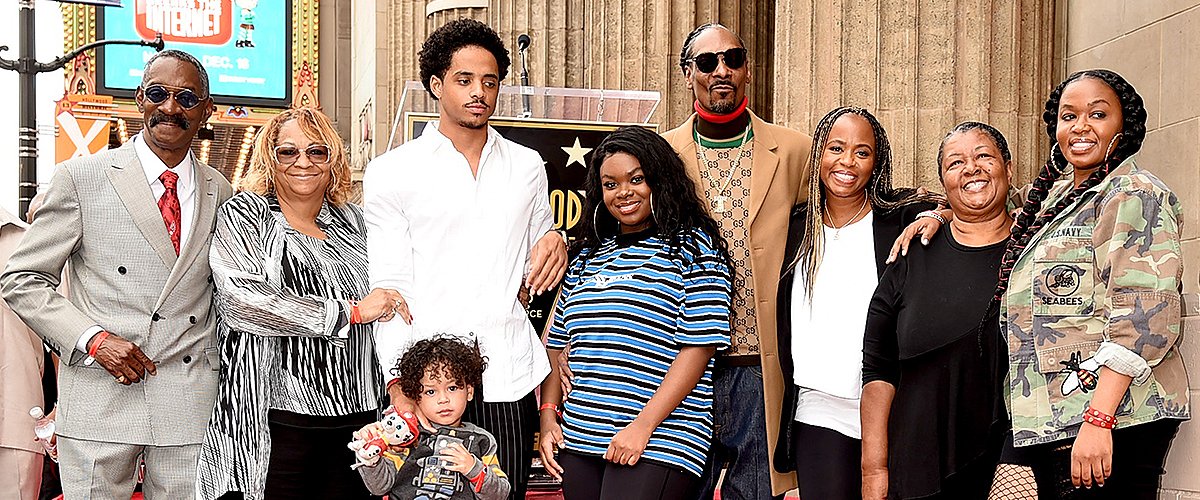 Getty Images
Snoop Dogg Has a Close Bond with Mother Beverly Tate — Glimpse into Their Relationship
Snoop Dogg might come across as a tough guy for some people, but he is a devoted family man. The rapper has a tight relationship with his mother, Beverly Tate, and she was key in helping him clean his image after his comments to Gayle King in 2020.
Snoop Dogg, real name Cordozar Calvin Broadus Jr., got his artistic name from his mother, Beverly Tate, who used to call him "Snoopy" when he was a child.
Snoop's relationship with his mother is an enviable one. She raised him and his two brothers in a deeply religious home, and although Snoop derailed from the Christian path at some point, his mom has always had his back.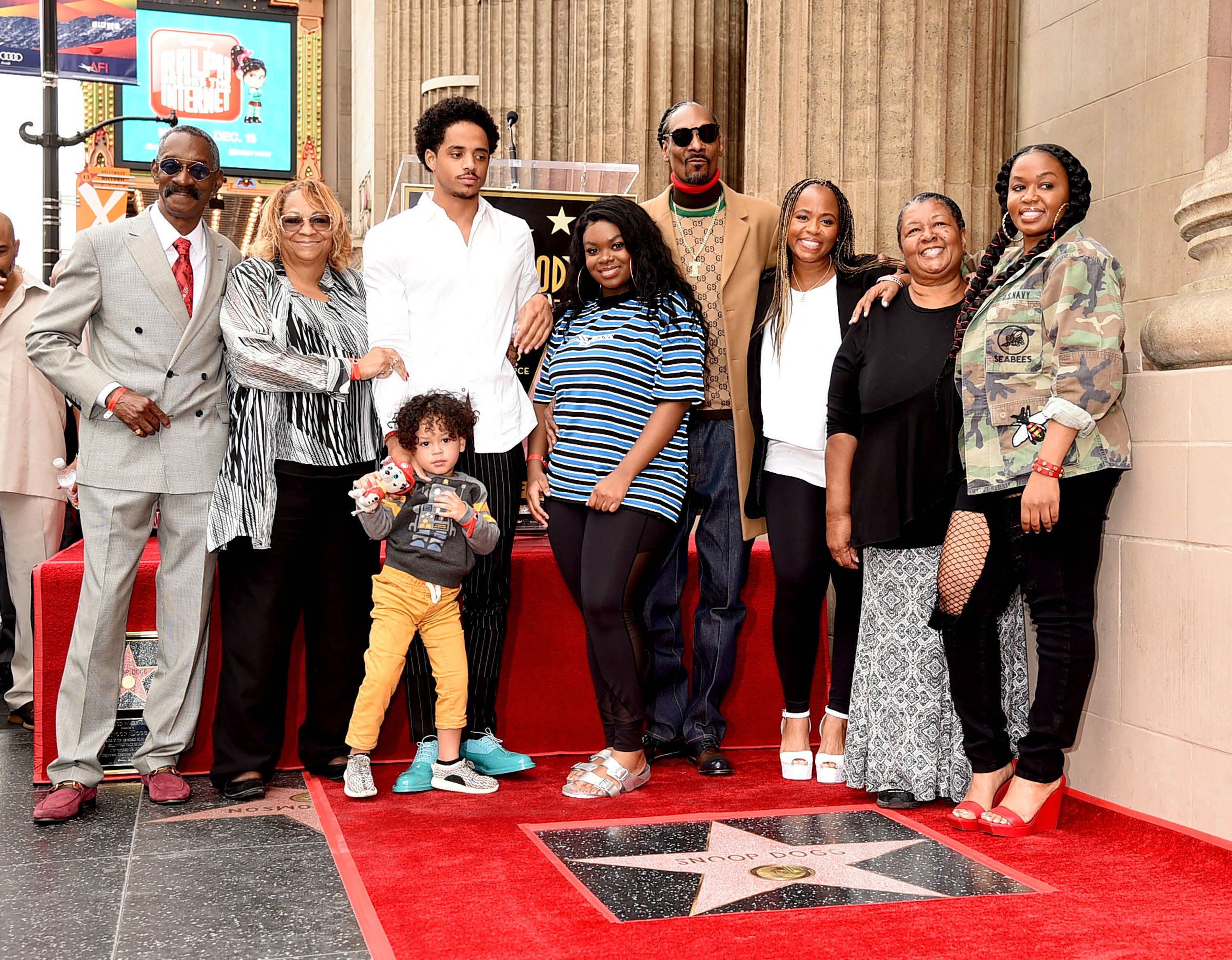 Snoop Dogg, with his family, receiving a star on The Hollywood Walk of Fame on November 19, 2018 in Los Angeles, California. | Photo: Getty Images
Mrs. Beverly Tate, also known to some as Beverly Broadus-Green, is a former head chef and church choir director. However, in 2005, she accepted the call of the Lord and got ordered as a minister.
She raised her three kids all by herself after their father moved to Detroit. And while Mrs. Tate did her best to keep her children on track, young Snoop Dogg fell with the wrong crowd in a neighborhood where gangs and drugs were predominant.
Still, Mrs. Tate never stopped praying for her son or instilling her faith and discipline in him. Although Snoop and his brothers used to call her "Beverly" instead of mom, Mrs. Tate made sure to let them know she was not their friend but their mother.
A renowned evangelist and book author, Mrs. Tate has gone through a lot in her life. She was a victim of domestic violence, but now she's using her experience to help other battered women through her ministry.
Whether it is at Charity Mission Church in Los Angeles—where she serves as a minister—or in conferences around the country, Mrs. Tate made it her mission to empower women, young girls, and at-risk youth with her wisdom.
"I'm not ashamed of the things I went through in my life," she told Spectrum News 1 in 2019. "If it could help one person, I don't mind sharing it."
SNOOP'S RELATIONSHIP WITH HIS MOM
Despite his several encounters with the law and other controversies, Snoop Dogg has maintained a deep respect and love for his mother and everything she taught him.
He's always looking for her blessing when it comes to new projects, and he thrives when she expresses her pride for him. For example, when Snoop was working on his gospel album in 2017, he let Mrs. Tate know first.
The rapper shared a text exchange where he delivered the news to his mom, thanking her for teaching him how to live and spread the word. Mrs. Tate was quick to reply how happy she was for the way the Lord was moving the rapper.
Snoop also loves to surprise his mother. Once, he went grocery shopping and appeared unannounced at Mrs. Tate's doorstep. Of course, she was thrilled, and they exchanged sweet words that the rapper got on camera for posterity.
The "Gin and Juice" star never misses a Mother's Day, but he doesn't need a special occasion to praise his mother. His Instagram is filled with pictures of the beautiful lady, and every time, Snoop can only boast about how wonderful she is.
In February 2020, one month after Kobe Bryant, his daughter Gianna, and seven others lost their lives in a terrible helicopter crash, Snoop made headlines when he verbally attacked Gayle King in a social media outburst.
Snoop was mad after King brought up Bryant's past sex scandal during an interview with WNBA icon Lisa Lesli. The rapper felt King was disrespecting his friend's memory, so he called her names and bashed her publicly.
While some people condemned Snoop for his words, others showed him support. However, the consensus was that while Snoop's message wasn't wrong, his choice of words made the critical bits get lost.
After Mrs. Tate called Snoop, he realized his mistake and took to Instagram to apologize to King publicly. In a video, Snoop said he overreacted, and he should have handled it better.
A few weeks after that, Snoop appeared on Jada Pinkett-Smith's Facebook Watch show, "Red Table Talk," to open up about everything that went down, from his emotional outburst to his sincere apology.
He explained that his mother raised him in church and taught him to respect women, and although she didn't chastise him directly, Mrs. Tate made him realize where he went wrong. In his words:
"It was certain things she said to me that took me back to being a little kid. And when your mama can make you feel like a kid, that's when you gotta get right."
Mrs. Tate reminded Snoop that she raised him better, and she also brought up an excellent point: the rapper is a representation of every woman that has crossed his life, and they all know better.
After the show aired, Snoop shared another text exchange with Mrs. Tate. She sent him a message praising his interview and asking him to keep spreading positivity and kindness. A smile, she said, could make a big difference in life.
It's clear that Snoop is a mama's boy, and Mrs. Beverly Tate couldn't be prouder of her son. As the family's matriarch, Mrs. Tate did her best raising her kids, and now Snoop and her brothers live to honor her.
Please fill in your e-mail so we can share with you our top stories!