7-Year-Old Elizabeth Norman Will Be the First Child to Send an Item in a Time Capsule to the Moon
Later this year, Elizabeth Norman, a seven-year-old space enthusiast, from Leicester, will become the first child to send an object to the Moon.
Following Nasa's Perseverance Rover's landing on Mars last year, Norman became fascinated with space. The seven-year-old girl's next step was to construct her own rocket.
Norman launched a 7-feet cardboard replica of the Vulcan Centaur rocket. Upon seeing it fly 30ft in the air, the creators of the real Vulcan Centaur, United Launch Alliance, and Astrobotic were impressed.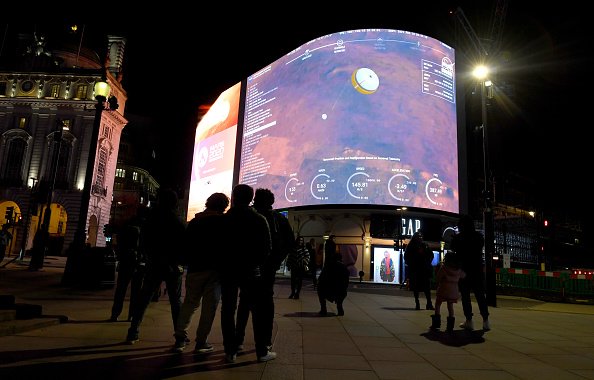 They offered Norman space on the first lunar time capsule for her sticker. Nasa has commissioned ULA to produce the rocket that will propel the unmanned Peregrine Lunar Lander to the surface of the Moon. 
Among the equipment carried by the lander is the capsule. Landing is expected to occur in the middle or late 2021. The next thing Norman thought about was visiting the Moon herself and seeing her sticker there.
Cardboard rockets are the new box fort 🚀👩🏻‍🚀 pic.twitter.com/xRgiLRiy1f

— Astro Liz (@AstroLizsLab) April 5, 2021
"None of us could believe it when we found out she would have the opportunity to make her mark on the Moon," Norman's mom, Jennifer, said. For her, being a part of this historic moment was an amazing experience.
Using the handle "Astro Liz's Lab," Norman posts her scientific experiments on social media. The five-week program by NASA provided her with a virtual mission to Mars recently.
In 2019, it was reported that a new space race might result in the first human conception in orbit.
April 4, 2021
Vulcan Centaur is set to launch in Florida, United States, and Norman's family is invited to watch the launch. Norman's mother called the plans for sending a woman to the Moon "huge for humanity."
An Astrobotic spokesperson said: "Younger generations need role models that look like them. Elizabeth's enthusiasm for space is fantastic and we're proud to be sending her sticker to the Moon."
Photos just in from @Astrobotic! It's really happening! My #payload has been integrated into the #Peregrine #lunar lander! So honoured to making history with @Astrobotic and @torybruno's @ulalaunch #VulcanCentaur! I'm excited to be sharing my moon adventure with my big brother.🚀 pic.twitter.com/DxB5UVWPUd

— Astro Liz (@AstroLizsLab) March 17, 2021
Meanwhile, in 2019, it was reported that a new space race might result in the first human conception in orbit. In 1961, Yuri Gagarin became the first human to leave the comfort of his home to travel to outer space.
Eight years later, American astronaut and aeronautical engineer Neil Armstrong became the first person to step foot on the Moon. Clearly, it proves that human ingenuity can get past any obstacle.
Happy UK Mother's Day to my mum who works hard to make my adventures possible and who always encourages me to be my best self and to dream big! 🥰 pic.twitter.com/od3TTMibdl

— Astro Liz (@AstroLizsLab) March 14, 2021
In related news, a virtual appearance by Queen Elizabeth recently took place during British Science Week. Through Zoom, she was joined by four individuals, a teacher, and schoolchildren. 
Her Majesty expressed that meeting Yuri Gagarin was an exciting experience. When asked what he was like, she joked, "Russian," which caused all the attendees to laugh.