Cookie Johnson Dons a Khaki Coat & Tight Navy Pants on a Romantic Date Night with Husband Magic
Cookie Johnson looked casual-chic in a khaki coat and tight navy pants while on a date with her husband, Magic. The legendary NBA player took his wife on a romantic movie and dinner date as a Mother's Day celebration.
Earvin "Magic" Johnson celebrated his wife and the mother of his children, Cookie Johnson, with a romantic date night that included a movie and dinner at the fancy Spago restaurant in Beverly Hills. 
The former Los Angeles point guard took to Instagram to share a photo from the early Mother's Day celebration which showed the couple posing outdoors at the fine-dining celebrity hot spot.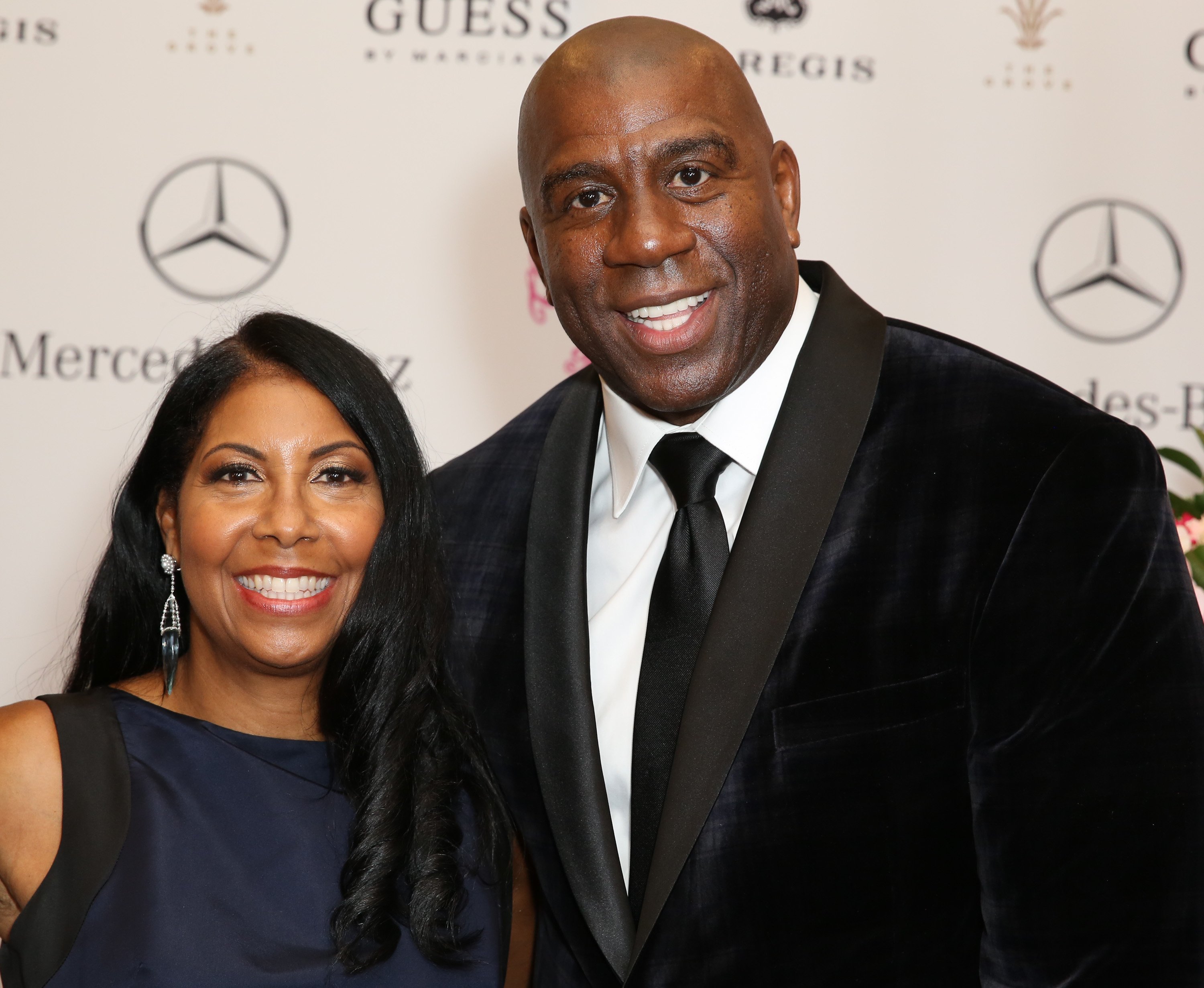 Both Johnson and Cookie opted for smart-casual looks for their dates with statement pieces that showed their fashion savvy without demanding too much attention. The caption read:
"Enjoyed an early Mother's Day celebration by taking Cookie to the movies and dinner at Spago!"
In the snap, Johnson towered over his wife while rocking a black and white striped Dior T-shirt with white trousers while Cookie sported navy pants, a matching gold shirt, and a trendy Khaki coat that reached the middle of her thighs.
Cookie, who also shared the same photo on her own Instagram account, looked younger than her 62 years with her jet black hair flowing past her shoulders and a heartwarming smile that reflected her happiness.
Johnson and Cookie, who have been married since 1991, share an unbreakable love that has stood the test of time. The beautiful couple has shared a fortune of memories dating back to 1977 when they met at a party as college freshmen.
The most trying time of their union was when Johnson found out and revealed his positive HIV status to [Cookie].
From celebrating NBA championships, the birth of their only biological child, Earvin "EJ" Johnson III, to Johnson's HIV diagnosis, the couple has been through thick and thin together.
Looking at pictures of Johnson and Cookie through the years, they make marriage look easy and effortless. However, the opposite is true and their marriage has struggled through the ups and downs. 
The most trying time of their union was when Johnson found out and revealed his positive HIV status to his wife. Not only was she carrying their son, EJ, but they had only been married less than six weeks. 
Still, Cookie remained committed to the vows she made to Johnson, and she stood by him as he revealed the shocking news to his former sexual partners and announced his subsequent retirement from the NBA.
Interestingly, Johnson went on to become the Los Angeles Lakers president of basketball operations where he stunned the team a second time by abruptly resigning from his post before the 2018-19 season final game.