Daily Joke: A Marine Splits a Room with a Navy Who Snores Loudly
Today's #jokeoftheday is about a Marine who split the room with a Navy who snored loudly. However, he managed to come up with a clever way of having a good night's rest.
After being on the road throughout the day, a Marine decided to stop at a small town and rest for the night before continuing his journey the following day. He tried to get a hotel but everywhere was booked.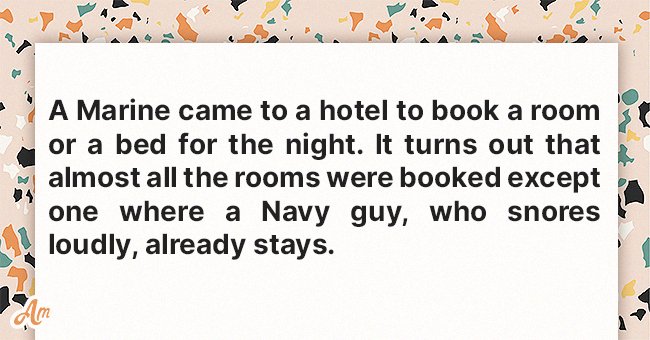 He went to numerous hotels but kept receiving the same answer of booked rooms. With his last strength, he stumbled on a motel but was disappointed to find out there was no space for him.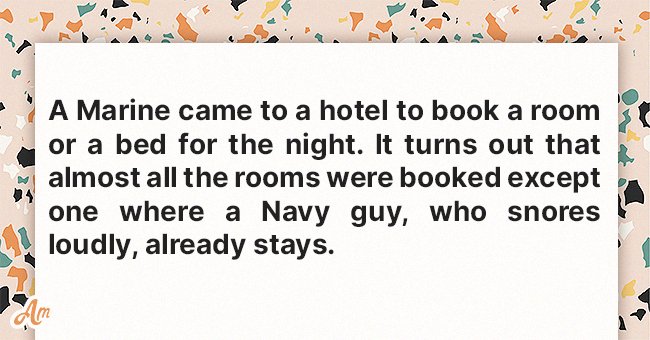 Frustrated, the Marine begged the receptionist to please find him a room or at least a bed where he can lay his head. The receptionist finally told him there was an available, saying:
"Well, I do have a double room with one occupant, a Navy guy, and he might be glad to split the cost."
However, there was a slight problem with the room. The receptionist told the Marine that the Navy guy snored loudly and those in the adjoining rooms have complained. Sometimes, the neighboring rooms suffer from the noise.
The Marine guy assured the receptionist that the snoring would be no problem and paid for the room. He took his bags and headed to the room while the receptionist watched with fingers crossed.
The following morning, the Marine came down for breakfast and looked well-rested. There was a dance in his steps that was noticeable. Surprised, the receptionist beckoned to him and asked how he managed to sleep amid the snoring.
With a smug smile, the Marine told the receptionist that he had the best sleep of his life and wasn't even bothered by the snoring because he managed to shut the Navy guy in time.
The receptionist asked how and the Marine guy shared the clever trick he used to get his way. He recalled, "He was already in bed, snoring away when I came in the room. I went over, gave him a kiss on the cheek."
After kissing the Navy guy, the Marine proceeded to tell the Navy guy some sweet words, calling him beautiful. The Navy guy was shocked and sat up all night watching the Marine, who slept soundly.