Young Man Was Getting Ready to Graduate College
A young man was preparing to graduate from college and was expecting a grand gift from his wealthy father. Little did he know that his father had some more valuable than his desire.
A young man named Peter was in his final months of college and looking forward to graduating with distinctions. He had put in the work all these years and was eager about receiving a handsome reward from his parents.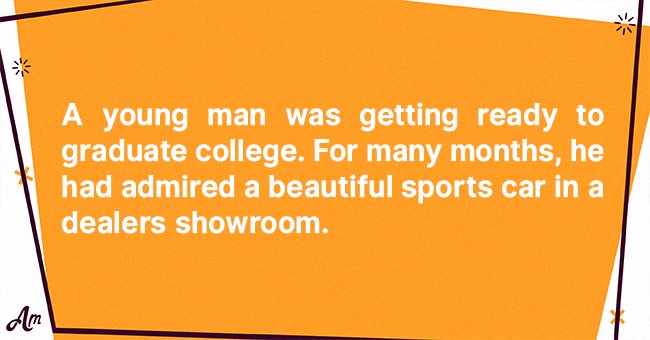 For months, he had his focus on a luxurious sports car at the dealership. He knew for sure that his father could afford the vehicle and began dropping hints about it. At some point, he even told his father directly that he liked the car as a gift.

Peter was confident that he would get the car as a gift. When graduation arrived, and he came out top of the class, Peter kept searching for signs in the house that his father had purchased the sports car.
Just when he was about to give up, his father called him into the study and told him how proud he was of his achievement before handing him a beautifully wrapped box. It didn't look like a car key, but Frank was curious.
He took the box and opened it to see a brand new leather Holy Bible. He got furious and yelled at his father, calling him selfish. Frank accused his father of buying him a holy book despite all the money he had.
He walked out of the house, dropping the bible at his father's feet. That was the last time they ever spoke. Frank grew up to become a successful businessman with a beautiful family. Decades had passed since he spoke to his dad.
One day, Frank thought about his father and realized it had been a while. Before he could decide to visit, Frank received word that his father had passed and willed all his possessions to him. He was so heartbroken.
Frank went back home to pay his last respects and, while searching through his father's essential documents, stumbled on the Holy Bible. He cried intensely, filled with immense regret.
With tears streaming down his face, Frank opened the bible to read it and saw a car key drop from a page of the holy book, which had an envelope taped to it. On the envelope was his name, a tag from the dealership, and the words "paid in full."
Frank cried bitterly. His story undoubtedly teaches the lesson that just because something doesn't come to us in a package that we expect doesn't mean that we have to dismiss it.
Any resemblance to actual events or locales or persons, living or dead, is entirely coincidental in this fiction story.