Woman Gets Pregnant Twice in Three Weeks – It's Only the 14th Documented Case in History [Popular Story]
A mother of rare double pregnancy twins recently took it to Instagram to share her unique experience of conceiving two fetuses three weeks apart.
Speaking with Tom Dunne on the Moncrieff podcast, Rebecca Roberts shared that her fate was an extremely rare case in pregnancy. Roberts further recognized that she was going 39 and still trying, which explained why the doctors provided her with a fertility drug.
"That is where things got a little bit crazy," Roberts said as she reminisced on her attempts to achieve ovulation. Roberts had already completed two scans, one at seven weeks and the other at ten.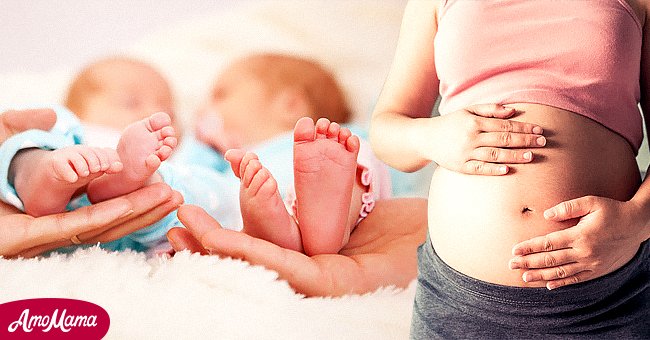 Throughout, she was only aware of one fetus in her womb. Then came her 12th-week scan, and it was only that a confused scenographer questioned whether Roberts knew about her actually carrying twins. 
"I didn't believe her," said Roberts, while firmly stating that she and her husband were only expecting one. It was not until she saw the screen that she was able to confirm the existence of two. 
Medical experts attending to their case believed that they had just missed the second baby in the past scans. However, it was later observed that there was a consistent three-week difference between both babies' progression.
A Texas mom recently gave birth to quadruplets and shared moments with her precious babies on TikTok for everyone to see.
Under an Instagram account dedicated to her newborns, Roberts posted a short slideshow highlighting her unique pregnancy of Noah and Rosalie. The post begins with her newborns lying beside each other in blue and pink baby pajamas, with a caption making it known that they were conceived three weeks apart. 
"I got pregnant while being pregnant," wrote the mother-of-two in the next segment of her post, showing her large baby bump. Roberts pointed out that it was a unique phenomenon of "Superfetation," with only fourteen documented cases in the world.
Roberts gave birth to both Noah and Rosalie in September 2020. With complications rising due to Rosalie's umbilical cord, doctors had to proceed with an emergency c-section at just 33 weeks. 
While everything resulted in a success, the twins' size and weight difference was evident, with Noah weighing two pounds more. Rosalie was held by the hospital for an extra number of weeks before official discharge to ensure utmost safety.
After coming home, Roberts shared that her twins have a unique bond. She would lay them down together and find both babies interacting in their own way. There are several kinds of uncommon pregnancies that have happened in the past.
Instead of having twins, some moms have sextuplets or quadruplets. A Texas mom recently gave birth to quadruplets and shared moments with her precious babies on TikTok for everyone to see.
Starlyn Cafferata shared her painful experience having been separated from her newborns amidst a wild snow storm. While she and her husband took shelter at home, their babies had to star at St. David's North Austin Medical Center's NICU.