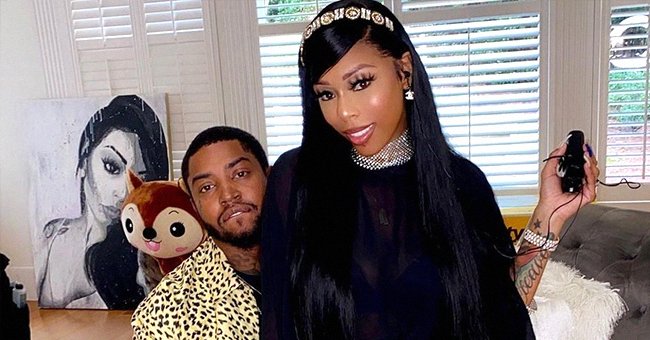 instagram.com/adizthebam
Erica Mena Praises Lil Scrappy's Wife Bambi in a New Photo Where She Shows Her Growing Baby Bump
Erica Mena, who also has a little one on the way, didn't hesitate to compliment her fellow pregnant sister, letting her know how gorgeous she truly is.
Lil Scrappy's wife Bambi Benson posted a picture of herself and Erica Mena looking great with their baby bumps. Mena took to the comment section, saying Benson looks "incredible."
The two stood side by side, smiling at the camera as their skin glowed. Both wore gorgeous attire, one dressed in white and the other in black.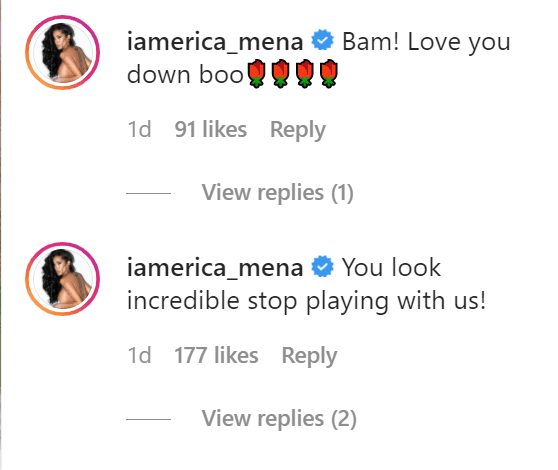 Erica Mena complimenting Bambi Benson in the comment section of one of her Instagram posts. | Source: Instagram.com/adizthebam
Mena wrote two comments on Benson's post, the first of which stated that she loved Lil Scrappy's wife, adding a few rose emojis for effect. The second one read:
"You look incredible stop playing with us!"
One follower replied to Mena, stating she looks amazing in the photo as well. One enquired as to why she had no wedding ring on.
The rest of the comment section reflected Mena's observation, complimenting both women on their looks and congratulating them on their pregnancies. The post received around 207,000 likes in total.
At the time, Samuels was only willing to have another baby through surrogacy.
In the caption, Benson thanked The Glam Shop for throwing her and Mena a wonderful baby shower. Of course, she complimented Mena as well, stating she is "glowing."
Around May 2021, "Love & Hip Hop" star Mena and her husband Safaree Samuels announced they would be having baby number two. Speaking about their first pregnancy in 2019, Samuels expressed:
"Wow, wow, it's a big deal! Very big deal. I didn't know I was capable of doing this. I'm excited!"
Meanwhile, Benson and Lil Scrappy announced their current pregnancy early this year via Instagram. In the video, Benson slowly turns around while flipping her hair, finally revealing her protruding belly.
In 2019, Benson and Lil Scrappy celebrated their then-one-year old Breland's birthday. The theme was "Moana," complete with a tropical paradise theme.
Mena also knows how to throw wonderful events. Her baby shower was extravagant for her first pregnancy, with an all-pink theme and her designer-made Karen Sabag gown.
Mena and her husband are doting parents, sharing their first child Safire's first two teeth in an adorable photo. The picture consisted of the little one smiling, two teeth growing from her lower gum.
Safire was born in February 2020, but the parents only began sharing pictures of her face online in November of that year. At the time, Samuels was only willing to have another baby through surrogacy.
Please fill in your e-mail so we can share with you our top stories!