Meghan Markle Rocks a $33 'Raising the Future' T-Shirt in Trailer for Harry's New Documentary
Meghan Markle sported the ultimate mom-outfit while making an appearance on Prince Harry's docuseries "The Me You Can't See" trailer.  
Meghan Markle, 39, sent a message of strength to all mothers wearing a printed t-shirt while she made a quick appearance in Prince Harry's trailer for his upcoming docuseries "The Me You Can't See." 
The Duchess of Sussex, who is expecting her second child, was seen standing behind her husband wearing a pair of black trousers paired with a white t-shirt that had print that reads "Raising the Future."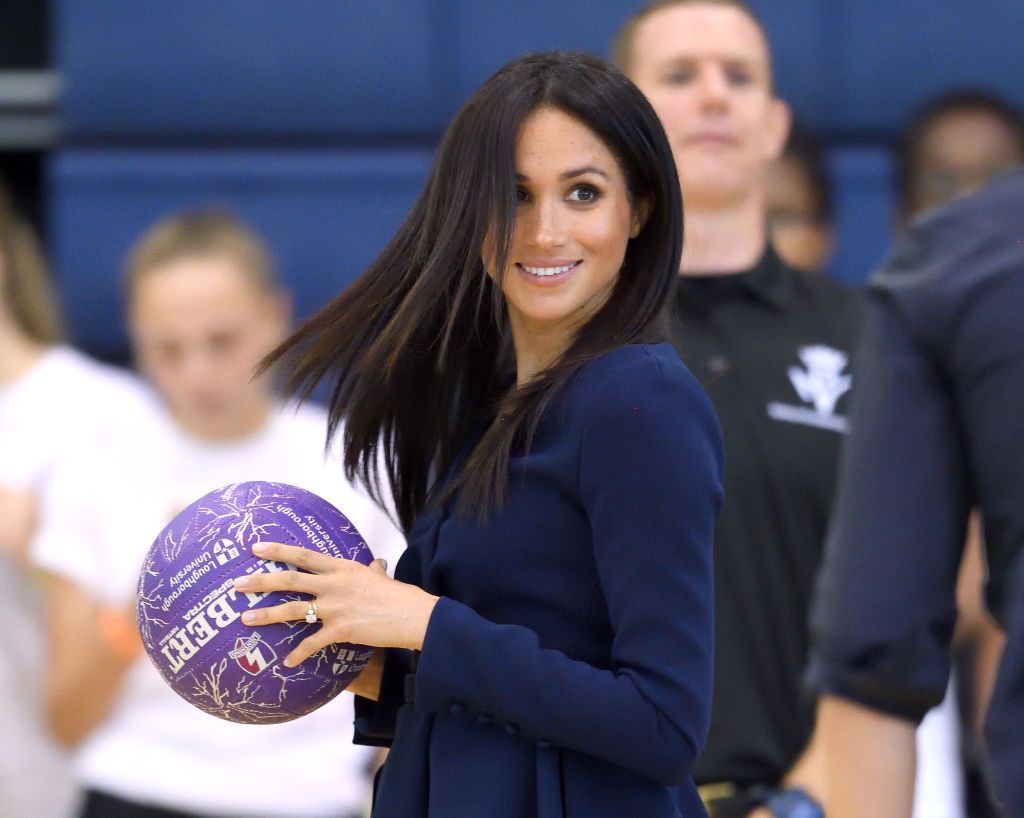 CLOTHES FOR MOM
Markle's statement shirt was sourced from the British brand Mére Soeur. Mére Soeur focuses on providing clothing pieces for mothers with their sizes ranging from small to 3XL. 
The Duchess of Sussex was able to snag her t-shirt for $33, which allows her ensemble to convey a positive message to mothers while still being affordable. The brand describes the t-shirt as follows: 
"However you choose to do it, whatever your parenting choices, we're all doing it. The greatest and hardest job you'll ever have." 
SPECIAL PUBLICITY
Markle is known for supporting small businesses with her fashion choices which provides an immeasurable amount of good publicity for the brands. Mére Soeur was over the moon when they discovered the royal showcased their product. 
Turner-Smith noted that the royal family is not evolving with the society in which it operates.
The brand owner took to social media to share how much the Duchess of Sussex's support means, especially because of the wide reach of the positive message on the t-shirt that comes along with it. 
When it comes to mental health, we all have a story to share. In the US alone, 1 in 5 people suffer from some form of mental illness. & on any given day, YOU may not feel 100%. Which is why Prince Harry and I have partnered together for #TheMeYouCantSee: https://t.co/Hmd7mnJwYy

— Oprah Winfrey (@Oprah) May 17, 2021
NEW SERIES
The former "Suits" star isn't the only member of the Sussex family to cameo Prince Harry's mental health series on Apple TV+ because the couple's firstborn, Archie, was also seen in the trailer. 
The royal is pairing up with Oprah Winfrey and a long list of other a-liners for the new docuseries, which is focused on breaking down the stigma around mental health and showcasing that there is help available. In the trailer, Oprah shared: 
" There is an immediate need to replace the shame surrounding mental health with wisdom, compassion, and honesty. Our series aims to spark that global conversation."
This timely docuseries explores the current state of the world's mental health and emotional well-being through storytelling. Co-created by @Oprah and Prince Harry, #TheMeYouCantSee is about people, our experiences, and why we feel the way that we do. https://t.co/tP72EW6k2A pic.twitter.com/pvmU6LnbtF

— Apple TV (@AppleTV) May 17, 2021
NEW LIFE
The Duke of Sussex's work in front and behind the camera is part of the career he is establishing since permanently leaving the royal family behind last year. 
While Prince Harry and Markle are busy raising their family in Montecito, California, and working on various projects, others are still mourning the missed opportunity for the change they could have brought into the British monarchy. 
Prince Harry sparks furious backlash in the US after calling the First Amendment 'bonkers' https://t.co/i5ebE67F3f pic.twitter.com/mds4TkRs6W

— Daily Mail Online (@MailOnline) May 17, 2021
British actress Jodie Turner-Smith shared that Markle and Prince Harry could have been an opportunity for the royal family to step toward modernization and that Markle could have meant a lot to the institution. 
Turner-Smith noted that the royal family is not evolving with the society in which it operates, which leaves space for improvement and growth, something Markle may have provided.