Keyshia Cole Gives Fans a Glimpse of Her New Boyfriend in PDA-Filled Photos
American songwriter and producer Keyshia Cole stylishly revealed her new beau in the romantic photos she shared. The air seems to be filled with love for the mother of two.
Singer-songwriter Keyshia Cole has found love again and is letting the world know about this, though in a stylish manner. The "Heaven Sent" singer recently took to her Instagram Stories to share two adorable snaps of herself and her boo.
One picture showed her sitting on the lap of her charming prince. She wore a gray floral long-sleeved top which she paired with shorts, revealing her gorgeous legs. She also wore dark-colored socks and gray sneakers. 
Meanwhile, Cole's man wore a gray printed long-sleeved sweatshirt, gray denim pants, and gray sneakers. The loved-up couple whose faces were not seen in the snapshot seemed to be sitting at a diner. Cole captioned the post:
"Me and my boo bae on that CD." 
The singer shared another photo that showed her cuddling with her man. In the snapshot, she stared at the camera while holding her lover whose back was turned.
She responded to the critics, telling them that men do not know how to keep her.
In the post's caption, she gave her fans a glimpse of her abnormal sleeping routine, revealing she was going back to sleep. She further said she slept early at 9 pm and woke up at 3 am.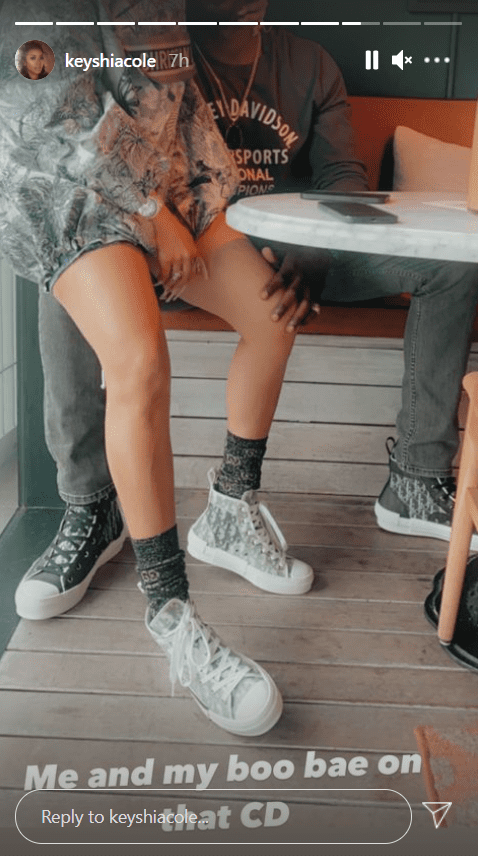 This is not the first time Cole is letting her fans know she has found love again. Last month, she dropped a few hints about having a new beau, including a video that showed her working out and saying she was ready for "BaeCation." 
She shared another clip showing a guy handing out food to homeless people before and a video on her Instagram Story showing off a hickey she got. In the post's caption, she urged her man to make it darker next time.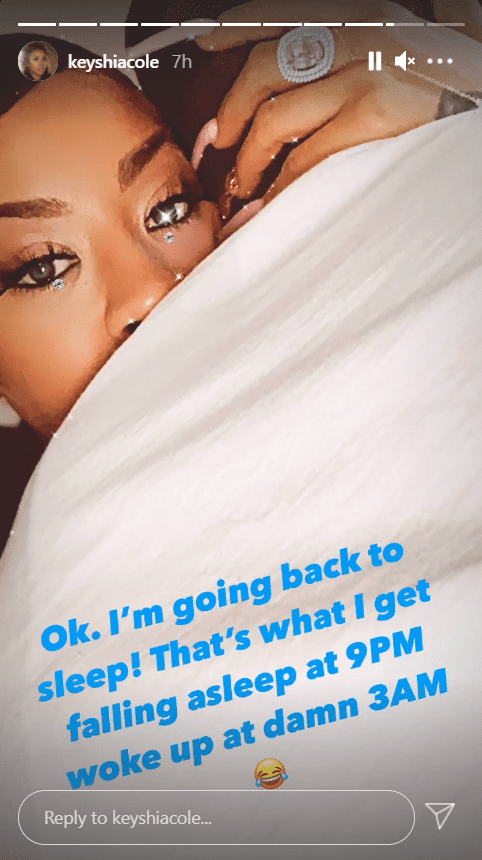 Not everyone reacted kindly to Cole's hickey post, with some fans saying she was too old to be showing the kiss mark to the public. However, she took to Twitter to let everyone know she did not care about their judgment, adding that she no longer lived for the world but herself. 
While Cole has not revealed the identity of her new man, her fans might guess him to be a kind and chocolate-skinned man. They may be right with that guess after the singer revealed she is attracted to men with those qualities via tweets she made last September. 
While her revelations were light-hearted, things turned sour when some fans accused her of not being able to keep a man. However, she responded to the critics, telling them that men do not know how to keep her. 
Before her unidentified new beau, Cole was in a relationship with Niko Khale, with whom she shares a son who they welcomed in August 2019. She also has another son—Daniel Gibson Jr., who she shares with her ex-husband and former NBA star Daniel Gibson Sr. 
Following Cole and Khale's split last year, the latter revealed he was heartbroken while responding to a fan who urged him to get back with Cole. 
The wishes of that fan may never come to pass with Cole now in a relationship with a new man. Her fans will now be waiting patiently for her to reveal his identity.