Bonnie Chapman's Fans Shower Her with Praise in a New High-Definition Snap
Bonnie Chapman had her followers' jaws lying on the ground after posting a gorgeous snap to welcome the new spring season. Her comment section was flooded with compliments. 
Bonnie Chapman took to Instagram to share a picture of her standing with flowers in her hair in celebration of spring. Duane Chapman's daughter looked stunning in the high-definition photo. 
Fans couldn't hold themselves back from inundating Bonnie's comment section with praise and compliments. While some commented on her beautiful eyes, others asked about her makeup routine. Read some of the comments below.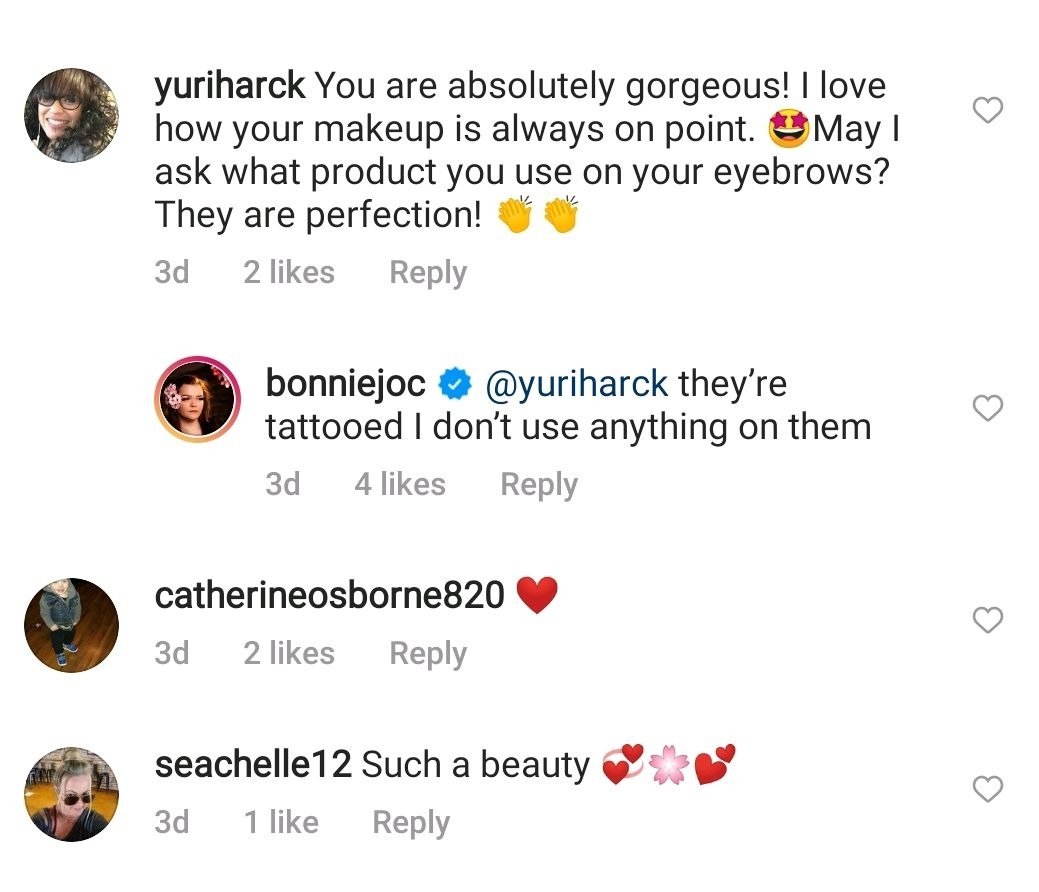 SERIOUS CELEBRATION
While Bonnie may look very serious in the gorgeous snap, she shared her elation over the new season that has arrived in her caption. The Chapman girl wrote: 
"Spring is finally here 🌸"
Bonnie even replied to a few of her fans that commented on the post, sharing how she pulled off the simple yet striking look. Her dark hair and black t-shirt were a blank canvas for her light makeup to steal the show. 
SELFIE QUEEN
The famous bounty hunter's daughter is known to share her statement makeup looks with her 134 000 Instagram fans who love to see what she is up to. 
The young Chapman daughter also revealed that the family struggled to manage their grieving while being in the public eye.
Last year Bonnie shared a selfie showcasing a beautiful face of makeup made up of lash extensions and a striking purple look for her eyes. She posted the photo saying that she did her makeup to feel better after her apartment flooded. 
STANDING UP FOR DUANE
The 21-year-old doesn't only use her online platform to share her newest makeup look. Bonnie posted a lengthy comment on Duane's Instagram post last year, defending him from the critics. 
Duane announced his engagement to Franci Frane a year after his beloved wife Beth Chapman passed away from throat cancer. Bonnie stood with her father, asking everyone to support him. She said: 
"It's been extremely difficult to see one parent pass, and the other so intent on following. My father deserves to be happy."
STICKING WITH BETH
Bonnie opened up about the difficult journey leading up to Beth's death two months after they had to say goodbye to her forever. Bonnie praised her father's commitment to his sick wife, saying he never left her side. 
The 21-year-old shared about Beth's last conscious moment saying she was naked in the bathroom when she called her husband and asked him to really look at her before she collapsed and never gained consciousness again. 
The young Chapman daughter also revealed that the family struggled to manage their grieving while being in the public eye. Everyone still had opinions, despite the difficult time they were going through. 
Bonnie said that rewatching moments of Beth's life on television shows what she was part of was difficult because of the old memories and new pain that it all brought up.