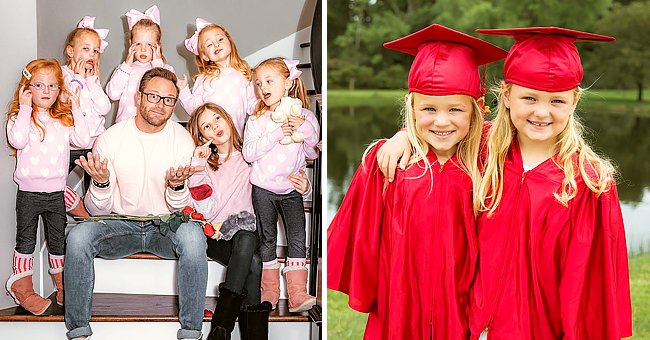 Instagram/adambuzz
'Outdaughtered' Quints Graduate Kindergarten – Danielle and Adam Attend 4 Graduations in Two Days
Famous multiple birth parents, Danielle and Adam Busby cheered their quintuplets as they graduated from kindergarten. Check out the hearty celebrations.
"Outdaughtered" stars Adam and Danielle Busby had a lot on their plates as their adorable tots moved on from the kindergarten class in several celebrations. Here's how the couple handled the multiple occasions.
Due to the novel coronavirus pandemics and restrictions put in place, the Busby couple had to attend their daughters' graduation ceremony on different days and in batches. The first two were Olivia and Riley.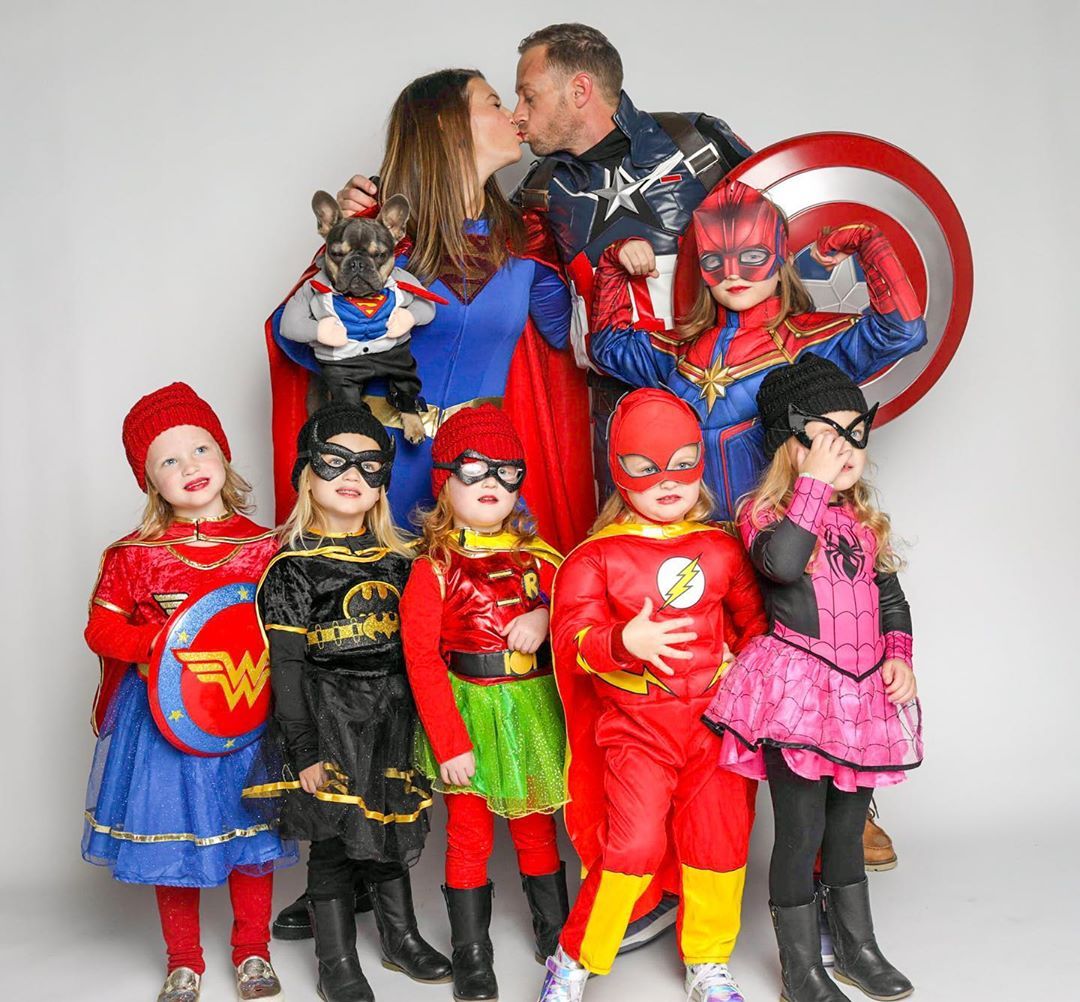 The Busby family from "Outdaughtered" playing dress up | Photo: Getty Images
Adam shared lovely photos of the occasion on his Instagram page, showing the young pupils in their bright red ceremonial gowns and caps. The blondies stood between their parents, who knelt by their side.
Other celebrities have considered and gone through with the choice, and they look nothing short of picture-perfect.
The following slide showed the girls posing outdoors with a river and some greenery as the backdrop. Riley and Olivia embraced each other and flashed sweet smiles their dad wrote in his caption:
"Two down and 3 to go! Today was the day Riley and Olivia graduated kindergarten. It's quite different this year with their graduations being split up…"
Danielle shared more information on her Instagram page showing the graduating girls rock their chic outfits for the occasion. Both Riley and Olivia posed on a spiraling stairway.
The star mom wrote that the quints' outfits came from her boutique Greason Bee, and she let them wear different styles to represent their style choices and personalities. Her caption read:
"Since the quints are in four different classrooms, and since there are still covid restrictions, each girl's kinder class graduates separately…"
Fans in the comments were elated to see the Busby quints progress with their academics. Many were pumped because they watched the quintuplets grow on their TLC show, "Outdaughtered."
Recently giving updates about family life, Adam and his longtime wife talked about expanding their family. The couple made it known that there were possibilities of adoption.
However, they objected to the idea of possibly adopting a male child. This was so because they felt it might complicate a lot of things. Regardless of their mixed feelings, they did not close up the possibility of adoption.
Adam and Danielle are not alone when it comes to adoption. Other celebrities have considered and gone through with the choice, and they look nothing short of picture-perfect.
Some of these stars include Hoda Kotb, Nicole Kidman, Thomas Rhett, Viola Davis, Hugh Jackman, Madonna, Ewan McGregor, Rosario Dawson, Charlize Theron, to name a few.
Please fill in your e-mail so we can share with you our top stories!