Gymnast Chellsie Memmel, Mom of 2, Makes a Comeback to Compete at the U.S. Classic
Chellsie Memel made her way back onto the balance beam during the U.S. Classic Senior Competition. She retired from gymnastics in 2012. 
32-year-old Chellsie Memel has left the world of a retired athlete behind as she stepped into the gymnasium to compete again this past weekend. The gymnast made her comeback at the U.S. Classic. 
Memel hung her leotard up in 2012 to start her own family. Nine years and two children later, she picked up the shiny costume once again to show the judges what she is made of.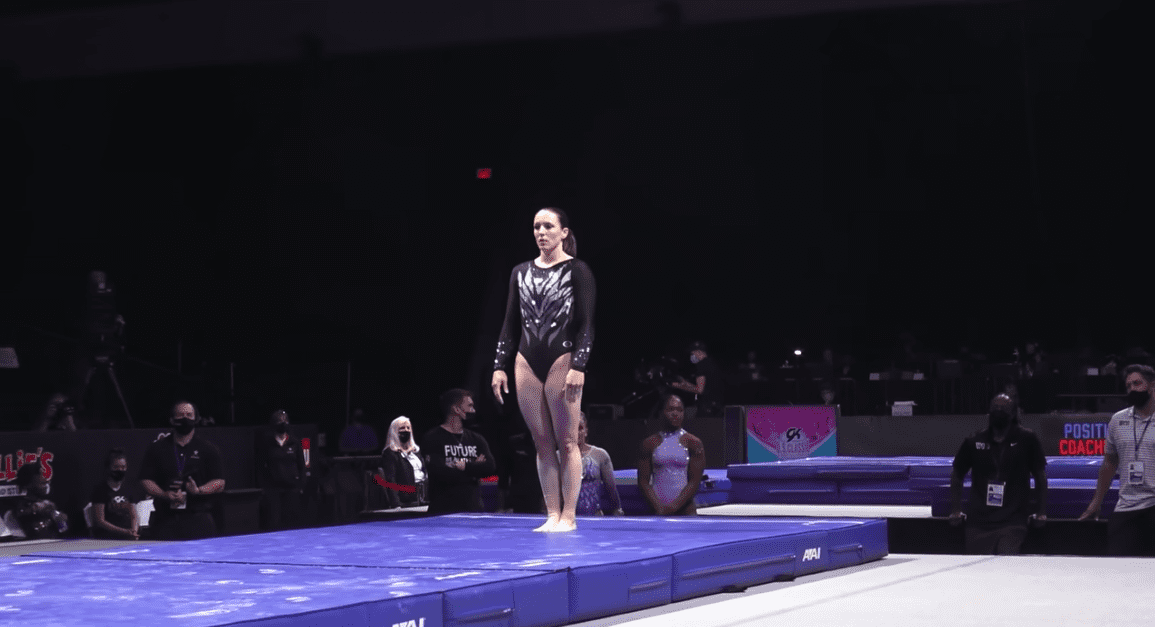 CHAMPION GYMNAST
Memel is adding more medals to her already large collection, including an Olympic silver medal from the 2008 Games and the 2005 world all-around champion title. 
The gymnast took to Instagram to share a string of snaps that showcase the special people who have supported her as she stepped back into becoming a professional athlete. She wrote: 
"This journey would not have been possible with you and I appreciate all the support and encouragement you have given me. I truly could feel the love today. The journey continues!"
WOBBLY FIRST DAY 
While Memmel's first competition back on the balance beam wasn't perfect, she still left her competitors and fans in awe of her hard work and determination to further pursue her career in the gymnasium. 
The mother of two's former competitor, Nastia Liukin took to Twitter to commend her for taking on the competitive sport again.
The U.S. Classic saw Memmel pull out all the stops as she performed the full-twisting Yurchenko on the vault and took to the beam with an equally impressive performance, despite her fall during the execution of an Arabian somersault. 
SO incredibly proud of you Chel. You are inspiring the entire world - every generation - showing that age is truly just a number AND your true love and passion for the sport ❤️ @CMemmel pic.twitter.com/76jswxcMRE

— Nastia Liukin (@NastiaLiukin) May 22, 2021
TOKYO OLYMPICS
Memmel knows what it takes to overcome the obstacles placed in her way. She went through multiple surgeries to address problems with her shoulders before her retirement in 2012 and continued to compete despite her setbacks. 
The gymnast has her sight set on the Tokyo Olympics. While her score from Saturday's competition won't allow her to qualify, her petition to compete in the national championship was granted.
24/7 ATHLETE
Memmel hasn't been completely removed from the gym while raising her two children. Coaching and judging have allowed her to remain in touch with the demanding sport and some subtle training encouraged her to keep going. 
The mother of two's former competitor, Nastia Liukin, took to Twitter to commend her for taking on the competitive sport again. She emphasized how inspiring Memmel was and how proud she was of her. 
Memmel is up in the ranks next to stellar gymnasts such as Liukin and Simone Biles. The professional gymnast was involved in all of Biles's gymnastic competitions as a judge. 
With coaching, judging, and raising children providing an already full schedule, Memmel decided to embrace the social media age and launched her own YouTube channel focused on different aspects of the dynamic sport.