Justin Bieber Shows off New Buzzed Haircut in a Recent Instagram Share
Justin Bieber looks totally cool in the new hairstyle he debuted in two new posts on Instagram on Sunday, May 23, 2021.
Justin Bieber debuted his new buzzed haircut on Instagram on Sunday. The 27-year-old previously wore his hair in short blond locs but traded that in for a new, completely buzzed look. 
The "Peaches" singer shared two looks at his new haircut on Instagram. Bieber shared a black and white selfie video on his Instagram story. In the post, he showed off his fresh cut while he smoothed it out with his hand. 
The famed singer also shared a photo of his new look in a post on his Instagram feed. The photo was of Bieber and his wife, model Hailey Baldwin, to whom he has been married since 2019. 
In the photo, Baldwin and Bieber are seated at a restaurant. The couple is wearing casual outfits of denim jeans and comfortable-looking sweaters while snacking on black tortilla chips and guacamole. Bieber captioned the photo simply:
"Happy Sunday."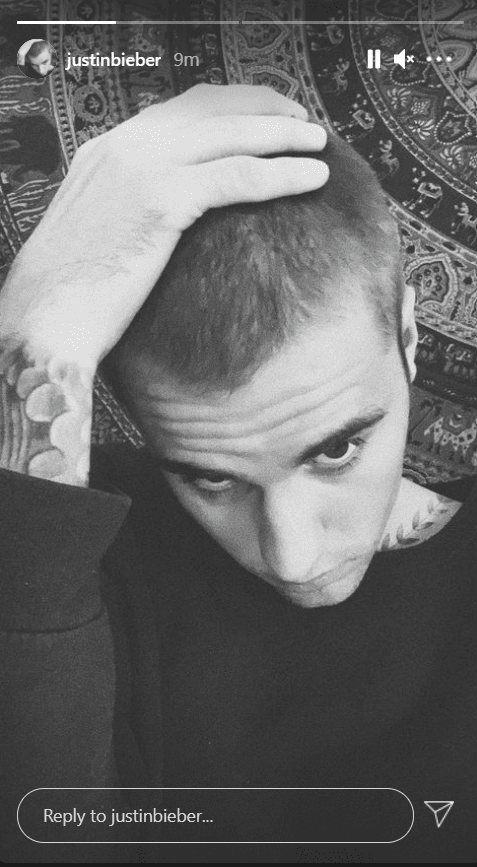 Bieber has rocked a variety of styles and haircuts over the years, starting from his classic "Bieber Fever" sweeping fringe that he use to flick to the side of his head. He then experimented with a few interesting looks. 
As he grew up and grew out of his songs first hit songs, like "Baby," his style evolved. Bieber started wearing his hair out of his face in late 2011 and even experimented with a bleach-blond look in 2014.
Baldwin revealed that when they met up again in 2019, they had both grown as people.
Bieber also wore his hair in locs for a period, but it was a miss for some fans. He went back to the loc look this year. Before that, the star wore his hair in a long style, usually accompanied by a beanie.
Perhaps some of his style choices are influenced by his partner. Baldwin and Bieber have been married since 2019 when they married in a secret wedding in a New York courthouse. Bieber has said that he looks forward to their future together:
"It's beautiful that we have that to look forward to. Before, I didn't have that to look forward to in my life."
An insider told ET Online that the pair have found their married life groove and enjoy being together. The couple is not rushing into having children as they are both focused on their respective careers. 
Baldwin has also spoken out about their relationship. In an interview with Elle, she gave insight into their breakup and their eventual marriage. The lovestruck couple broke up in 2016 and rekindled their romance in 2019. 
Baldwin revealed that when they met up again in 2019, they had both grown as people. She felt that their breakup was a very healthy step for them as it gave them an opportunity to grow.
Both Bieber and Baldwin have gushed about each other and their relationship in their different interviews. Baldwin called Bieber an incredible man, while Bieber called their relationship beautiful.