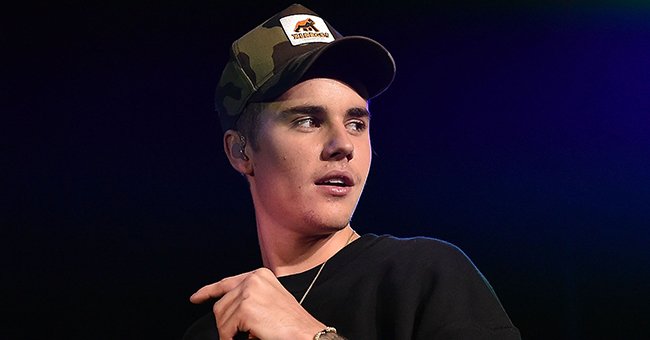 Getty Images
Justin Bieber's Manager Scooter Braun Posts a Video Showing the 1st Time He Heard Him Sing Live
Justin Bieber's manager Scooter Braun shared a video of the 1st time he heard him sing live for his birthday.
Scooter Braun, Justin Bieber's longtime manager, shared an adorable video of the 1st time he heard the "Baby" singer sing live to celebrate Bieber's birthday.
The throwback video featured a teenage Bieber playing guitar and belting out the lyrics to a song. He is wearing a white hoodie and had his then signature swoosh hairstyle under a baseball cap.
Braun shared a sweet message for Bieber's birthday alongside the video. He wrote that he had never shared the video of Bieber until now, and it had been after he had picked Bieber up from the airport.
He continued in the post and wrote that he and Biether had been through so much together. Braun shared that he was proud of Bieber and continued in the caption:
"I could not be prouder of the man, friend, husband, and leader you are today. So to celebrate you I have finally shared this one. Enjoy. Happy 27th birthday big man."
Fans filled the comments with birthday wishes for Bieber, who turned 27 on March 1. Many of his fans wrote that the video had made them cry because it was just so special.
Braun also shared an adorable throwback photo of the two together in his Instagram Story. Bieber and Braun are wearing beanies while sitting at what appears to be a diner.
He is set to release his new album, Justice, on March 19.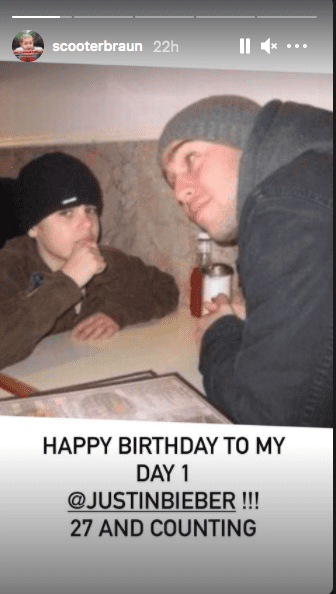 Scooter Braun shared a throwback photo of himself and Justin Bieber for Bieber's birthday, 2021. | Photo: Photo: Instagram/scooterbraun
Bieber's wife, 24-year-old model Hailey Bieber, shared a post on Instagram to wish him for his birthday. She shared a collection of sweet photos, including a snap from their wedding.
The other photos show the couple together on different occasions. One photo was of the couple sitting in the back of a van, with a white dog between Hailey's legs. She wrote in the caption:
"Another year around the sun with you, another year of getting to love you, grow with you and laugh with you."
Bieber shared his own post to mark the occasion. He shared an adorable baby photo of himself from when he was a newborn and wrote that it was him 27 years ago.
On March 1, he also announced the release of a new song, "Hold On." It will be released on Friday, March 5. Bieber shared a photo of himself on a motorcycle to announced the song.
He is set to release his new album, Justice, on March 19. Other tracks on the album will include his and Chance the rapper's song, "Holy" and "Lonely," which he made with Benny Blanco.
Bieber shared that his goal for the album was to unite people through music and provide comfort for those struggling and going through a hard time. This will be his 6th album.
Please fill in your e-mail so we can share with you our top stories!