Snoop Dogg's Wife of 23 Years Shante Broadus Flaunts Her Figure in Tight Pants While Dancing to His Song
Shante Broadus took to Instagram to flaunt her curvy figure while dancing to her husband, Snoop Dogg's song. Shante and the "Drop It Like It's Hot" hitmaker have been together for an incredible 23 years.
It's no secret that Snoop Dogg's wife, Shante Broadus, loves music and getting down on the dance floor. She even has her own dance studio under her company, Boss Lady Entertainment.
Shante's Instagram page is filled with videos of herself dancing with pro dancers and choreographers, JR Taylor and Ćhrístoph, who recently joined her for another fun routine.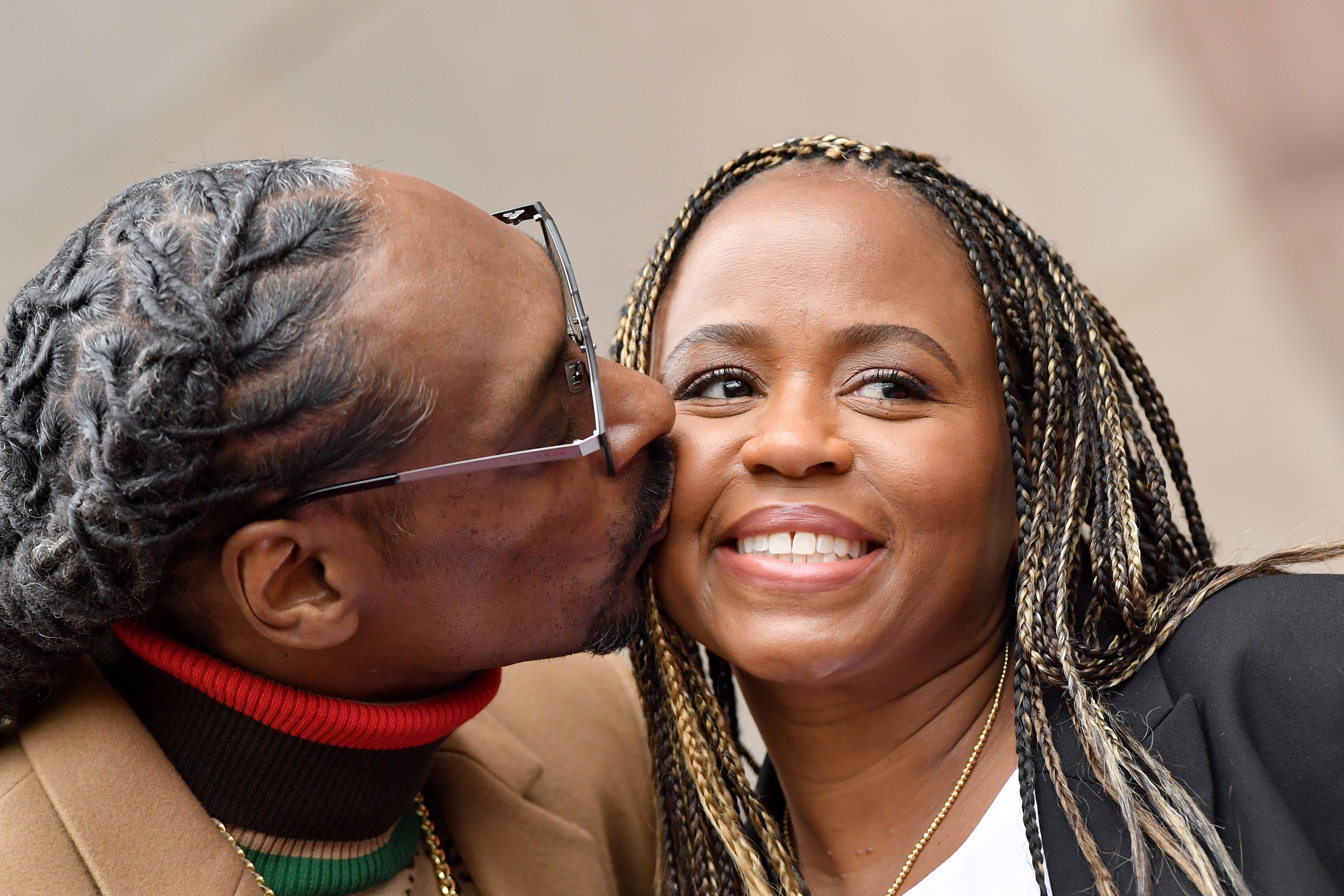 In the clip, Shante and the celebrity dancers excitedly showed off a routine to her husband, Snoop's 2021 song, "Say It Witcha Booty." In her caption, she referenced the song and wrote:
"He Said To "Say It Witcha Booty" So Who Am I Not To Listen."
The entertaining video showed Shante, wearing skin-tight tie-dye leggings, a navy top, and a fashionable bomber jacket, dancing front and center with the two men who wore shorts and matching T-shirts bearing Shante's company's name.
Throughout the fun routine, the mom-of-three could be seen clapping, jumping, swirling, and swaying her hips, while her blonde braids followed the rhythm of her dance moves. 
The video clip was a hit with Shante's fans and even caught the attention of Snoop, who immediately left an encouraging compliment on the photo. "U betta work sashay. Shante," he wrote.
[Snoop and Shante] separated in 2004 but rekindled their romance and remarried in 2008.
A delighted fan commented, "Get it boss lady dance to your baby," while another added, "I'm here for it! Enjoy life and live!" A third fan wrote, "Love it! I just love your energy when [you're] doing your thang!! "
Shante's love for dancing is not only confined to the dance studio. When the music and vibe is right, she is not shy to bust her moves in public. Just two months back, she enjoyed a good dance session with Snoop at their granddaughter's birthday party.
Footage captured Shante dancing with Snoop, who was dressed up as Buzz Lightyear for the event. The clip was also a testament to the fun relationship between Shante and the "Gin N Juice" rapper.
Shante and Snoop, whose real name is Calvin Broadus Jr., have been
married for 23 years
, a difficult feat for Hollywood couples. Of course, their marriage has not been without its challenges.
Even after welcoming three kids, Cordé, Cordell, and Cori Broadus, the couple separated in 2004 but rekindled their romance and remarried in 2008. While they've been faced with other challenges since then, they remain committed to one another.