Ashley Cain Speaks up after Her 8-Month-Old Daughter's Funeral
Ashley Cain opened up and reflected on his eight-month-old daughter's funeral this week in a heartbreaking post on his Instagram. 
Former soccer player Ashley Cain opened up about the experience of having a funeral for his eight-month-old daughter, Azaylia, who passed away at the end of April this year. 
Cain shared a series of powerful photos from the funeral service last Friday on social media. He reflected on the ceremony and the passing of his little one in the caption of the Instagram post.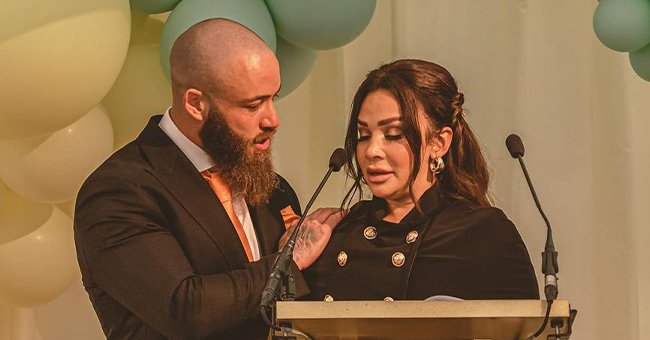 The photos are incredibly moving as they show a few personal moments at the funeral, including a photo of himself and his girlfriend, Azaylia's mother, Safiyya Vorajee, looking down at their baby's coffin. 
Another photo showed Azaylia's coffin being carried into the ground, while other photos showed the mourning parents talking at her funeral, which was decorated with balloons and a lion statue. Cain started his emotional tribute with:
"We shared so many tears, sadness, and broken hearts on Friday. The day I buried my daughter, something I wouldn't wish on my worst enemy."
Cain added that the weight of his daughter's passing had not fully sunk in yet and that he did not think it ever would. He explained that although the funeral was incredibly devastating, it was also a beautiful moment. 
During the funeral, the family and Azaylia's parents reflected and remembered what an amazing child she had been and remembered the positive and pure energy she radiated throughout her life. 
He explained that the $2.2 million raised would be used to cover the funeral costs.
The grieving father wrote that he would do anything to bring his daughter back, as she had meant so much to him. However, he is proud that they could provide her with a send-off that she deserved. 
Cain thanked his friends and fans who helped make the day special and those who continued to support his family through this difficult time. He ended off his Instagram post with:
"Azaylia, we love you and we miss you so so much baby. MY CHAMPION 👼🏼."
Cain shared with his Instagram followers that Azaylia has passed away on April 24, 2021, after a long battle with a rare and aggressive form of leukemia. Cain has been sharing updating of his daughter's journey on Instagram. 
Cain and Vorajee had previously set up a GoFundMe page to help cover the cost of a potential treatment. However, following her death, Cain shared that the money would be used in other ways. 
He explained that the $2.2 million raised would be used to cover the funeral costs, and the remainder would be going to fight childhood cancer in Azaylia's honor. The couple is setting up a charity in Azaylia's name. 
Cain revealed in October 2020 that Azaylia was diagnosed with leukemia that came with many complications. In April, the family was told that she would pass away within a day or two. They decided to take her home on April 9.