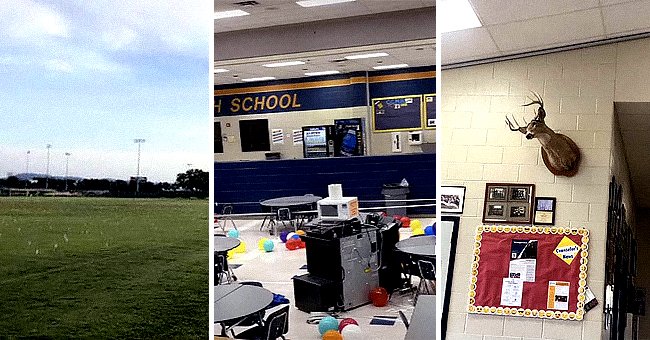 twitter.com/Morgan_Burrell
About 40 Texas High School Seniors Are Suspended Because of a Prank
In the last weeks of their senior year, students are typically at their happiest. However, a Texas high school suspended about 40 seniors for participating in a prank.
A prank involving the placement of plastic forks all over the football field at Comfort High School, no more than 50 miles from San Antonio, resulted in the suspension of approximately 40 seniors for two weeks.
The pictures, shared on Twitter by correspondent Morgan Burrell, show a "for sale" sign on school property, a stag head on a wall in a hallway, and some balloons scattered throughout the cafeteria.
The parents held a negative opinion of the school. Hope Jay, who has two senior children at Comfort, described it as a harmless senior prank that all parents were aware of one hundred percent.
In an interview with NBC affiliate WOAI, Jay said, "They had planned as a group, you know, 40 students, which is half the senior class… to fork the field, which is putting plastic forks in the dirt."
Jay told the news outlet that although many students stayed outside, some students went inside and placed items like balloons, Saran wrap, and a crooked stag head. There was no damage, Jay noted.
Meanwhile, social media users created the hashtag "Free the Forking Seniors."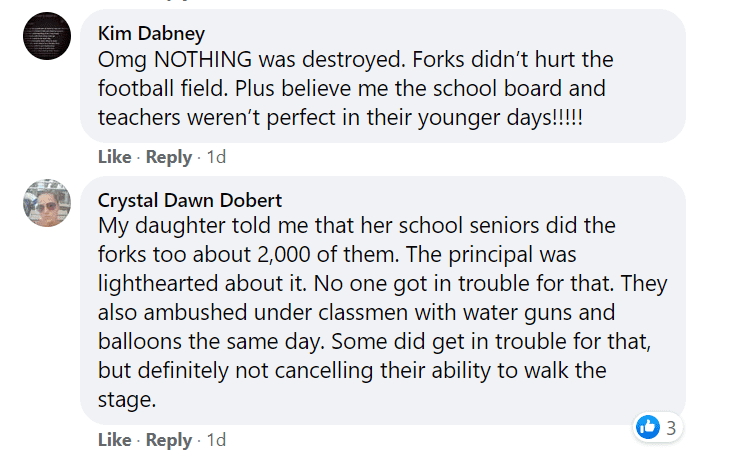 The opinions of some people regarding what happened at Comfort High School. | Photo: Facebook/News 4 San Antonio
Bruce Lott, whose child is the salutatorian, said he and other parents disagree with the blanket punishment, which applies to students who go inside the school and those who merely graze the fields.
The class valedictorian is Shannon Tonroy's daughter, she said to WOAI. As Tonroy explained, at first, she thought the suspension was the school's way of getting back at them.
Tonroy is reportedly an owner of a liquor store, and the store's sign now reads, "Congrats Class of 2021. We're so forking proud!!" Meanwhile, social media users created the hashtag "Free the Forking Seniors."
People reported that their request for comment wasn't immediately acknowledged by Comfort High School Principal Darren Williams or Comfort Independent School District Superintendent Tanya Monroe.
In related news, a high school prank in Cumberland, Wisconsin, earned the respect of the local police. Individuals are usually discouraged from vandalizing public property by the authorities.
Students built the illusion that a car had crashed into the school wall, with the back half of a white vehicle poking out and bricks were strewn everywhere. The illusion was achieved by a large black hole taped to the wall.
Please fill in your e-mail so we can share with you our top stories!