Kate Middleton Wears a $785 Bubblegum Pink Dress to Keep Her Promise to a Little Girl – See It Here
Kate Middleton looked beautiful in a $785 bubblegum pink dress, as she kept her promise to a little five-year-old girl. 
On Thursday, Kate Middleton looked elegant in a bright pink dress that she wore to meet a five-year-old girl, Mila, who has been battling leukemia over the last year, at the Palace of Holyroodhouse in Scotland.
Middleton previously met Mila last year as a photo of her waving at her father through a window was a finalist for Middleton's photography project, Hold Still 2020. It was used for the project along with 99 other images.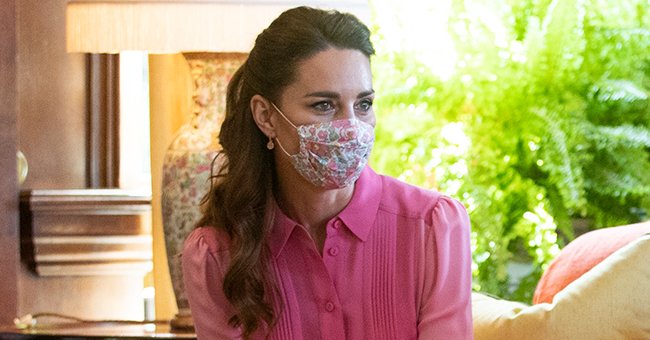 The photo captured the family's decision for Mila and her mother, Lynda, to isolate away from her father, Scott, and her big sister, Jodi, while Mila was undergoing chemotherapy. 
The Duchess and the young girl had met through a video call, in which they discussed different things, such as the moving photo and her favorite color, pink. Middleton then promised Mila that when they met, she would wear a pink dress:
"Hopefully, when one day, hopefully, Mila, we'll get to meet, and then I'll remember to wear my pink dress for you."
The Duchess of Cambridge kept her promise as she looked amazing in a block bubblegum pink dress from the brand Me+EM. The dress resembles a button-up blouse at the top and then goes into a flowy skirt. 
Mila also opted to wear a pretty pink dress when she met Middleton. The young girl looked adorable in a pale pink dress and faux tiara. The Duke and Duchess of Cambridge's Instagram page shared a video of the interaction. 
In March, Middleton wore a bright pink coat and matching sweater with scallop detailing on the collar during a visit to a school.
Upon seeing the young girl, Middleton expressed that she wished she could cuddle her. She asked the little girl to show off her dress by doing a twirl in it after sharing that she loved her outfit. 
The video showed the family's journey going to Holyroodhouse, exploring the palace, and talking to the Duchess. Middleton and Mila practiced social distancing and wore masks when they met. 
Although pink is not a usual color for the Duchess, as she is often seen wearing neutral shades and blues, she has worn the pretty color before. In May, she wore the color during a royal engagement. 
In March, Middleton wore a bright pink coat and matching sweater with scallop detailing on the collar during a visit to a school in East London with her husband, Prince William. She paired the coat and sweater with a pair of dark flared pants.
The Duchess always chooses to wear sophisticated outfits that are elegant but still comfortable. Sometimes her outfits reflect her royal background. During an appearance at the end of May 2021, she wore a gorgeous blue outfit resembling a look from Princess Diana. 
Middleton channeled her late mother-in-law when she stepped out in a vibrant blue Zara Blazer and matching skirt. The outfit and the hue of blue that was reminiscent of a look Diana wore in 1992.