Duane 'Dog' Chapman Shares Set Photos and Fans Express Their Interest in a New Show
Duane "Dog" Chapman shared a few photos of himself from set, and fans expressed their excitement for a possible new TV show. 
This May, Duane "Dog" Chapman shared two photos of himself from set and expressed that he has been filming. His fans expressed their excitement and interest in him having a new show. 
Although Dog the Bounty Hunter did not share any details about a new show, his Instagram post definitely seems to hint at the possibility of his reality bounty hunter show coming back to air. 
In one of the photos, Chapman is posed in his bounty hunting gear, standing next to a black and red sign that reads, Beware of Dog. He wrote he is back in the caption, perhaps eluding to his returning to TV.
The reality star also shared a selfie of himself with dark sunglasses and his platinum blond hair standing with a man holding a camera. He said he had a great day filming in the caption:
"Another great day of filming!!"
Although Chapman did not give any further details in his Instagram posts, fans were quick to share their enthusiasm for him and his show in the comment section of his photos. 
One adoring fan wrote that they hoped to see more bounty hunts as they missed watching Dog and his crew take down fugitives. Many others expressed that they loved the show.
Dog was involved in a faith-based film project last year called "Hunter's Creed."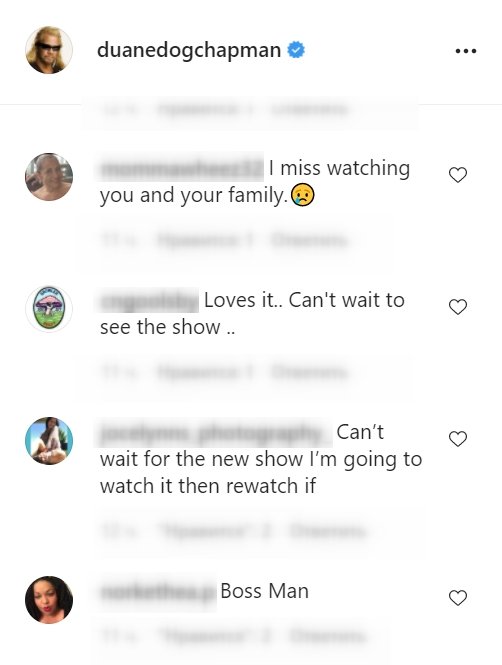 Others wrote that they could not wait to see Dog in action. One fan went as far as to say that they would watch Chapman's show and then rewatch it. Others were more curious about whether his post meant he would be returning to TV. 
Another Instagram user wrote that they hoped to see Chapman's fiancée, Francie Frane, on the show. It could be possible, as Chapman told People magazine last year, that Frane is a natural at hunting:
"She just fit right in. She started getting leads and writing them down, so there's more than just tracking and hunting."
Chapman popped the question shortly after the two started dating in 2020. Chapman met his future wife six months after his wife Beth Chapman passed away after a battle with throat cancer in June 2019.
The pair had bonded of their mutual grief of having both lost a spouse. Frane lost her husband Bob six months before Beth's death. Although no wedding date has been set, Dog is hoping to have a large party to celebrate. 
Besides planning his wedding to Frane and possibly filming new episodes of his reality show, Dog was involved in a faith-based film project last year called "Hunter's Creed." The film came out in October 2020.   
Dog is most known for his reality TV bounty hunting show, "Dog The Bounty Hunter." The show followed himself, his family, including his late wife, tracking and capturing wanted fugitives.