Student Goes Viral For Eating Pregnancy Craving Foods – from Coffee Beans to Eggs & Nutella
Student Mia Challiner found her niche market on TikTok by tying strange pregnancy cravings and rating them. She has reached social media fame through her videos. 
Mia Challiner has managed to rack up more than 1.5 million TikTok followers and has more than 75 million views on her page after she went viral on the social media platform. 
Challiner, who is from the UK but lives in France, decided to film herself trying weird pregnancy cravings and then rating them, which turned out to be a hit on TikTok, skyrocketing her into social media fame.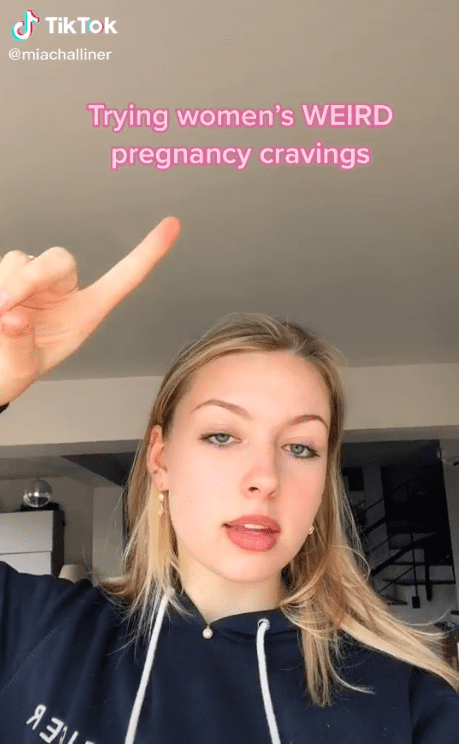 STRANGE FOODS
It is no secret that pregnant women tend to have strange food cravings, but it is a new idea that people who don't have those cravings should try them, especially since some of the ideas present less than edible options. 
But Challiner thought it would be a fun challenge and embarked on the journey of collecting the strangest cravings and trying them out for herself. From ice cream on toast to pickle juice, this TikToker has tried it all. 
GOOD RESULTS
The TikToker hasn't only gotten a plethora of new followers from her viral videos because some of the strange food combinations have also allowed her to discover some delicious treats. 
Instead of the traditional cheese sprinkled on the top, she went with sugar to round the dish off. 
While nobody would have guessed that porridge on a rice cake or Nutella mixed with mayonnaise would be edible, never mind delicious, Challiner has given these treats a high rating that surpasses everybody's expectations. 
BAKED POTATO AND ICE CREAM
The social media star makes use of her followers' suggestions to come up with new cravings to try in each video that she makes, with each video including some crazy food combos. 
What is Challiner's favorite new snack? After trying a few very unique cuisines, all inspired by pregnancy cravings, the influencer deemed baked potato paired with ice cream as her new all-time favorite. 
STRANGE IDEAS
Challiner may also turn to articles that have reported some of the most "out there" cravings that pregnant women have sent in. Pure Wow shared that one woman had an intense craving for cigarette butts. The woman said: 
"I wanted to chew on cigarette butts. Not the actual cigarette, just the squishy end that's usually been in someone's mouth. I never did it."
Another woman shared that she also had a unique ice cream craving, including vanilla ice cream and beef jerky. The lady was craving salt and sweet combination that only meat and ice cream could bring about. 
Other social media users also shared their weird cravings on their various platforms, with one lady posting a photo of her snack made up of a dill pickle and peanut butter. 
Another Instagram user snapped a picture of her strange take on spaghetti. Instead of the traditional cheese sprinkled on the top, she went with sugar to round the dish off.