Magic and Cookie Johnson Hang Out at a Lakers Game in Matching White Outfits
Magic Johnson and his wife Cookie Johnson warmed many hearts when they took to their respective social media pages to share the same picture of them from a basketball game.
Magic Johnson and his longtime wife Cookie enjoyed a Lakers basketball game recently with friends and family, and they were both kind enough to leave a picture to mark the occasion. 
The picture captured a smiling Magic standing next to his gorgeous wife, who also wore a similar smile on her face. The two lovebirds were positioned so that they had their backs to the basketball court.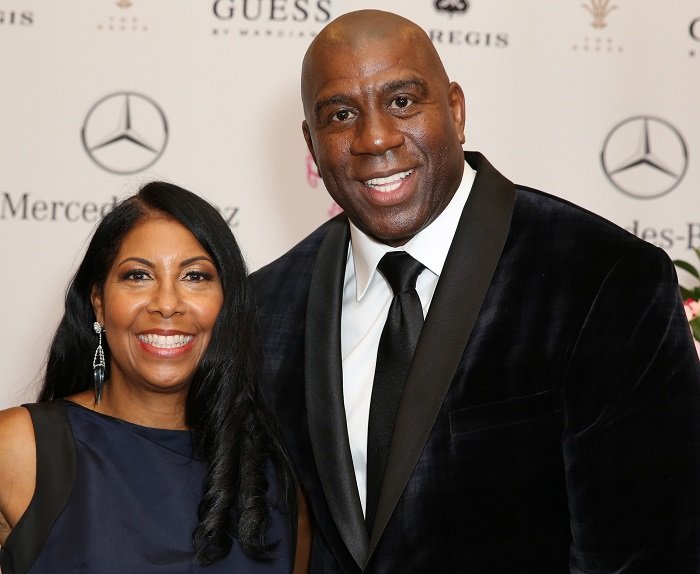 As far as their outfit went, they killed it. Magic looked handsome in a smart T-shirt coupled with dark pants and a brown pair of shoes, while Cookie wore a matching top underneath an exquisite white leather jacket. 
For bottoms, she opted for sky blue pants that fit snugly around her shapely legs. In Magic's caption, her husband revealed that they were at the Staples Center "watching the Lakers, unfortunately, lose to the Suns."
Cookie reposted the same photo via her own Instagram page, and she captioned it with simple yet heartfelt words. It read, "A great time with family & friends."
In their comment section, fans of the couple gushed over the sweet picture. One stated that Magic was his "favorite athlete" before declaring he would love to see the "beautiful couple soon."
It was not an easy journey for either party.
Magic and his wife have been married for decades, but even though their union is one of the longest-lived ones, the pair have had more than their fair share of ups and downs. 
An example was when it was revealed that the legendary athlete had contracted HIV while he was lying around with multiple women. 
In the past, when Cookie spoke about the moment he broke the news of the HIV diagnosis to her, she revealed that she had been so scared, she fell to her knees, and he followed suit before their tears started to flow. 
Cookie had attributed them surviving that single trial to her faithfulness in God, whom she turned to when her husband was having trouble remaining committed to her. It was not an easy journey for either party, but they came out stronger for it.
The pair, who wed on September 14, 1991, celebrate their relationship anniversary with star-studded get-togethers held in exclusive locations. Fans are just glad they weathered the storm that could have otherwise ended their love story prematurely.