Kevin Hart's Wife Eniko Bares Some Skin in an Off-Shoulder Top & Colorful Leggings in Photos
Eniko Parrish and Kevin Hart are a power couple, creating clothing lines and babies together, the model ensuring to keep her body in check after welcoming their second child into the world. 
Comedian Kevin Hart's wife Eniko Parrish took to Instagram to share lovable pictures of herself peeking over her shoulder and laughing. She also unveiled some skin in an off-shoulder top and colorful leggings. 
In both shots, the model displayed her professional posing skills. She looked alluringly over her shoulder in the first, followed by a more natural one of her throwing her head back in laughter, glowing with charm.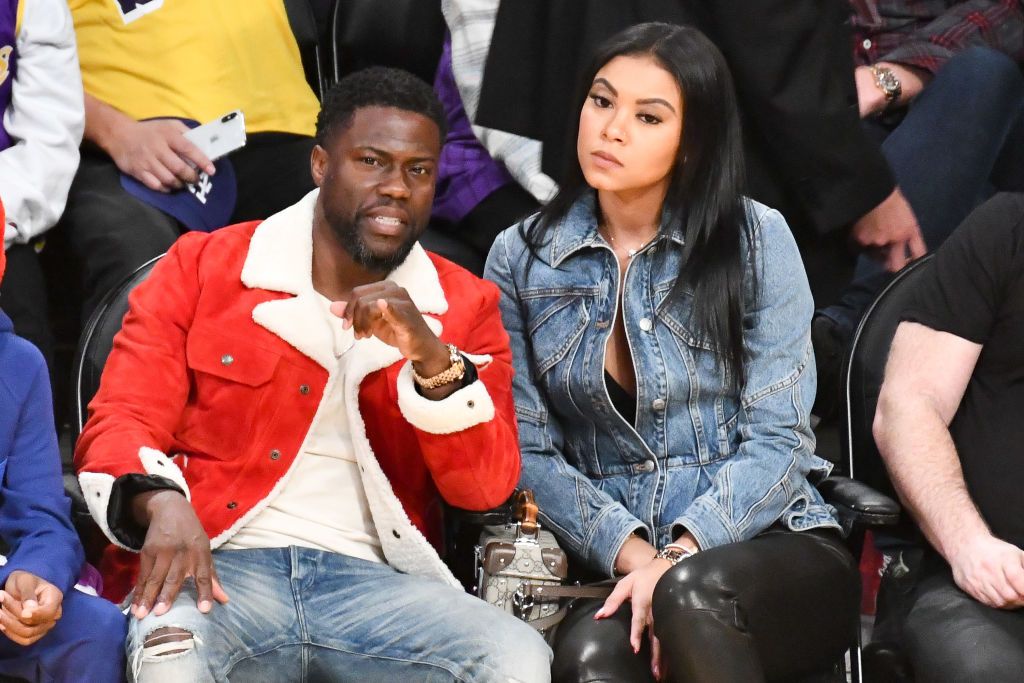 FLAUNTING THOSE CURVES
The off-the-shoulder cut complimented her sweet over-the-shoulder poses, her whole outfit from her heels to her hair hugging her figure and looking sleek. Taking to the caption, she wrote:
"I keep it cute. 💜💙🖤 "
Her high strapped heels combined with her tight multi-colored leggings enhanced her shapely legs and derrière. With her back turned to the camera, she made this the focus of the pictures. 
EMBODIED REFINEMENT 
The revealing outfit combined with her poses did exude a cheeky feel. Still, there was an air of elegance, Parrish's glossy hair pulled back tightly and gracefully, showing off her gorgeous facial structure.
This couple hasn't only created a family together but also a clothing line in collaboration with Fabletics.
Fans and followers absolutely adored the picture, taking to the comment section to compliment Parrish on how stunning she looks. They left 77,000 likes behind them. 
AFTER THE BABY
Parrish is showing off this gorgeous body after just over half a year of giving birth to her and Hart's second child. Soon after birthing little Kaori, she took to Instagram to talk about losing weight postpartum: 
"Not everyone's journey is the same but I've learned over the years if you treat your body good, it'll do the same in return."
Kaori found her way into this world on September 29, 2020, joining Parrish and Hart's eldest, Kenzo, who is 2 years old. Hart has two more children from his prior marriage - Hendrix 12, and Heaven, 15.
POWER COUPLE
This couple hasn't only created a family together but also a clothing line in collaboration with Fabletics. The Hart Collection consists of athleticwear and is dual-gender. 
Its spring-like ambiance combines neutral tones with sprinkles of color. The collection aims to provide comfort, easy movement, and style, creating a balance between practicality and high fashion. 
The spouses are brand ambassadors for Fabletics, Parrish taking to Instagram to flaunt her toned figure in an ensemble from the clothing company. She did so amid a workout with Hart himself.
The first picture showed her working out using a training apparatus, once again looking gorgeous and toned. She referred to the couple workout as "a rare moment."