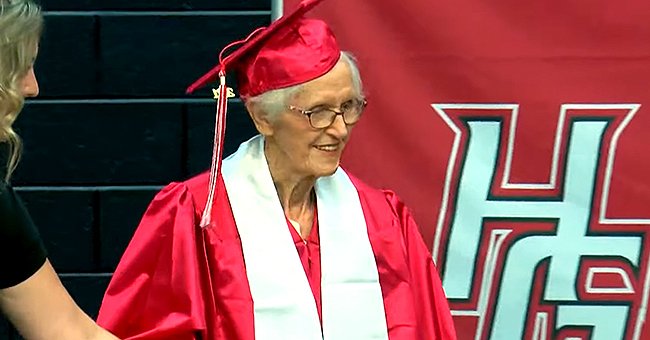 youtube.com/WKYC Channel 3
94-Year-Old Former School Bus Driver Gets High School Diploma 79 Years after Leaving School
An elderly woman who is close to turning 100 has become an inspiration after going back to school to get her High School diploma. Footage showed the woman while she graduated.
This month, Grace Lee McClure Smith, 94, finally got her an honorary high school diploma. The former school bus driver did not get her diploma when she put her education on hold in 1942.
McClure Smith graduated with a special honorary ceremony that was organized by one of her grandchildren. She even got to wear the red graduation attire as she celebrated.

A bunch of high school graduates throw their graduation caps up in the air while celebrating outdoors | Photo: Pixabay/Gillian Callison
Speaking to WAAY-TV, the elderly woman said she was very grateful to have finally achieved her goal. In a clip shared by WKYC Channel 3, she was all smiles as she posed for the camera and said to WAAY-TV:
"It's better late than never, isn't it?"
In 1942, McClure Smith dropped out of Hazel Green High School at the age of 16. At the time, the teenager was already a wife, and she left school so her husband could go off to World War II.
Her granddaughter, Erin Wilson, explained how her grandmother had never mentioned any regrets in life. She wouldn't change anything because she had loved her husband.
Wilson, who helped make the graduation possible, felt high school graduation was quite important to her grandmother. The Alabama elderly woman worked as a bus driver.
Generations ago, the elderly man [Jerry Moon] failed to finish his schooling…
She managed to stay close to education by driving for the Madison County School Systems for over 30 years. As the years progressed, McClure Smith even urged her family members to continue studying.
Wilson, a teacher at Legacy Elementary School, even shared that she rode her grandmother's bus when she was in school. The teacher described her grandmother as a role model to many children.
McClure Smith was blessed with 26 great-grandchildren. She wasn't the only elderly person to receive the high school diploma this year, as Jerry Moon, 84, also followed in her footsteps.
On May 28, 2021, the Mississippi man got dressed up in his graduation cap and gown got his high school diploma during the commencement at Port Gibson High School. Moon joined 94 other graduates.
Generations ago, the elderly man failed to finish his schooling after bureaucratic mistakes prevented him from receiving it. After getting his diploma, he said he was "thrilled" and didn't know what to do with himself.
Please fill in your e-mail so we can share with you our top stories!