Mark Wahlberg Shares Unseen Throwback Photo with Late Mother Alma for His 50th Birthday
Mark Wahlberg, the two-time Academy Award nominee, shared an emotional throwback photo with his late mother. The post left his fans with bittersweet memories marking his 50th birthday.
Mark Wahlberg recently celebrated his first birthday since the death of the Wahlberg family's matriarch. Mark offered tribute to his late mother Alma through his social media account, further supported by his fans. 
He wrote that he missed Alma on his Instagram account, posting a heartfelt picture of himself and his late mother at a "New Kids on the Block" show from the early '90s. The veteran actor also received birthday wishes from his followers around the globe.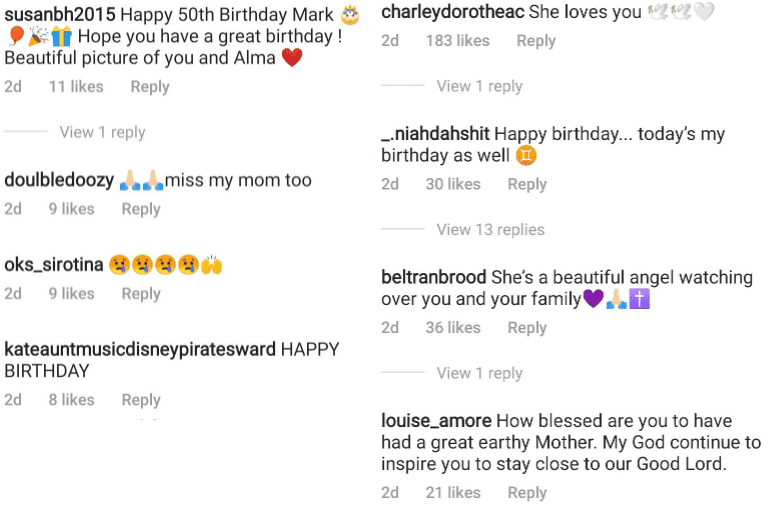 THE WAHLBERG NOSTALGIA
The picture is special for the Wahlberg family for more than one reason, as it also represents the boyband of which both the Wahlberg brothers were part. Hence, you can see their proud mother in the nostalgic photograph. 
The British Academy Television International Award winner, Mark, lost his mother, who was suffering from dementia, in April. This was his third post where the actor was seen paying tribute to Alma. 
Before this, the "The Departed" actor celebrated his mother's birthday a few weeks after she passed away. The proud son wished Alma a happy birthday and shared a picture on his Instagram of them sitting together.
LOSING THE MATRIARCH
Mark and his brother Donnie Wahlberg disclosed their mother's death on their respective social media accounts. The 50-year-old actor posted a picture on April 18th, addressing Alma as his angel, and prayed for her departed soul.
Whereas Donnie posted a two-minute long video as a tribute to their mother where the duo is happily dancing at his wedding. His touching tribute read:
"She made no apologies for who she was but never put herself above anyone else. She kicked our butts if we messed up, kicked anyone else's butts if they messed with us." 
ALMA: ONE OF A KIND
Alma emerged as a household name for her appearance in the A&E series, "Wahlburgers." It was a reality TV series that aired for ten seasons from 2014 to 2019.
The show starred Donnie, Mark, and Paul Wahlberg. It showed their journey of running a fast-food burger chain together. The show often had guest appearances from their late mother.
Paul, Alma's fifth son, is considered the brains behind the family reality TV show. He is also a celebrity chef. In 2010, he launched a restaurant in Hingham, Massachusetts, naming it Alma Nove as a tribute to the matriarch.
BELOVED MOTHER
Alma and her late husband, Donald Wahlberg, shared nine children. She was known as the mother of "famous children," which is true considering how successful her children have been, especially the three brothers. 
Last July, the "Blue Bloods" actor Donnie first revealed the news of their mother's degrading health on his Instagram. He shared a loving picture of himself hugging Alma.
With Alma gone, it is doubtful whether the three brothers would return to the family TV show of which their late mother was an integral part. 
LEAVING BEHIND THE LEGACY
Alma passed on at the age of 78, but the exact date of her demise is unknown as the Wahlbergs have never disclosed it publicly. It is estimated to be mid-April 2021.
The Wahlberg matriarch is survived by her eight remaining children. With Alma gone, it is doubtful the three brothers would return to the family TV show of which their late mother was an integral part.