Chris Brown & Daughter Royalty Try to Play One-on-One Basketball in New Father-Daughter Video
Chris Brown is the proud dad of his daughter, Royalty, who recently turned seven years old. Take a look at a new video of them playing a friendly game of basketball.
Nothing says father-daughter bonding time like seeing a dad and his daughter in a friendly one-on-one game of basketball. At least, for singer Chris Brown and his daughter, it does.
In a recent post on her Instagram, the "Forever" singer's mother, Joyce Hawkins, shared a thrilling video of him and his incredibly talented daughter, Royalty, 7, caught in an intense basketball playoff.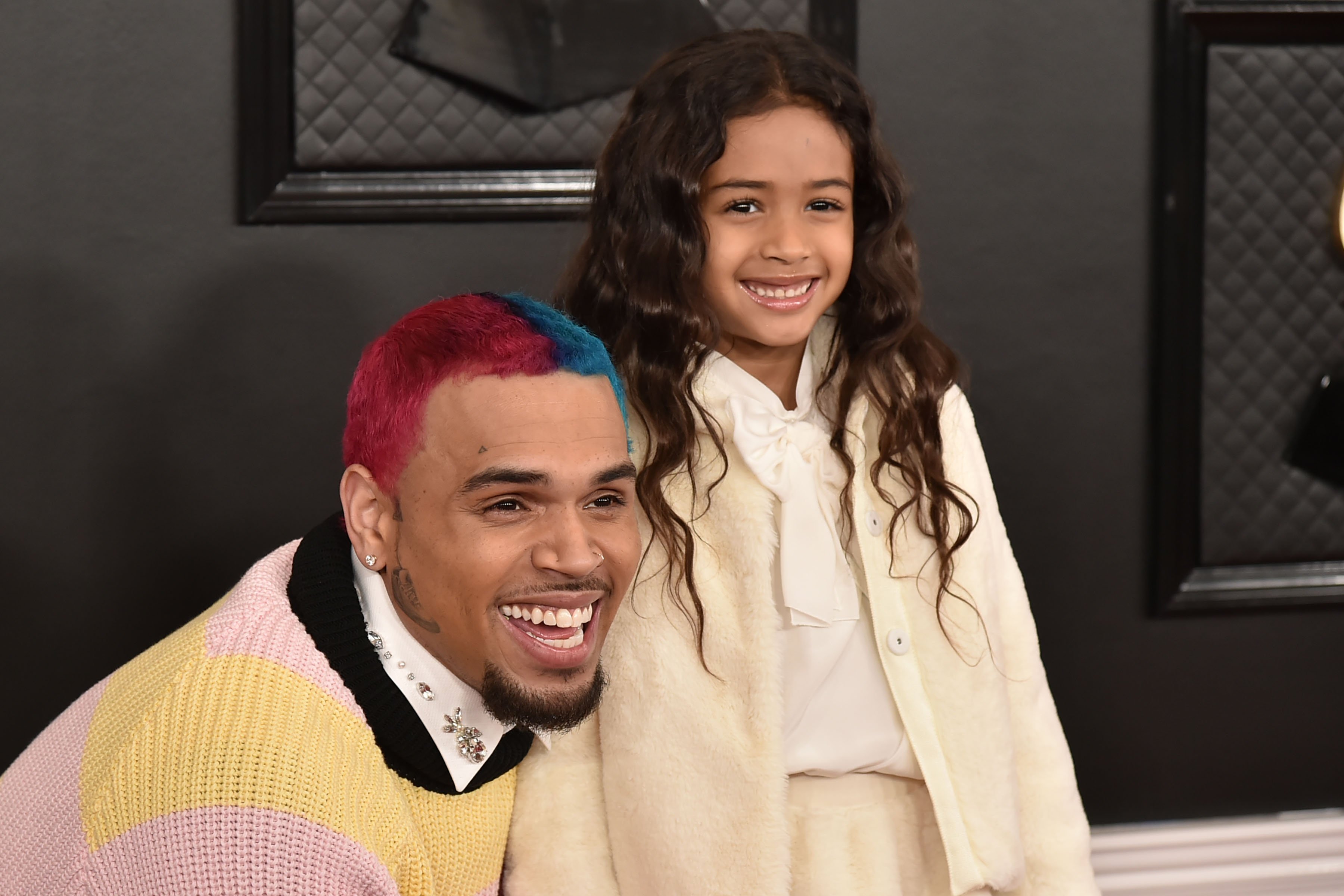 Young Royalty looked completely engaged and alert as she swiftly maneuvered the ball opposite her singer dad. She looked adorable while rocking a blue tank top and pink shorts as she showed off her skills.
Playing opposite the immaculate Royalty was none other than Brown clad in a white T-shirt, a pair of beige pants, and white sneakers. Captioning her post, Brown's mom wrote:
"HOW ROYALTY TRYING TO PLAY ONE ON ONE WITH DAD!!!"
Despite being the dad, Brown was not letting up on his playing skills as he expertly stole the ball from his daughter while she was dribbling, refusing to let her get it back.
Fans could not get over how precious and perfect Brown and his little mini-me looked while playing together. They gushed about them in the comments, commending how much they looked alike. The two make a formidable duo indeed!
The two are committed to raising her in a balanced co-parenting dynamic.
Brown and his beautiful daughter are known for being a multi-talented pair. Basketball happens to be one of the many things they both excel at, and it is not a new discovery to their fans.
In 2015, when Royalty was still a toddler, her singer father took her with him to the Power 106 All-Star Celebrity Basketball game in Los Angeles. With his doting eyes on her all through, fans could tell just how much he loves his little girl.
Brown shares his daughter with his ex-girlfriend, model Nia Guzman. They welcomed their baby girl in 2014, and the two are committed to raising her in a balanced co-parenting dynamic.
Royalty recently celebrated her 7th birthday, and her pop star father went all out to make the day a memorable one by throwing her an elaborate princess-themed party.
The party was extravagantly done to fit the theme with pony rides, gift bags, and even an absolutely fabulous mobile children's spa. It was the perfect dream birthday party for the little princess.
Royalty is a lucky girl to have a great, loving dad like Brown and even more lucky to share so much in common with him. Fans can only hope to see more of them on the court and otherwise.