Lindsie Chrisley on Likelihood of Making a 'Chrisley Knows Best' Comeback Following Fan Question
Reality TV star Lindsie Chrisley during a question and answer segment on her Instagram story tackled a question on her possible return to the reality show "Chrisley Knows Best."
Lindsie Chrisley is known as a social media influencer and a reality TV star. The 31-year-old was catapulted into fame after she featured in the USA Network reality TV show, "Chrisley Knows Best."
The show features Lindsie's father, Todd Chrisley, and his family's lifestyle. While the show is still garnering much interest from the public, Lindsie is no longer a part of the cast due to a falling out with her dad. 
The TV star recently enjoyed participating in a question and answer segment with her fans on her Instagram story. She addressed a question about her return to "Chrisley Knows Best."
A fan asked if she filmed with her family on the show. Replying to the fan, Lindsie acknowledged that being on the show was a part of her "past life." 
She noted that there might have been a rerun of an episode that featured her recently. However, she stated that she would not be returning to the show, explaining that the "ship sailed" and "we've all moved on."
It seemingly appears that the rift between the Chrisley family members is deeper than expected. Lindsie was not the only child to have walked away from the show. 
Lindsie revealed she was pregnant five months later.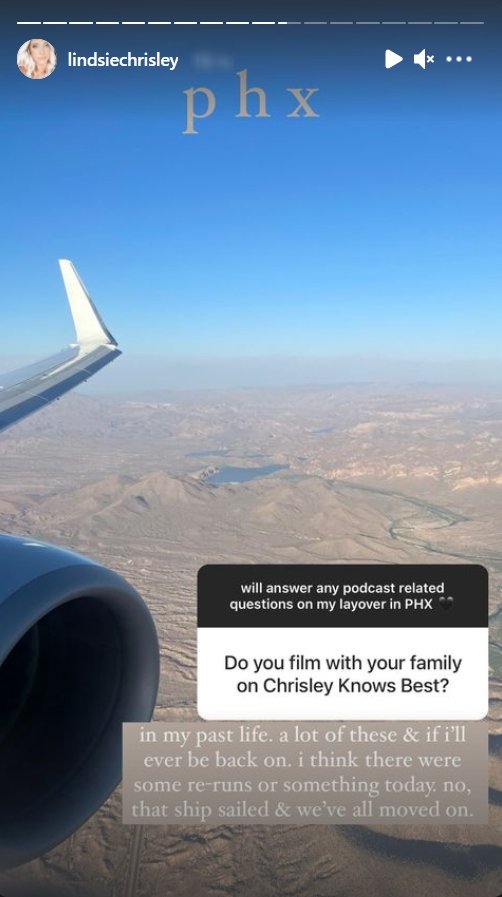 Lindsie's brother, Kyle, returned to the show during the last season after he had been estranged from the family for a while. His return was appreciated as Kyle was welcomed with open arms by his father.
Lindsie's exit broke the hearts of fans who enjoyed seeing her on the screen. However, many can not help but wonder the reason behind her decision. Here are some of them.
The podcast host had a fall out with her father in 2012 after Lindsie eloped with her boyfriend, Will Campbell. Lindsie revealed she was pregnant five months later. 
According to Distractify, Lindsie left the show in 2017. In an episode of "Coffee Convos," she revealed her family made her feel like an outcast. The host also admitted that she only did the show in the first place because of her father.
Todd is the father of Lindsie, Kyle, and three other children, Chase, Savannah, and Grayson. He shares the former two with his first wife, Teresa Terry. He welcomed the latter three after his 1996 marriage with Julie.
Apart from Lindsie, Todd enjoys a good relationship with his other children. The Chrisley siblings enjoy one another's company and showcase nothing short of love on the show.