Pat Sajak Announces Death of His Beloved Pet Dog
74-year-old TV Show host, Pat Sajak, is mourning the death of a close member of the family. He went on to announce the sad news at the end of Monday's episode of "The Wheel of Fortune."
Pat Sajak, who hosts the longest-running show on TV, "The Wheel of Fortune," is mourning the death of his dog, Stella. The Sajak family is sad to have lost the pet that has been with the family for 12 years.
Pat went on to share a photo of himself with Stella. His fans flooded the show's social media page with messages of condolences, expressing their sadness over the Sajak family's loss.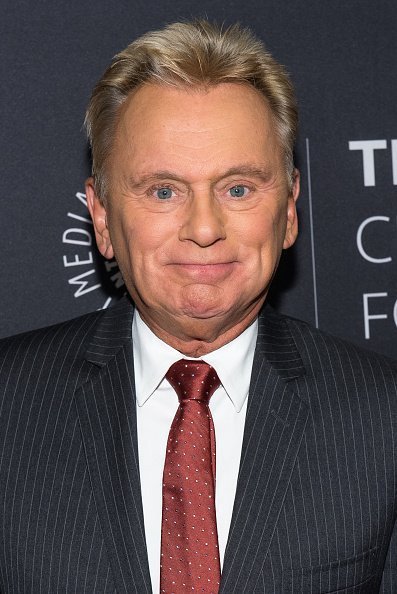 In a bid to console the much-loved game show host, some fans took the time to share similar sorrowful stories of the pet losses that they had experienced. Speaking to People magazine, Pat said,
"We are going to miss her, she was a good friend."
In an interesting turn of events, fans somehow discovered that the co-host of the show, Vanna White, had a cat that was also named Stella, purely coincidentally, of course.   
The announcement comes in just days after he shared some exciting news on the show, that his son had graduated from Medical school and was now a full-fledged doctor.
He even made fun of the moment saying that his son insists that he calls him Dr. Sajak. The three-time Emmy award winner is a doting father to 30-year old son, Patrick, and a 26-year old daughter, Margaret.
[S]lipped up and accidentally gave away the answer to the puzzle
He joked that he had tried to coerce Patrick to study geriatrics, but he refused. The concealed humor did not go unnoticed by his audience as he spoke directly to the camera.
Maggie, who is a country music singer and a law student,  also congratulated her big brother, posting a picture with both of them alongside a very sweet message on Instagram saying;
"My big brother officially became a doctor today, and I am the MOST proud. Congrats @patricksajak, MD!!!"
In one of the show's episodes, which should be best referred to as "Wheel Unfortunate," coined from the name of the show, the game show host slipped up and accidentally gave away the answer to the puzzle.
Speaking to the contestant, he said, "Well, I'd rather be standing here than there, quite frankly." The answer to the puzzle turned out to be 'quite frankly.'
The contestant, however, missed it and failed to get the right answer before the timer went off. Pat admitted to his co-host, Vanna, that he had accidentally slipped up. He wondered whether people at home had caught it.
When saying his goodbyes at the end of the broadcast, the game show host, who has been at it since 1982 jokingly said to his audience, "quite frankly, see you next time!"