Fans React to 'The Nanny's Fran Drescher, 63, Rewearing Her Iconic Rainbow Vest
"The Nanny's" Fran Drescher recently slipped her elegant figure in her legendary Rainbow jacket. The action attracted several reactions from fans who were very excited.
Multi-talented American actress Fran Drescher, 63, elegant figure surprisingly fits perfectly in her one-time signature rainbow coat from "The Nanny." She shared photos on Instagram that featured her rocking the colorful vest.
With a big smile that brightened up her beautiful face, Drescher rocked her iconic rainbow coat with a long -sleeve, high-neck, dark top that fit her body perfectly. Her hair fell stylishly around her shoulders while she had simple makeup on.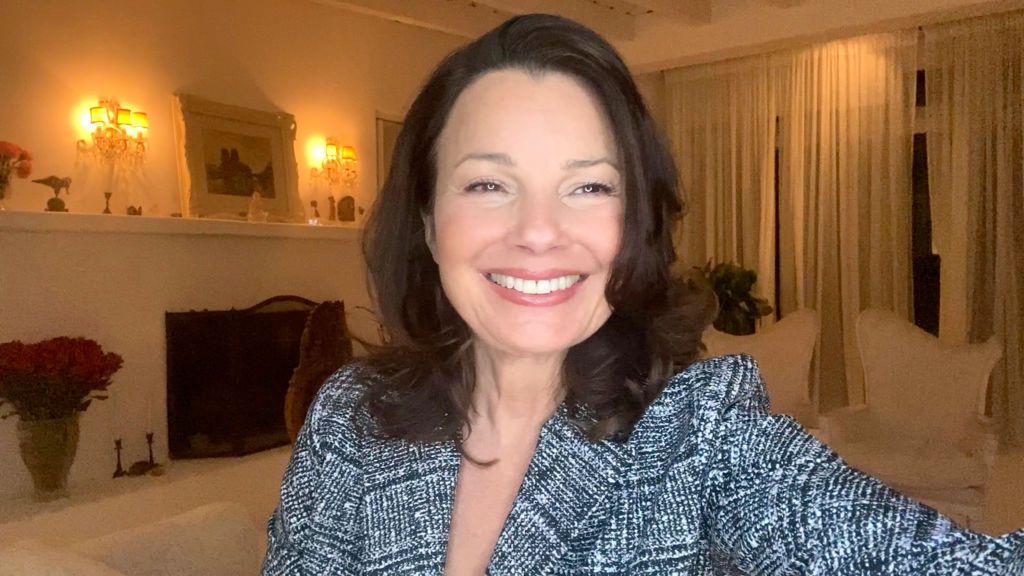 The rainbow vest is an armless v-neck buttoned-down coat with a series of popping colors. In another photo of the iconic vest posted, she seemed to be advertising an upcoming show in her caption that read:
"Did a shoot 4 @hbomax & @cancerschmancer 4 #thenanny & the Fran Jam Music Festival 6/20 at 6pm PT & 9pm ET so get ready to see a Gr8 show on Father's Day eve"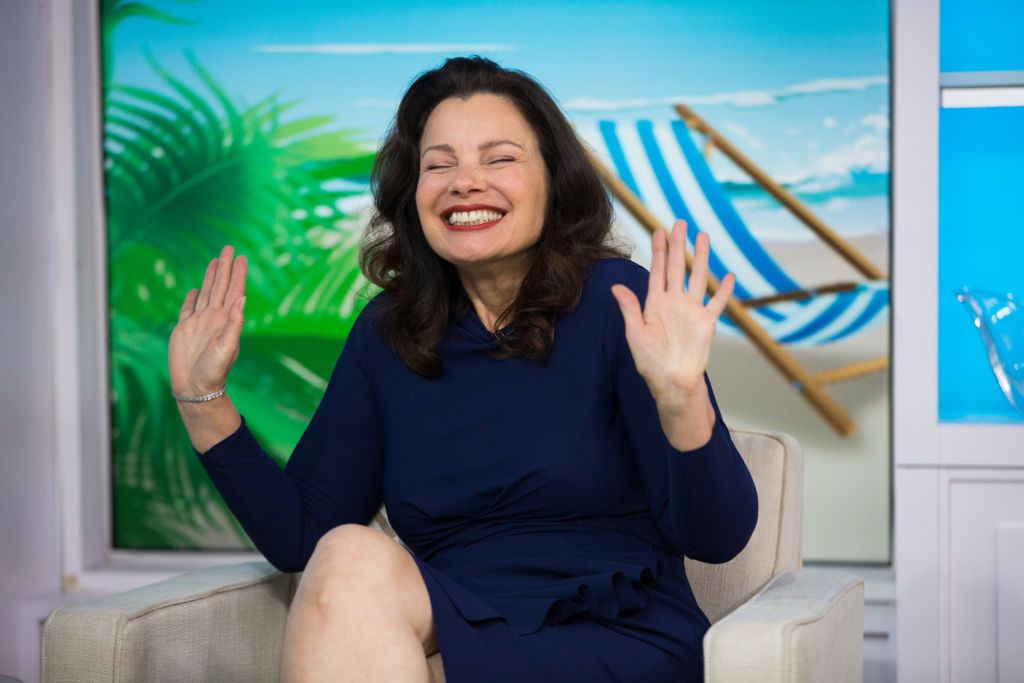 [Drescher] recently expressed her joy in the news podcast for being cancer-free for about 21 years.
The post got her fans gushing over her flawless, elegant looks as they left lovely comments. A fan acknowledged her perfect features in the comment when they wrote, "You don't age! Omg, the same vest!"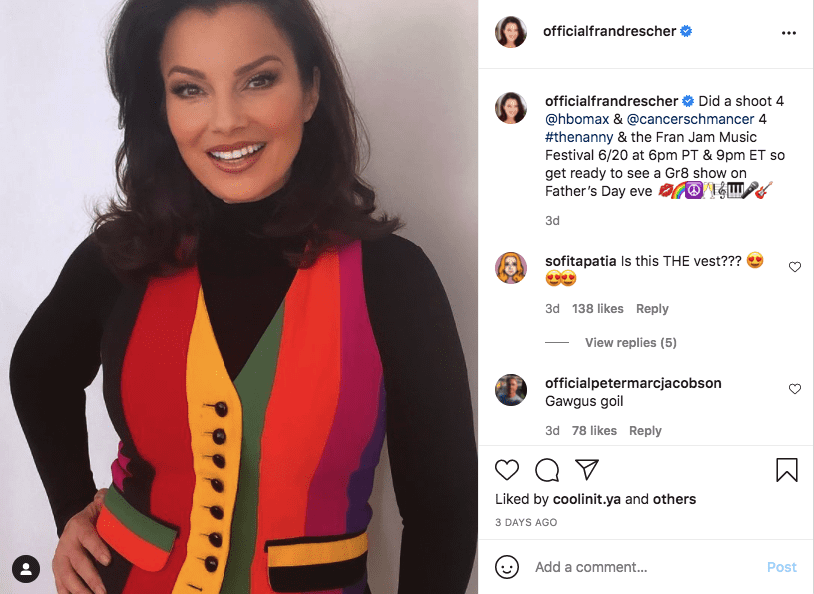 In 2018, Drescher's costume designer, Brenda Cooper, mentioned in an interview that she was opting for brighter colors for the show. She also mentioned that she wanted to make a statement of style and other concepts.
"The Nanny" star recently expressed her joy in the news podcast for being cancer-free for about 21 years after being diagnosed. The actress was diagnosed with uterine cancer in 2000 at Cedars-Sinai Medical Center in Los Angeles.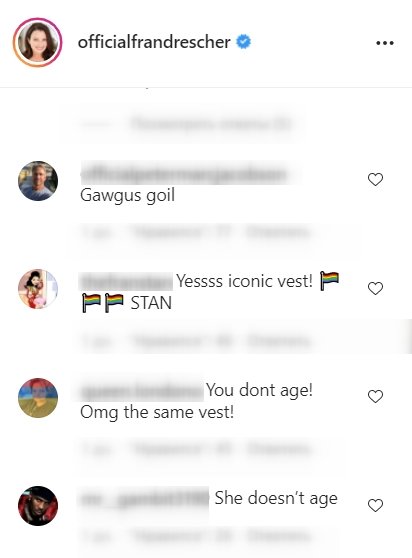 The star has taken it open herself to enlighten people and create awareness about cancer. Amidst the novel Coronavirus, she celebrated her 20th year of being cancer-free with a virtual lounge.
It's no secret that the renowned show "The Nanny" gave fans the best characters, and the hard work and dedication of the stars on the show have spoken for them over the years.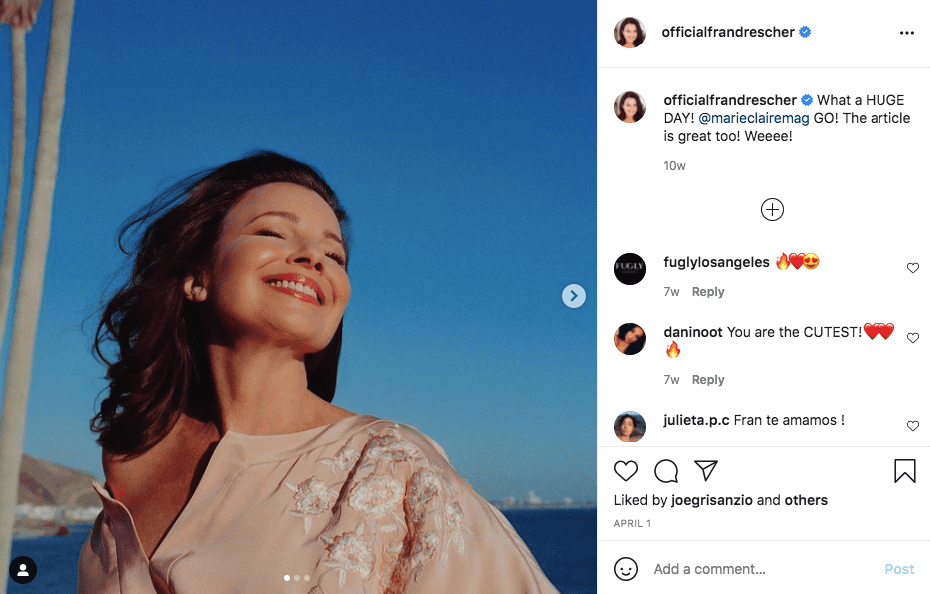 Drescher has appeared on Broadway's "Cinderella," playing the role of an evil stepmother. Lauren Lane, since starring in "The Nanny," worked fine in the world of entertainment. 
Nicholle Tom, who played the role of Maggie Sheffield, has appeared on several TV shows such as "Criminals Minds," amongst others. Many other casts on the show have also made a significant impact in the entertainment industry.