Kate Middleton 'Can't Wait to Meet' Her New Niece as She Wishes Lilibet 'All the Very Best'
Kate Middleton is excited to meet her new niece and even sent her a gift after she was born. However, she admitted she has not FaceTimed the Sussexes yet. 
During a recent public engagement, Kate Middleton was asked about the royal family's newest member, her niece, Lilibet "Lili" Diana Mountbatten-Windsor, and whether she had met the baby yet. 
The Duchess of Cambridge teamed up with First Lady Dr. Jill Biden and visited a school. During the visit, a reporter asked Middleton about Prince Harry and Meghan Markle's second child's recent arrival.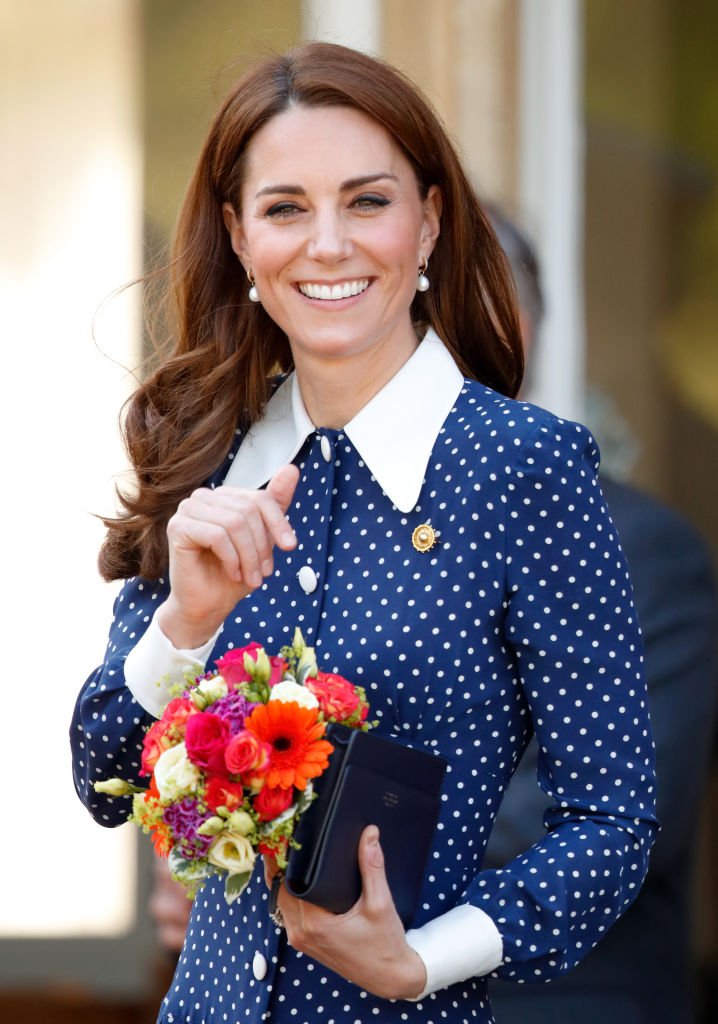 ABC News shared a video of the interaction on their Instagram page. In the video, the reporter asked the Duchess, who looked beautiful in a pink blouse, whether she had any wishes for her new niece. 
Middleton smiled and said her first comments about Lilibet to the reporter, "Oh I wish her all the very best, I can't wait to met her because we haven't yet, met her yet, so hopefully, that will be soon."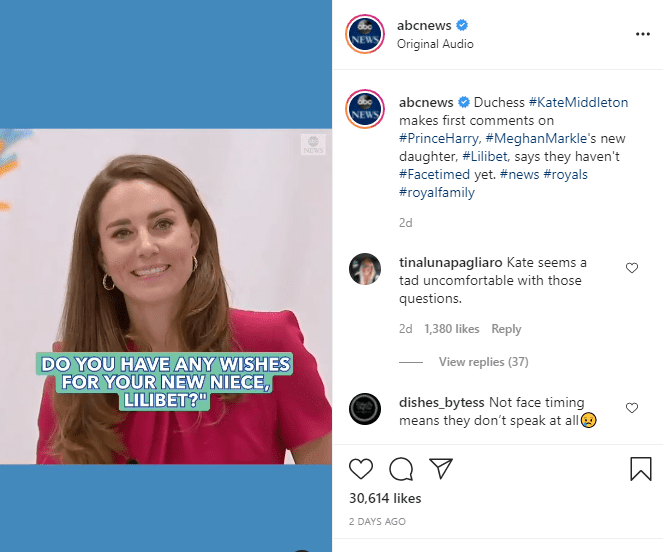 The reporter then asked Middleton if she had FaceTimed the almost two-week-old yet, to which Middleton said that she had not. Of course, that does not mean the Cambridges are not thinking about their family across the pond.
The Duke and Duchess shared a post on social media to congratulate the Sussex family on the birth of their newest member. They wrote that they were delighted to hear the news of Lili's birth. 
The couple released a statement and said that both mother and baby were healthy and doing well.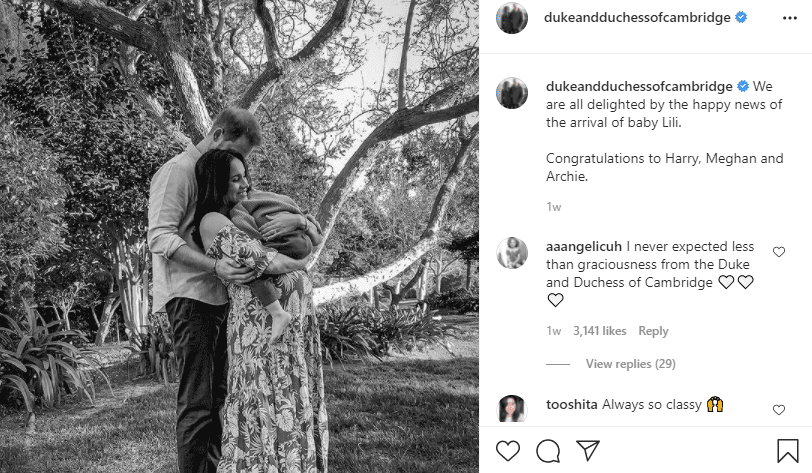 They shared a black and white photo of a pregnant Duchess of Sussex who was posed with her husband and held their two-year-old son, Archie. The photo was taken by photographer, Misan Harriman.
The couple reportedly sent a gift for Lili's birth. The exacts of the gift are not known. The Cambridges were also informed about the birth before the couple officially announced it two days afterward.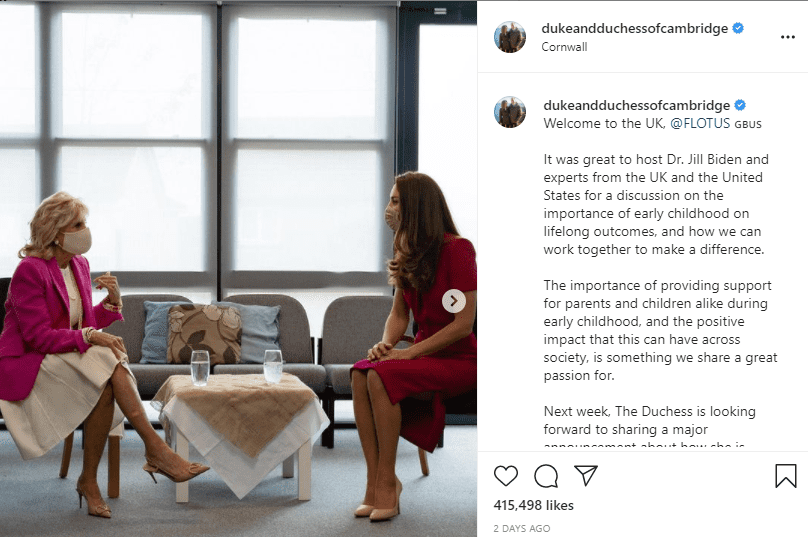 The Duke and Duchess of Cambridge also celebrated Archie's second birthday on May 6, 2021, as they shared a family photo, alongside a birthday message on their Instagram page. 
The other members of the royal family also sent their wishes following Lilibet's birth. Queen Elizabeth II, who Lilibet is named after, shared a photo of the couple from their wedding day.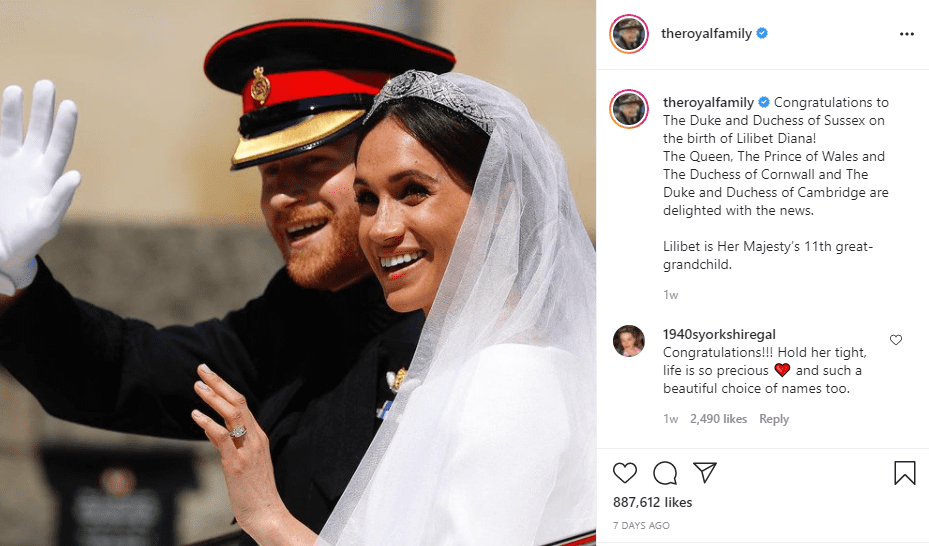 Markle gave birth to the couple's second child at the Santa Barbara Cottage Hospital, before 12 pm on June 4, 2021. The couple released a statement and said that both mother and baby were healthy and doing well. 
None of Prince Harry's family have met the baby face to face yet, however, People reported that the Sussexes will visit the UK in 2022 to celebrate the Queen's Platinum Jubilee, to mark her 70 years on the throne.