Snoop Dogg & Wife Shante Celebrate Their 24th Anniversary Passionately Dancing in New Videos
Although they have had their fair share of troubles and once faced divorce, Shante Broadus and Snoop Dogg have remained by each other's side.
Smooth-talker Snoop Dogg took to Instagram to celebrate his enduring marriage of 24 years to his wife, Shante Broadus. The two videos captured them dancing with an innate rhythm.
In one of the clips, they swayed along to a rap song together. Snoop rocked behind his spouse as they both exuded a sense of shared coolness.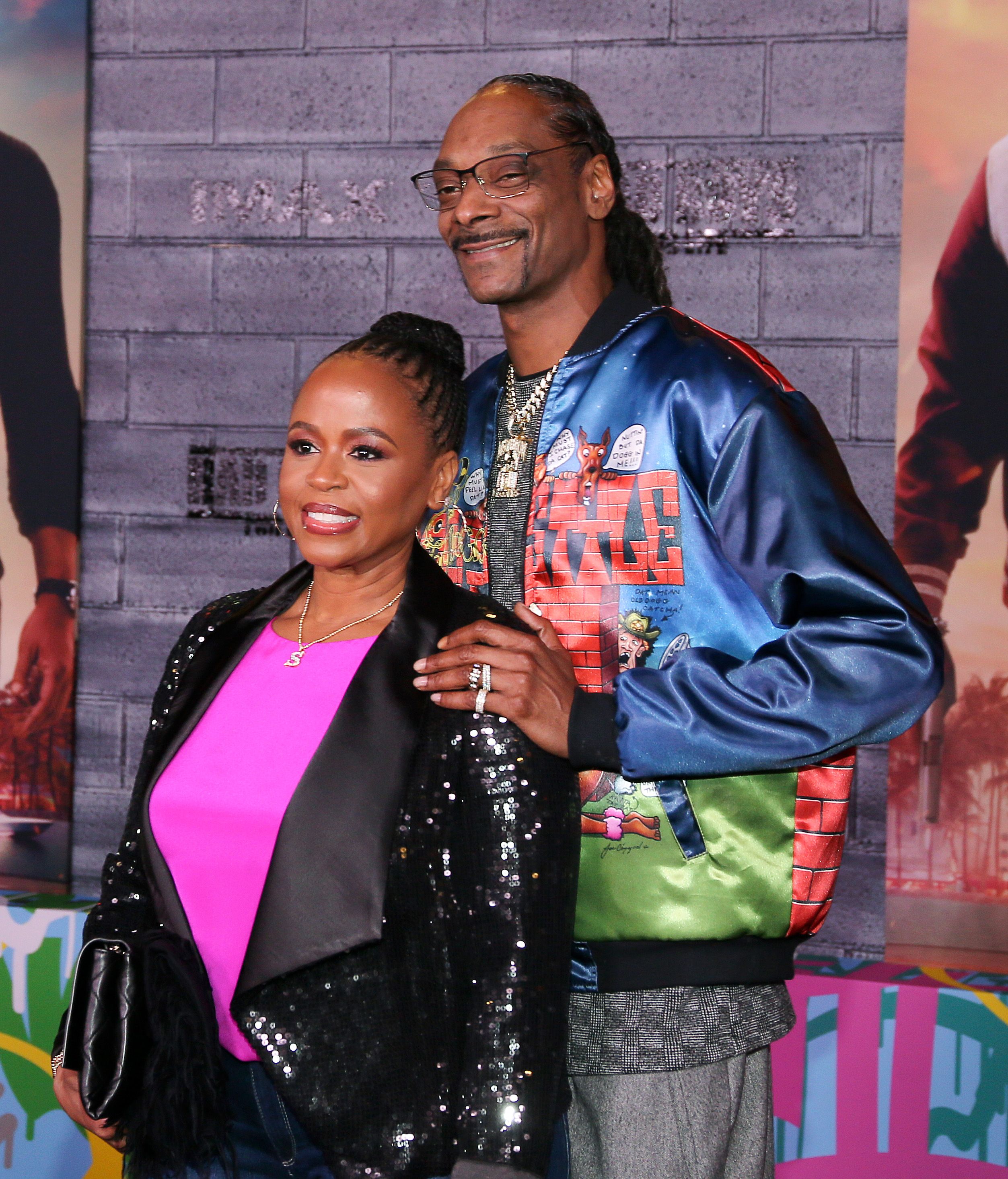 Shante danced in a glittering golden dress that had a low-cut neckline and emphasized her prominent cleavage. Taking to the caption, the riddle-man wrote: 
"About last night 24th @bosslady_ent. 💝💖💓💘😘 💍"
Snoop was also dressed to the nines, rocking a black and white tuxedo. He added dark sunglasses to give the high-class attire an edge. 
The music artist wore similar glasses in the other video but paired them with casual clothing. His wife wasn't around as he swayed and mouthed the words to a love song.
Snoop claimed their daughter's diagnosis played a significant role in repairing their union.
Admirers of the couple flocked to the comment section, wishing them a happy anniversary. They left behind over a million views on both posts. 
Despite challenges, the pair have remained married since 1997. Many speculate that this is because they met before Snoop became famous, and therefore their union is not linked to money. 
The rapper and Shante share three children - a son named Cordé Broadus, another boy, named Cordell Broadus, and a daughter named Cori Broadus.
At just six years old, Cori was diagnosed with a chronic condition called lupus. The musical poet said he felt helpless when facing this, but affirmed his admiration for his daughter for being resilient. 
During this time, the power pair were on the brink of getting a divorce and Snoop claimed their daughter's diagnosis played a significant role in repairing their union.
Shante views the situation the same way. She claimed they would not have been able to handle it alone and needed one another. 
Shante has been instrumental in building up her husband's career and is a businesswoman in her own right. Early on, she was Snoop's manager and then founded music management company Boss Lady Entertainment.
Recently, the rapper has appointed her his manager again. Following this, Snoop posted a flattering Instagram photo of his wife, congratulating her on her new position.