Michael Sam Is the 1st Openly Gay Player to Be Drafted in the NFL — Inside His Story
Michael Sam became the first openly gay player drafted by an NFL team. However, he never played in an NFL game, and his dad didn't support his sexual orientation.
Born in January 1990, Michael Sam was a promising football player who had a stellar season as a senior at the University of Missouri. Sam helped his team finish the season with a 12-2 record and win the Cotton Bowl as a defensive lineman. 
In his final season with his college, he was a first-team all-American and was awarded the Associated Press defensive player of the year in the Southeastern Conference.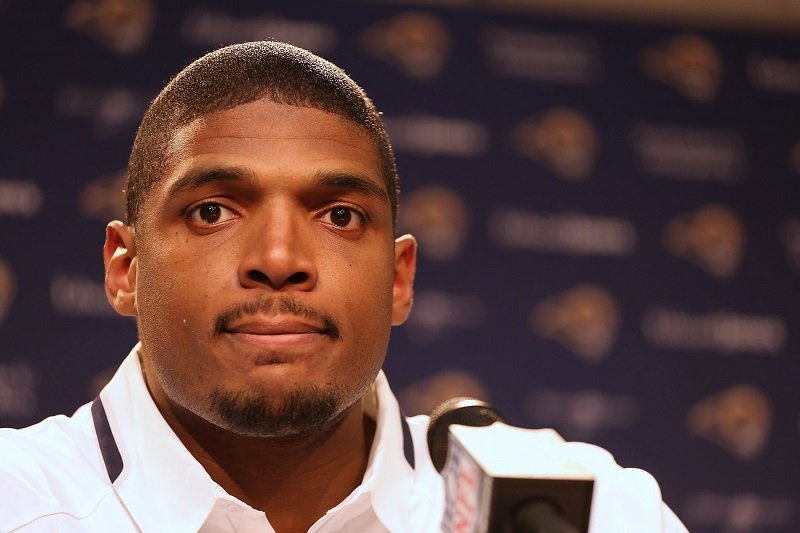 MICHAEL SAM BEFORE NFL DRAFT
Sam was so crucial for Missouri that his teammates voted him the team's MVP. Due to Sam's impressive college career, experts were sure he would be picked up in the early rounds of the NFL Draft in May 2014.
Months before the draft, Sam's coaches at Missouri divided players into small groups for a team-building exercise at a preseason football practice. 
They asked each player to share details of themselves, including their hometowns and why they chose Missouri. During that exercise, Sam revealed he was gay. His teammates already knew it, and they were just happy that he could finally come out.
In February 2014, he shared the news publicly. As the New York Times reported, doing so before the draft could have been detrimental to his career, especially because of the "overtly macho culture" in the NFL.
Michael Sam confessed he chose to come out when he did after sensing that rumors about his sexual preferences were already circulating, and he wanted to tell his story his way. 
Fortunately, the St. Louis Rams chose him in the seventh round of the draft, making him the first openly gay player to be drafted in NFL history.
[Sam] considered that his dad's comments were "unforgivable."
HE HAD ANOTHER PLAN
Before being chosen by the Rams, Sam revealed he actually wanted to come out to his professional team before going public with the news. However, when he participated in the Senior Bowl in January 2014, several journalists knew he was gay. Sam explained: 
"Everyone who did an interview with me said, 'Okay, we know you're gay, can we break the story?' So I said okay, and I called my agent. The rest is history."
Even though most people showed support for Michael Sam's coming out, his dad, Michael Sam Sr., had a tough time accepting it. Sam Sr. was celebrating his birthday at a restaurant when he received a message from his son. 
As soon as Sam Sr. read, "Dad, I'm gay," he couldn't finish his meal. He pointed out that he was old-school and a "man-and-a-woman type of guy" and didn't want his grandchildren to grow up in "that kind of environment."
Shortly after, Sam Sr. claimed he was misquoted in some of the things he said, adding that he never said anything about grandchildren or being old-school.
Sam, however, considered that his dad's comments were "unforgivable." By 2019, both men were still working on their relationship. Sam, who admitted he's always had a problematic relationship with his family, said that he still loved his dad, but "from afar." 
LIFE AFTER FOOTBALL
Only one year after the Rams drafted him, Michael Sam announced he was walking away from football. He didn't share many details about his decision other than he did it for mental health reasons. 
During his time as a professional player, he could never play an NFL game but signed a deal with the Montreal Alouettes of the Canadian Football League and played during a season. He didn't register any tackles or sacks, though.
Adjusting to a life without football was tough. He struggled with substance abuse for years but eventually realized that he needed to stop and try to make amends with his family, which he's been doing since 2018. 
As per his love life, Michael Sam and boyfriend Vito Cammisano got engaged in early-2015 but parted ways only six months later. It is unclear if the former footballer is in a relationship nowadays.