Kylie Jenner and Travis Scott Spark Reconciliation Rumors Following Their Public Appearance & Father's Day Tribute
Fans have been waiting for the day when Kylie Jenner and Travis Scott officially get back together. They may be in luck with the couple dropping hints such as Jenner's recent Father's Day post. 
Kylie Jenner posted a Father's Day tribute to rapper Travis Scott. She shared it after the two and their 3-year-old daughter Stormi made a public appearance where they looked cozy at the 72nd annual Parsons Benefit.
Jenner's photo of herself, Scott, and their daughter on a boat also reflected speculated romantic inclinations. They had their backs to the camera, and her eyes were close as she placed her lips close to Scott's.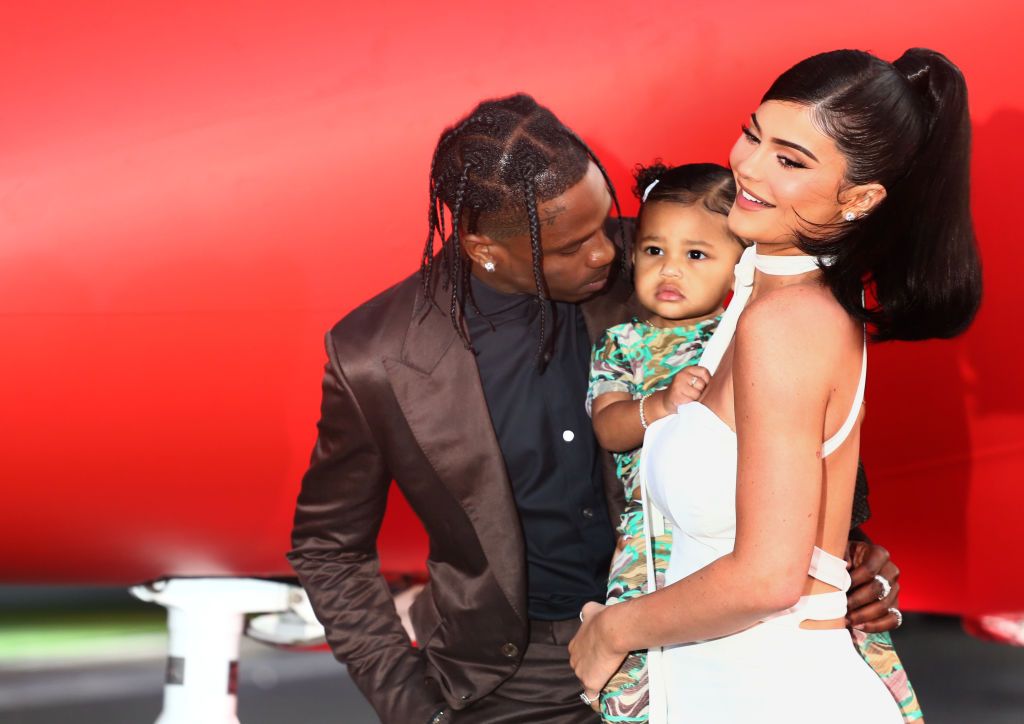 The angelically amorous mood was enhanced by their white attire and the sunlight flickering about. Jenner penned a love note: 
"Happy father's day @travisscott 🤍 one day isn't enough to honor the dad you are. we are so blessed to have you.. 🤍"
Jenner's tight white dress had puffy batwing sleeves. The founder of Kylie Cosmetics slicked her dark hair back and tied it into a bijou bun.
Scott subtly leaned into Jenner, which magnified their tension. Stormi cutely stuck out from in front of Scott's left shoulder as she seemingly looked out at the watery scenery.
She hopes that one day Stormi will also become a makeup mogul and continue the Kylie Cosmetics legacy.
Admirers of the two went wild as they commented on how long they have been waiting for this fairytale reunion. Scott also replied in the comment section with many emojis such as brown hearts and lightning bolts. 
The Houston rapper was commemorated at the Parsons Benefit, wherein his acceptance speech implicitly referred to Jenner as his wife. A source confided:
"Although they always got along, there is a different energy between them now."
An onlooker stated that the two appeared openly passionate with each other at the event, adding that the now-speculated couple was holding hands.
They originally went their separate ways in the fall of 2019 after the rapper was said to have cheated. In May this year, it was purported that the two were on good terms, with both focusing on being good parents. 
Jenner gave birth to their daughter in February 2018. The star kept her pregnancy so private before birth that even producer Farnaz Farjam, close to the Kardashian clan, was left in the dark. 
Since then, Jenner has been more public regarding Stormi. Recently, she shared a cute photo of her daughter buried in the sand with only her head sticking out.
Beyond adorable photos, this doting mother has bigger plans for her 3-year-old. She hopes that one day Stormi will also become a makeup mogul and continue the Kylie Cosmetics legacy.