Man Adopted an Abandoned Newborn Child with His Partner after Finding Him in an NYC Subway Station
Danny Stewart and his husband Pete Mercurio did not want kids, but they did not know that a unique situation would soon make them dads. They tell the story of how their little family was incepted.
On August 28, 2000, Danny Stewart, then 34, was running late for his date and was rushing to meet his boyfriend, Pete Mercurio, then 32, when he spotted something on the subway floor of the 14th Street station.
At first, he thought a little girl had dropped and forgotten her doll. Danny moved closer, and that's when he saw that the doll's legs were moving, only it was not actually a doll, but a human baby, with its umbilical cord still intact!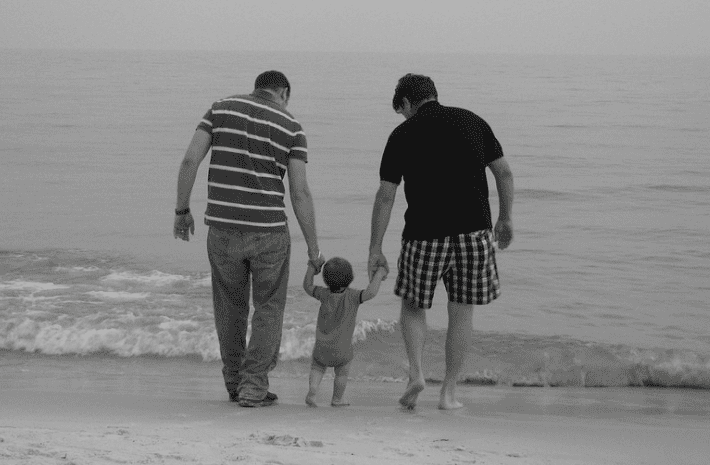 Danny was in disbelief, wondering who would have left a baby smack on the floor and with no clothes except for the dark sweatshirt he was wrapped in. Danny stroked his head, and when he whimpered, he started trying to alert passersby.
When no one responded, he started yelling for someone to call the police, but everyone kept ignoring him until one woman responded. Unfortunately, she didn't speak English; Danny says:
"I think she probably thought I may have been a little deranged."
He was shaking when he called the police, then his now-husband Mercurio. Authorities took the baby and named him Daniel Ace Doe, after Stewart, ACE after the subway line, and Doe due to his anonymity.
The search for his parents began, but even after months of searching, no one had come to claim the baby. Stewart was asked to attend a court hearing as a witness, and that is when his life would take a drastic turn. 
Teen mother left her infant baby to go partying across the country.
The judge asked if Stewart would be willing to adopt the baby. And he said Yes! They took the little boy home and named him Kevin, after Mercurio's stillborn sibling. Mercurio says Stewart found the baby that night for a reason. 
Now, 20 years later, Kevin is in college studying Computer science and Math. Mercurio has written a book named "Our Subway Baby" about how the night changed their life and how they became a family. He explains: 
"We need to be reminded of hope and possibility and love, and this story seems to be doing that."
Kevin's story is not a standalone one, and, unfortunately, cases of babies being abandoned have risen. Alease Scott and her boyfriend, Walter Cocca, were having lunch when a teen walked in asking for help.
Scott offered to check the baby's vitals, and when her attention was focused on the baby, the teen mother just walked out and left. The baby still had the umbilical cord intact. Fortunately, the baby is doing well and will be put up for adoption. 
Yet another devastating case of abandonment happened in the UK, where the teen mother left her infant baby to go partying across the country. Verphy Kudi traveled to celebrate her 18th birthday, leaving the baby alone. 
Unfortunately, the little 20-month old Asiah did not make it, and the autopsy showed that she died from the flu, dehydration, and starvation. Kudi has since pleaded guilty to manslaughter.