Duane Chapman Declares His Love to Fiancée Francie Frane in a Birthday Post
"Dog the Bounty Hunter" star is engaged to the lovely Francie Frane.  Duane Chapman is in love and says that his fiancee is a lovely gift from God.
Duane Chapman, who stars in the reality TV show "Dog the Bounty Hunter," has found love in Francie Frane, barely a year after losing his wife to cancer. During the time of their meeting, Frane had also lost her husband, Bob, to cancer. 
Chapman took to his Instagram to wish his newfound love a happy birthday and to declare his love for her. Chapman proposed to Frane, a former hunter, and rancher in May. The two first spoke a few months after Chapman's wife Beth passed on.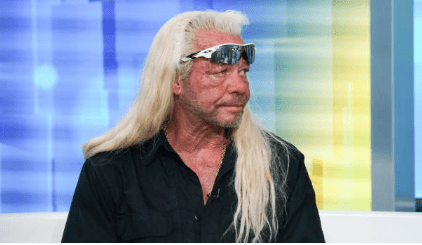 Chapman had called Frane's husband not knowing that he had passed on. Frane called him back, and that was the beginning of their story. Chapman did not waste his time asking Frane out on a date.
She said she would agree on a date with him only if he went to church. The two then attended a church service, and by the end, they were already holding hands, and Chapman declared victory. Speaking to ET, he said :
Couldn't have been a better pick than God picked" 
Before they met, neither of them was looking for love, but they bonded over the topic of their loss, and grieving together brought them closer to each other. They say they were there for each other, which is how they got close. 
Frane says the coming together was so unexpected, and after losing her husband, she was planning on going off to Africa to become a missionary and not have to deal with the loss. 
[W]hen she came back, the magic moment happened.
Talking about the proposal, Frane says it was so unexpected. She says she had gone to pick up some food, and when she came back, all lights were turned down, and Chapman had on a few candles. 
He told her to sit close to him because he needed to talk to her. So she put all the food in the kitchen and when she came back, the magic moment happened. She says Chapman then got on one knee and  proposed saying: 
"Will you marry me and spend the rest of our lives together? Who can say no to that? It was wonderful"
The in-love couple has since celebrated their first Thanksgiving together and has so much to be thankful for this year. Frane shared a photo of the two celebrating the holiday.
Chapman went on to wish his fans a happy thanksgiving in a simple animated message on Instagram. They are grateful that they found each other amid their grief.
They have both been very open about their loss and have found comfort in each other and their relationship. Chapman says Frane will never replace his wife but is equally a big part of his life. 
He says if his wife were here today and saw him and Frane together, she would not want him to lose her. He says he's happy to see where he came from and is looking forward to a great future with his fiancee.