Andy Cohen Looks Happy as He Giggles with Son Benjamin, 2, in Matching Denim Shirts
Andy Cohen celebrated Father's day by posting a beautiful photo with his son, Benjamin Cohen, in cool matching outfits. The two rocked a pair of outstanding blue denim jackets that gave them a striking resemblance.
Andy Cohen, the well-known TV talk show host, captioned the amazing photo "Happy Father's Day" depicting just how much of a joyous journey of fatherhood it has been for him since the boy was born 2 years ago.
This was just one of those special days for the duo as it could be clearly seen through the ecstatic giggles that they were sharing on that photo. They were clearly having a lot of fun even as the fans quickly reacted to the photo.
Comments flowed in after the post as the majority of his fans as well as friends and other celebrities wished him the very best that fatherhood has to offer. One of his fans commented: 
"It is so wonderful to see you with Ben! Such a blessed family." 
Many other users likewise commented with emojis of joy, happiness, and enthusiasm as they wished him a very happy father's day. He was also not slow in liking and responding to his fans in his usual fashion.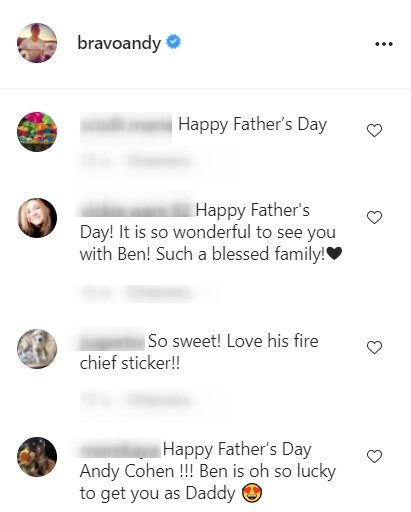 Some fans could not help but notice just how much the two look alike. Though this could have been contributed by the cool matching denim jackets, no one can deny the stunning similarity in the smiles of the two. 
It is the birth of Benjamin that officially introduced Cohen to fatherhood. This post reminds us of several of his past social media posts in their past that have showcased the relationship of the pair. 
During his second birthday, Cohen posted a heartfelt message to his son, calling him "My True Delight." This post also elicited thousands of reactions from fans, friends, and other celebrities.
Andy revealed how he was speechless and swept off his feet by the little boy.
On top of that, famous comedian and actress Amy Schumer, who is a very good friend to the family, reminisced in a video about just how much fun their children had during a past playdate before the pandemic. 
An emotional Amy recalled that she felt like crying while looking at the video of the two playful kids. Schumer and Cohen held a virtual playdate for their children amid the pandemic, which proved to be an exciting experience.
Since announcing the arrival of his son on the "Bravo" show in 2018, the 52-year-old reality superstar has flooded his fans with exclusive images of Benjamin on his social media as he slowly grew up. 
Benjamin was born in 2019 via surrogacy and according to many of Cohen's social feeds, their lives have never been the same again. He revealed how he was speechless and swept off his feet by the little boy. He said:
"I'm in love. I'm speechless. And eternally grateful to the surrogate. I am a dad. Wow."
From all the posts of Cohen from the very beginning, it is clear the two have a solid relationship and friendship that is beyond comparison. Fans have also constantly been present wishing them well.
It seemed like it was quite the father's day for the pair. From their matching denim jackets to the strikingly similar smiles, to even the heartfelt laughter that they shared, you can be sure there will be much more to see in the future.