Bride and Groom Shave Their Heads at Wedding in Solidarity with Her Mother Who Has Cancer
The bride and groom raised a lot of money in honor of the bride's mother, who passed away from cancer two months after their wedding. 
A New Zealand couple, Jony Lee and her husband, Alistair, honored Jony's mother, Luna Macapagal, in an extraordinary and heartwarming moment at their wedding in November 2020. 
Macapagal was diagnosed with stage 4 ovarian cancer in 2018. The mother-of-two went through surgery, chemotherapy, radiation treatment, and medications to fight the disease.
Her 20-year-old daughter had wanted to honor her by shaving her head ahead of her wedding to her then-fiancé. However, Alistair came up with a different plan to honor Macapagal in front of friends and family. 
He suggested that the couple shave their heads at their wedding to show their solidarity. The whole moment was captured on camera, and Jony decided to share the touching video on TikTok.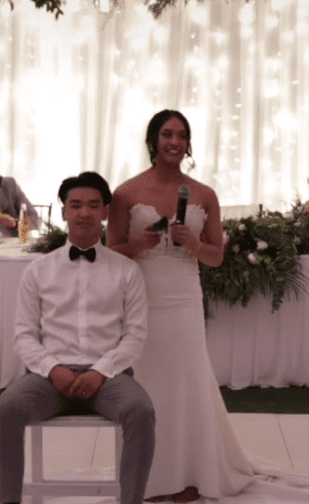 The video went viral on the video-sharing platform. It gained over three million likes and over 26 thousand TikTok users commented on the heartwarming moment. 
In the video, Jony gave a speech to her wedding guests. She shared that her parents believed they would be performing a traditional Filippino dance which involved guests giving the couple money. 
A 29-year-old woman faked having the disease to raise money for her dream wedding.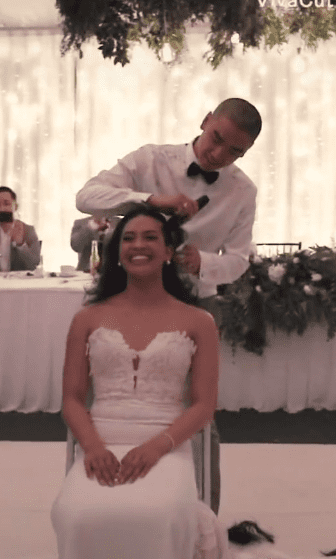 However, Jony revealed the couple's plans to shave each other's heads in solidarity with her mother. The bride told her guests that if they had any cash with them, they could place it at the couples' feet, and it would be donated. 
The video then showed Jony shaving her new husband's head. Once Alistair's head was freshly shaven, Jony sat in his chair and Alistair shaved his beautiful bride's brunette locks off. 
During the touching moment, guests came up to the couple to donate money and embrace them. Towards the end of the video, Jony's mother joined the couple on the dance floor and hugged her loving daughter. 
Unfortunately, Jony's mother passed away from the disease a few months after their wedding. The bride shared the moving clips from her wedding to TikTok in May. It was such a beautiful way to honor her mother and raise awareness for cancer. 
However, not all brides use their wedding to make a beautiful statement about supporting people battling cancer. On the extreme side, a 29-year-old woman faked having the disease to raise money for her dream wedding.
Toni Standen from Widness Chesire told her friends, family, and strangers that she had cancer and only had a few months to live. After admitting to the fraud, she was charged and sentenced to five months in prison at Chester Magistrates' Court.