Meghan McCain Is All Smiles as She Shares Rare Photo with Brother 'Jimmy' and Daughter Liberty
Meghan McCain, the daughter of the late Arizona senator and 2008 presidential hopeful John McCain, shared a rare photo of herself, her brother Jimmy, and her daughter Liberty on Instagram.
The photo posted by Meghan McCain, which got a lot of reactions from her fans and friends, captured the moment she shared with her brother James 'Jimmy' McCain and her daughter, Liberty Domenech, all smiling.
In her caption, she indicated that her brother had come to visit them. They all seemed pretty excited to see one another while enjoying some gentle outdoor time. On top of it, she said she was glad that he had brought a little bit of Arizona with him.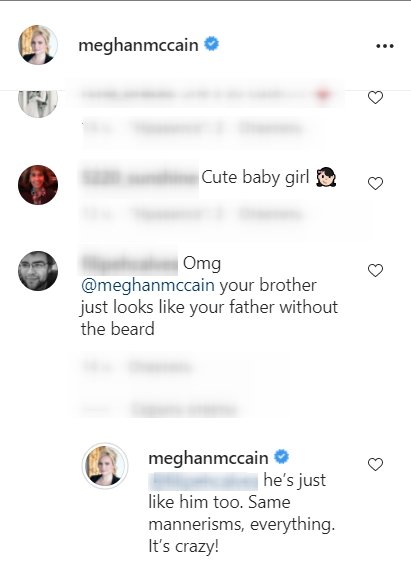 Comments came in thick and fast as many people admired just how nice the three of them looked. Some fans mentioned how much the two looked alike while others claimed that Jimmy actually looked more like Ben Domenech, Meghan's husband.
One comment, however, that stood out was when one of her fans noticed the striking resemblance between 33-year-old Jimmy and their late father, and many people agreed. The enthusiastic fan commented:
"Omg Meghan McCain your brother just looks like your father without the beard."
Dad's lookalike, Jimmy, is the second last child in the famous late politician's house. He is brother to Meghan and John, stepbrother to the late Douglas, Andrew, and Sidney as well as their adopted sister, Bridget. 
Their father had a family of 7 children from 2 marriages and until his death in 2008, he was married to Meghan's mother, Cindy McCain. He was previously married to Carol McCain until 1979 when their divorce was finalized.
He went to Syria in through Turkey after he converted to Islam in 2004. 
The TV host, Meghan, who is the fourth child of the late presidential hopeful, has been married to Domenech since 2017. Together they share their almost 1-year-old daughter, Liberty.
The mother, who had told her fans that she would not be sharing any images of her daughter for the sake of privacy, later on, shared some images of the baby girl. The post was captioned:
"Somebody wanted to see me! "
John often kept his children out of the limelight, especially during his active days. He believed that they should be allowed to chart out their own course as individuals and this mantra encouraged the children to choose their paths in life.
His son, Douglas 'Doug' McCain, who lost his life in August of 2014 while fighting an Islamic war for Iraq, was the first born in the McCain family. He went to Syria in through Turkey after he converted to Islam in 2004. 
Most of the children ventured into different fields. Jimmy joined the military and Meghan became a political columnist and TV host. Bridget, 27, was adopted from Bangladesh, is the last child in the family
With strong social media presence and different individual careers, the family has become an inspiration to many people. Their followers on social media keep reiterating how much the individuals inspire them in all that they do.
The McCain's are clearly a tightly-knit family and fans cannot wait to see what is in store for all of them. While losing their father hit them hard, fans are excited that the family is still keeping in touch as shown in the visit by the two siblings.